Rep. Chris Stewart, R-Utah., said on "Faulkner Focus" Friday that the leak of classified information by a 21-year-old Massachusetts Air National Guardsman was treated differently by the mainstream media compared to past leaks that were detrimental to former President Trump. The Intelligence Committee member said it's "embarrassing" for the FBI and DOJ that reporters were able to zero in on the suspected leaker before an arrest was announced.
US DEFENSE SECRETARY LLOYD AUSTIN SAYS LEAKED CLASSIFIED DOCUMENTS WERE 'SOMEWHERE IN THE WEB'
CHRIS STEWART: When we come back into session, we'll learn more. And believe me, those briefings are going to be heated. There's going to be some intense questioning that takes place there. I think the Department of Justice and FBI should be embarrassed once again. By the way, this isn't the first time I believe they should be embarrassed. But the fact the media figured out who this was before they did and one other thing if I could … there's a very obvious different sense of intensity about seeking out these leakers.
Look, on the Intel Committee, we saw leak after leak, literally dozens of them through impeachment, through the Russian investigation, through Mar-a-Lago, that the media and Department of Justice weren't that interested in pursuing. But now it appears if there's a leak that embarrasses President Biden, I mean, they're on that thing immediately and I think it's obvious as well that we've got leakers or a leaker that they can't seem to figure out. But they got this one.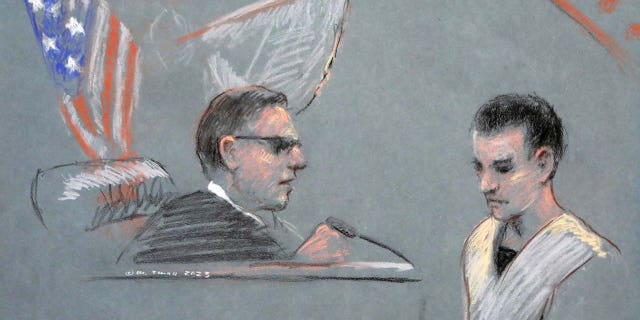 Jack Douglas Teixeira, a U.S. Air Force National Guard airman accused of leaking highly classified military intelligence records online, makes his initial appearance before a federal judge in Boston, Massachusetts, U.S. April 14, 2023 in a courtroom sketch. (REUTERS/Margaret Small)
The leaked Pentagon documents will have a compounding effect of distracting officials from other, urgent topics of national security and will weaken allies' trust in the country's ability to safeguard intelligence and operatives, experts told Fox News Digital.
"For the diplomats, this is going to take up a lot of oxygen that would otherwise be devoted to high priorities in our bilateral relations with many of the countries that are mentioned in these documents like South Korea, Turkey, Egypt, Israel," former CIA station chief Dan Hoffman told Fox News Digital. "We're going to be talking about this stuff."
FBI agents arrested Massachusetts Air National Guardsmen Jack Douglas Teixeira at a home in North Dighton, Massachusetts, on Thursday in relation to a trove of classified documents that have been leaked online in recent months.
CLICK HERE TO GET THE FOX NEWS APP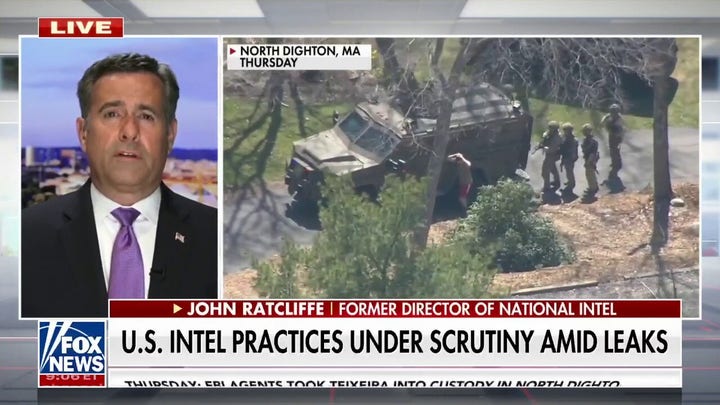 Video