The George Soros-bankrolled prosecutor in St. Louis who's facing a legal effort by Missouri's attorney general to fire her for allegedly neglecting her duties now has another hurdle to overcome: A challenger for next year's election who similarly claims the incumbent isn't doing her job.
St. Louis Circuit Attorney Kimberly Gardner is in a legal fight to hold onto her position as Missouri Attorney General Andrew Bailey seeks to fire her, claiming the prosecutor isn't enforcing the law and protecting public safety.
With Gardner under mounting pressure, criminal defense attorney David Mueller announced this week that he'll run for St. Louis circuit attorney, making him the first person to challenge the Soros-backed incumbent.
Mueller, 37, is a St. Louis native and political novice but thinks his city is at an inflection point and needs immediate change.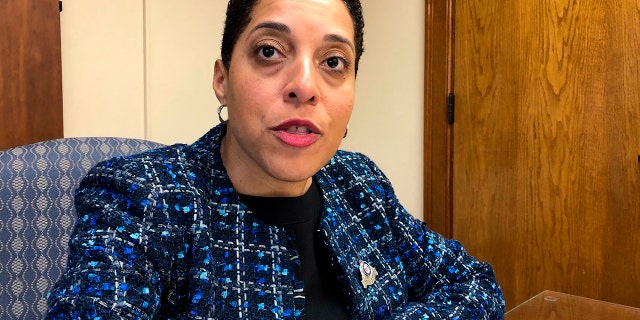 In a Jan. 13, 2020 file photo, St. Louis Circuit Attorney Kim Gardner speaks in St. Louis. (AP Photo/Jim Salter)
SOROS-BACKED PROSECUTOR MIRED IN SCANDAL FACING NEW COMPLAINTS OF NEGLIGENCE, MISCONDUCT
"We're losing 7,000 residents a year," he told the Riverfront Times, a local newspaper. "We're going to go from the 20th largest [metro region] in the country to the 30th in a decade. If we don't change it now, the next Busch Stadium is going to be built in Pacific."
"We have to keep people; we have to attract people," continued Mueller. "We've got the new NGA going in. It's an opportunity. People are excited about the city. They're excited about Cortex. But if we fail in this moment, I really believe that the city is in danger."
Mueller, who previously worked as a public defender in the St. Louis County trial office, said he voted for Gardner, whom he said hasn't lived up to the promises of the racial justice platform on which she campaigned. He cited the case of Levi Henning, a client of his who was prosecuted by Gardner's office, as what ultimately motivated him to run for circuit attorney.
In March 2021, Henning, 21, was charged with murder. Five months later, police processed DNA evidence collected from the scene that suggested someone else was there. According to Mueller, however, the Circuit Attorney's Office waited six months to disclose that evidence to him and still didn't drop the charges. He also said prosecutors had ballistics evidence tying the killing to a murder committed by another man but sat on it for over a year.
Last month, Gardner's office dropped the charges against Henning.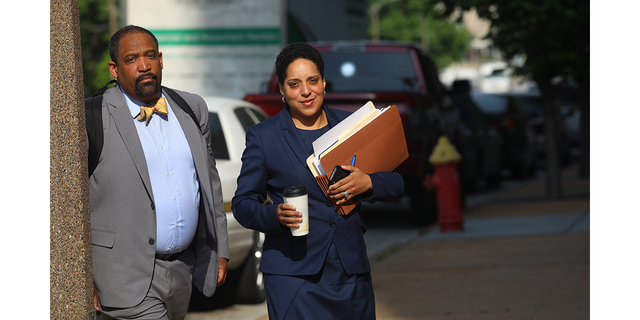 St. Louis Circuit Attorney Kim Gardner, right, and Ronald Sullivan, a Harvard law professor, arrive at the Civil Courts building on May 14, 2018. (Christian Gooden/St. Louis Post-Dispatch/Tribune News Service via Getty Images)
SOROS-BACKED PROSECUTOR PUSHED BY MISSOURI AG TO RESIGN HAS HISTORY OF SCANDALS, ALLEGED MISCONDUCT
"When I think about systemic problems in [Gardner's] office, I think about my clients, the young men sitting in the Justice Center without any hope of resolution in a timely fashion," said Mueller. "It's not justice to hold somebody for a year before you can get a case for the grand jury."
Gardner is one of the first prosecutors whom Soros, a liberal billionaire and Democrat mega-donor, bankrolled in 2016 and again for her reelection in 2020. She announced last month that she'll seek a third term.
The Henning case echoes a recent wave of bad headlines for the circuit attorney. Last week, for example, a St. Louis judge sanctioned Gardner's office for withholding evidence in a double-homicide case and for allowing the suspect out on bond.
"The court finds that there have been repeated delays by the state in obtaining discovery and providing it to the defense," the judge wrote. "There has been a lack of diligence on the part of the state in following up and providing discovery to the defendant in a timely fashion. As a result of the state's actions and lack of diligence, the court grants defendant's second motion for sanctions."
In a separate case, St. Louis prosecutors dismissed and refiled charges against two men accused of killing a father and his 7-year-old daughter, likely pushing back the trial by months. According to an investigation by local CBS affiliate KMOV, the reason for the dismissal and refiling is that "the prosecutors weren't ready for trial," which was set to take place in a matter of days.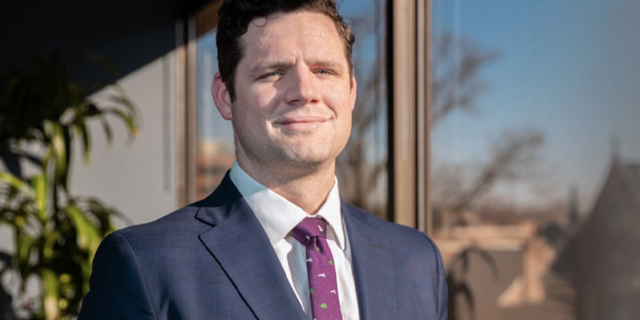 Criminal defense attorney David Mueller is challenging incumbent St. Louis Circuit Attorney Kim Gardner in the 2024 elections. (Screenshot from Twitter)
ST LOUIS HOMICIDE DETECTIVE BLOWS WHISTLE ON SOROS-BACKED DA'S 'CONCERTED EFFORT TO BREAK DOWN THE SYSTEM'
Dismissing and refiling cases has become increasingly common as Gardner's understaffed office, which has lost several lawyers in recent years, has struggled to prepare for trials, according to a St. Louis Post-Dispatch analysis.
On Thursday, Gardner's office seemed to blame police for having to dismiss and refile the double-murder case: "In this case, the CAO was not provided evidence in a timely manner due to acknowledged staffing challenges at the police department," Gardner spokeswoman Allison Hawk said in a statement.
The St. Louis Police Officers' Association responded by lambasting Gardner's office for trying to shift the blame: "Police officers shouldn't be made scapegoats for an overworked, backlogged and mismanaged Circuit Attorney's Office," the union said in a statement.
On Friday, meanwhile, the attorney for a man accused of striking teenage volleyball player Janae Edmonson with his car and causing her to lose her legs entered a not guilty plea on behalf of his client, but a judge had to print a copy of the indictment for him in court. That's because Daniel Riley's attorney told the presiding judge that he never got a copy of the indictment for his client from Gardner's Office, so the judge printed one for him while he was in the courtroom, according to local reports.
Edmonson lost her legs in the incident while visiting St. Louis with her volleyball team. Riley, the man charged with assault, armed criminal action and operating a motor vehicle without a valid license, was out on bail awaiting trial for an armed robbery from 2020 and had violated the terms of his bond at least 50 times, according to local reports.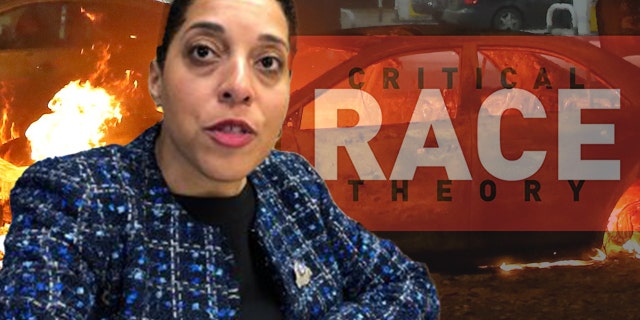 Kimberly Gardner (David Carson/St. Louis Post-Dispatch/Tribune News Service via Getty Images | AP Photo/Jim Salter)
ST. LOUIS DA SHOVED 'AGGRESSIVE' RACIAL EQUITY AGENDAS INTO DAILY PROSECUTION DECISIONS USING SOROS-LINKED ORG
However, there's no record of Gardner's office, which is responsible for monitoring compliance with bond conditions and revoking them when those terms are violated, asking for Riley's bond to be revoked.
In February, following the Edmonson matter, Bailey filed a petition quo warranto, the legal mechanism under state statute that allows the attorney general to remove a prosecutor who neglects her duties.
"This is about a quantum of evidence that demonstrates her failure to prosecute cases, failure to inform and confer with victims in cases and failure to file new cases that are referred by law enforcement agencies," Bailey told Fox News Digital at the time of the filing.
He separately said in a statement that Gardner is "creating" victims instead of "protecting" them.
Bailey claims nearly 12,000 criminal cases have been dismissed to what he calls Gardner's failures. He also says more than 9,000 cases were thrown out as they were about to go to trial, forcing judges to dismiss more than 2,000 cases due to what Bailey described as a failure to provide defendants with evidence and speedy trials.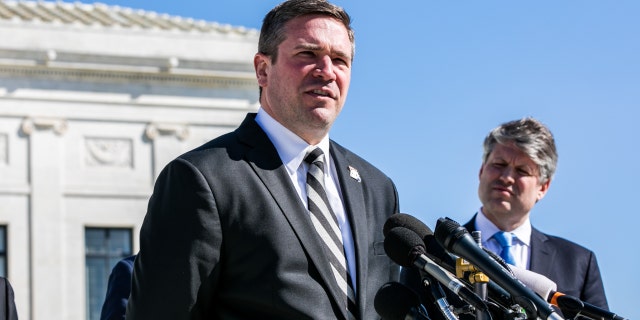 Missouri Attorney General Andrew Bailey (Bloomberg via Getty Images)
DEM ATTORNEY KIM GARDNER HIT WITH SUBPOENA AMID LEGAL BATTLE TO REMOVE HER FROM OFFICE
On Tuesday, Gardner responded to Bailey's allegations in a legal filing.
"His amended petition is a gross power grab, an affront to the liberties of all Missourians and the democratic process," said Gardner. "If the attorney general or the political interests behind his petition were truly concerned about crime in St. Louis, they would seek to assist with resources."
Gardner, who's refused to leave office amid Bailey's probe, has called his efforts a political witch hunt and a form of "voter suppression," suggesting racism and sexism are behind some of the criticism against her.
Mueller agreed that Gardner has been the victim of racist and sexist attacks for years: "But unfortunately, what's also true is that for six years, she has blamed everyone else for everything that was happening," he told the Riverfront Times.
"The problem is that she's fighting everybody all the time," he added. "Not just the St. Louis Metropolitan Police Department, not just the Ethical Society of Police, she's fighting every single one of the judges. She's fighting the mayor's office, she's fighting the Board of Aldermen, she's fighting the treasurer and the comptroller. And now she's fighting with the attorney general's office."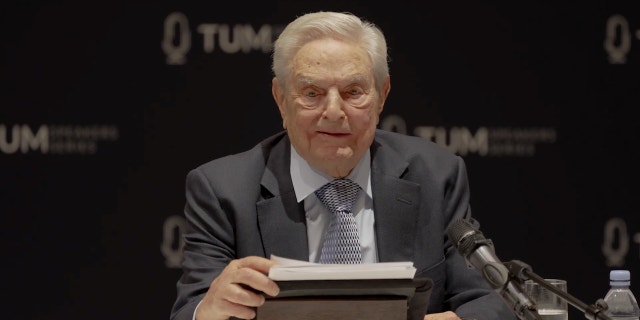 George Soros delivering a speech during the 2023 Munich Security Conference. (Open Society Foundations/YouTube/Video screenshot)
SOROS-BACKED KIM GARDNER NEEDS TO BE IMPEACHED 'YESTERDAY': LEO TERRELL
Mueller was adamant that he doesn't support Bailey's efforts to fire Gardner, calling it "not appropriate." At the same time, however, he hit the incumbent for building up a backlog of cases without ever actually prosecuting any of them herself.
"Miss Gardner does not have a caseload. I don't know of any case she's first chaired since her time in the Circuit Attorney's Office," he says. "You have to address the backlog first. For me, that means doing it yourself. You need a lot of help. But I'm willing to lead from the front."
Gardner's campaign website boasts that she's "made jail and prison a last resort, reserved for those who pose a true public safety risk" while limiting "the arrest and detention of people accused of misdemeanors and low-level felonies."
During Gardner's tenure, crime spiked in St. Louis, with the city experiencing near-record murder rates. Amid high homicide figures, Gardner has declined more cases, issued fewer arrest warrants, charged fewer felonies and prosecuted thousands of fewer cases overall than her predecessor. She has also deferred prison sentences for misdemeanors and nonviolent felonies as part of her reform initiatives.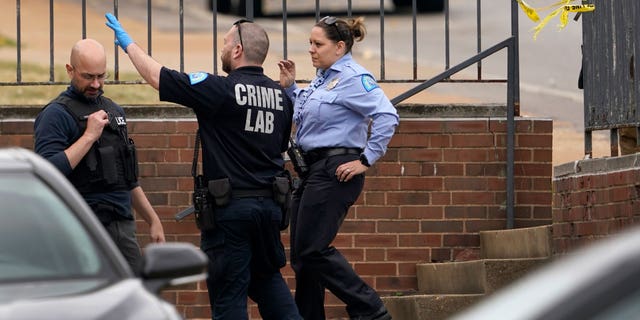 Law enforcement investigate the scene of a shooting at Central Visual and Performing Arts High School Monday, Oct. 24, 2022, in St. Louis. (AP Photo/Jeff Roberson)
MISSOURI AG SUBPOENAS ST LOUIS MAYOR AMID QUEST TO REMOVE DEMOCRAT PROSECUTOR KIM GARDNER FROM OFFICE
Gardner says all this is part of her "platform to reduce the number of cases unnecessarily charged in order to focus on the more difficult cases for trial."
In 2021, though, Gardner came under fire after three murder cases under her purview were dismissed in one week due to prosecutors in her office not showing up for hearings or being unprepared.
Three years earlier, the Missouri Supreme Court later publicly reprimanded Gardner for her alleged misconduct in prosecuting former Gov. Eric Greitens for felony invasion of privacy. The Soros-funded prosecutor had to drop the case after admitting she didn't have evidence to sustain the charges.
CLICK HERE TO GET THE FOX NEWS APP
Fox News Digital reached out to both Mueller and Gardner's office for comment for this story.