A Muslim leader in India blasted plans from some Democrat representatives to boycott Prime Minister Narendra Modi's address to Congress on Thursday.
Rep. Ilhan Omar, D-Minn., announced Tuesday on Twitter that she would not attend Modi's speech to Congress on Thursday, accusing Modi's government of repressing religious minorities, emboldening violent Hindu nationalist groups and targeting journalists and human rights advocates "with impunity."
Atif Rasheed, president of Pasmanda Muslim Mahaz (Marginalized Muslim Front), responded to the claims by saying that Omar was "spitting poison" with her claims.
"I belong from religious Minority of India but I live freely with my religious freedom and religious identity in Prime Minister Narendra Modi's India," Rasheed wrote in a tweet.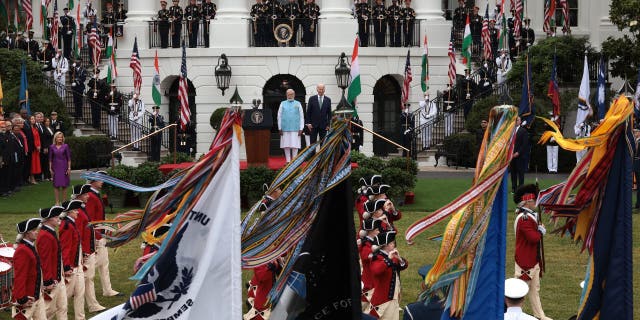 President Joe Biden and Indian Prime Minister Narendra Modi participate in an arrival ceremony at the White House on June 22, 2023. (Win McNamee/Getty Images)
In a statement to Fox News Digital, Omar responded to Rasheed's claims by saying that "what's happening in India runs directly counter to our democratic values." She accused Modi's government of instituting an anti-Muslim citizenship law and "a purge of Muslim citizens in the Indian state of Assam," as well as the revocation of autonomy from the majority-Muslim region of Kashmir and the illegal detention of dissidents.
"Dissidents, journalists, and their families are targeted with violence and political persecution," Omar wrote. "Even advocates outside of India fear that their family members will be targeted if they speak out."
BIDEN PRIORITIZES INDIA PARTNERSHIP DESPITE CONCERNS OVER MODI'S HUMAN RIGHTS RECORD, RUSSIAN TIES
Neither Tlaib nor Ocasio-Cortez responded to a Fox News Digital request for comment by time of publication.
ETHNIC CONFLICTS IN INDIA'S MANIPUR STATE KILL AT LEAST 9
Rep. Jamaal Bowman, D-N.Y., called Modi's appearance before Congress "unacceptable."
INDIA PROBES BRIBERY ALLEGATIONS THAT A REGULATOR HELPED SWITCH TEST SAMPLES OF POSSIBLY TOXIC COUGH SYRUP
"Since the belligerence of China has risen not just in Asia but around the world and on American soil, [including] the recent or not so recent spy balloon incident, America needs India," he continued. "Plus, it's becoming a massive trading partner, so human rights has taken a backseat."
"These representatives standing up and said that they will not attend Prime Minister Modi's address in Washington later today is – I mean, it's their own choice," he said. "I support their choice. It's a tiny bit of resistance and an overall very, very, very warm embrace Washington has given Mr. Modi."
Fox News Digitals' Elizabeth Elkind contributed to this report.