State authorities have cited two women for allegedly harming nene — an endangered species of geese native to Hawaii — by feeding feral cats in a Big Island shopping center parking lot.
The state Department of Land and Natural Resources said it issued the citations on Tuesday while about 50 people were protesting a decision by the shopping center's owner to remove three cat-feeding stations. Some protesters were carrying large bags of cat food, the department said in a news release.
The nene geese are listed as an endangered species under Hawaii state law and a threatened species under U.S. law.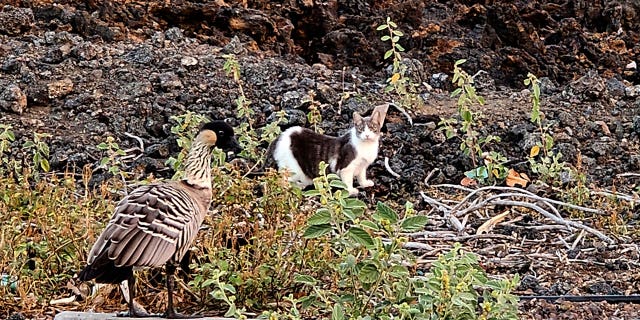 A feral cat looks towards a nene in a shopping center parking lot in Waikoloa, Hawaii, on April 17, 2023. State authorities cited two women for allegedly harming nene when they were feeding feral cats in the lot. (Dan Dennison/Hawaii Department of Land and Natural Resources via AP)
Stray cats have no predators in Hawaii, and their numbers have ballooned. Marketing research commissioned by the Hawaiian Humane Society in 2015 estimated Oahu alone had 300,000 feral cats.
The department earlier this month sent a letter to Alexander & Baldwin, the owner of Queens' Marketplace Shopping Center, saying nene had been observed eating food from the feeding stations and spending time among the felines there. It said cat food is not a natural part of the nene diet, and eating at the feeding stations habituates nene to people and makes them reliant on the provided food.
CLICK HERE TO GET THE FOX NEWS APP
It also cited the threat to nene from toxoplasmosis, a parasitic disease spread by cat feces. The department said the disease is a leading cause of death for nene.
"Everybody who gets into wildlife work loves animals. We're not anti-cat, but when we see a concern with our endangered wildlife, we need to address it," Raymond McGuire, a wildlife biologist with the department's Division of Forestry and Wildlife, said in a news release.
Toxoplasmosis also harms Hawaiian monk seals, another endangered species. In 2021, a male Hawaiian monk seal died after a five-week battle with the parasitic disease.