They called them "green on green" attacks in Afghanistan. That's when Afghan police fought with local military troops.
On Capitol Hill recently, it was "Green on Greene."
"Green" is Rep. Mark Green, R-Tenn., chairman of the House Homeland Security Committee. "Greene" is Rep. Marjorie Taylor Greene, R-Ga., member of the House Homeland Security Committee.
And late last week, "Green" finally had enough of "Greene" during a hearing with Homeland Security Secretary Alejandro Mayorkas.
MARJORIE TAYLOR GREENE LEADS NYC RALLY PROTESTING TRUMP INDICTMENT, AFTER RECEIVING WARNING FROM MAYOR ADAMS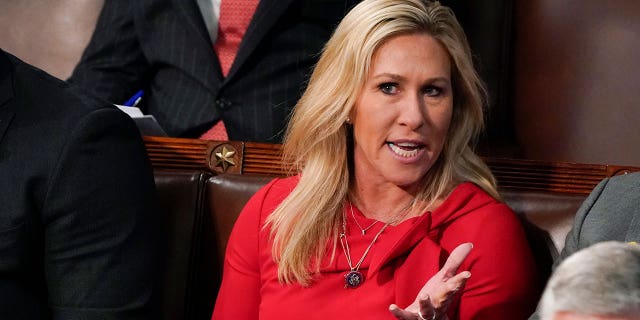 Rep. Marjorie Taylor Greene, R-Ga. (J. Scott Applewhite)
You may not have heard much about Mayorkas's testimony because of a parliamentary kerfuffle.
It started when it was Greene's time to pose questions to Mayorkas, just seconds after Rep. Eric Swalwell, R-Calif., concluded his questions. Swalwell burned some of his time asking about GOP demands to slash funding for the FBI.
MAYORKAS SPEWS NOTHING BUT 'POLITICAL RHETORIC,' IGNORING FACTS ABOUT BORDER: BRANDON JUDD
With a smile, Greene looked across the dais at Swalwell.
"That was quite entertaining for someone that had a sexual relationship with a Chinese spy. And everyone knows it," said Greene, flashing her teeth, voice dripping with sarcasm.
That's long been a right-wing charge against Swalwell, but no one's ever substantiated the claim.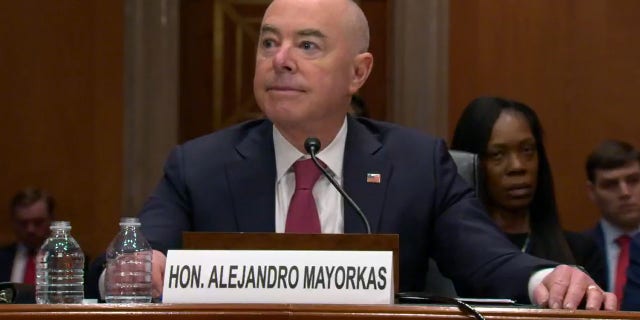 April 18, 2023: DHS Secretary Alejandro Mayorkas speaks in front of the Senate Homeland Security Committee. (Screenshot)
Several years ago, Chinese intelligence operative Fang Fang targeted American politicians. Fang assisted in fundraising efforts for Swalwell in 2014. Swalwell's office says he reported information about Fang to the FBI and cut off ties with her. The FBI put Fang under surveillance and presented Swalwell with a "defensive" briefing about Fang.
After Greene's imputation, Rep. Dan Goldman, D-N.Y., immediately moved "take her words down."
The "taking down of words" on the House floor or in committee is the equivalent of a parliamentary indictment. A Member might flag the conduct or "words" of a fellow Member of not comporting with the rules of the House, engaging with appropriate decorum, bringing dishonor on the body or impugning the motives or character of a fellow lawmaker.
"Completely inappropriate!" shouted Goldman.
Mark Green halted the hearing immediately.
TOM HOMAN RIPS SEC. MAYORKAS FOR 'CONSTANTLY LYING': HE HAS 'NO INTERGRITY'
The full House or committee then reviews the language in question. If they violated the rules, the offending Member is then given an opportunity to retract them and continue.
But Greene wasn't having it.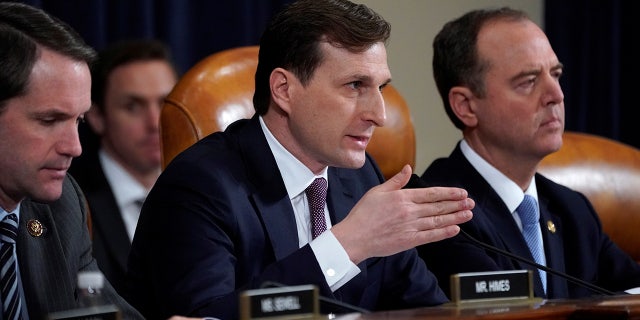 Rep. Daniel Goldman called for MTG's words to be removed from the record. (Reuters)
Green asked Greene if she would retract her broadside directed Swalwell.
"No, I will not," replied Greene.
Despite the weight of such a shocking allegation — uttered by one lawmaker and directed toward another at a public hearing — the committee voted that Greene's conduct was appropriate. That meant Greene could continue to speak. The panel would have silenced Greene for the remainder of the day had they deemed her philippic out of order. It's kind of like a player getting ejected from a baseball game. They can't play the rest of the day.
So, Greene remained on the field.
Note that House Democrats who in the majority two years ago voted to remove Greene from her committee assignments because of her conduct.
"I don't think there's any question about what the gentle lady has said (is improper)," lamented Rep. Bennie Thompson, D-Miss., the top Democrat on the panel. "We have never had an accusation made of any member like that and I'm appalled by it. We all ought to be embarrassed by it."
Since the committee didn't sanction Greene, she appeared emboldened and tore into Mayorkas.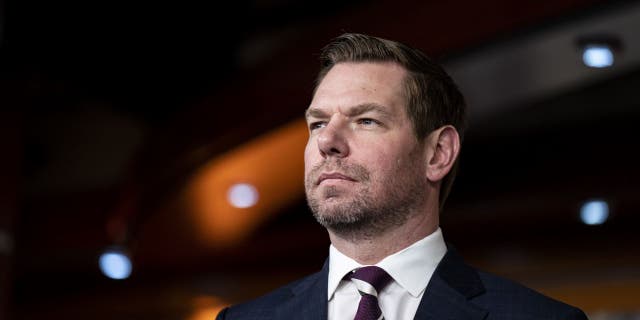 Representative Eric Swalwell, a Democrat from California. (Al Drago)
"How many more people do we have to watch die every single day in America?" Greene said to Mayorkas, slapping the dais multiple times with an open palm. "You are a liar!"
House Foreign Affairs Committee Chairman Michael McCaul, R-Tex., found himself sitting in for Green, chairing the committee. That's when Thompson raised issues to McCaul about Greene excoriating Mayorkas.
"You don't have to call a witness a liar," said Thompson.
He also asked that the committee again "take down" Greene's words
"We've gotten to the point that the language is not the kind of language that this committee would use," said Thompson.
McCaul again offered Greene the option of withdrawing her incendiary accusations.
MAYORKAS APOLOGIZES TO FAMILY MEMBERS GREIVING 7-YEAR-OLD AND GRANDMOTHER KILLED BY FLEEING HUMAN SMUGGLER
"I will not withdraw my remarks because the facts show the proof," said defiant Greene.
"Okay," said a resigned McCaul. By that point, Chairman Mark Green returned to oversee the hearing.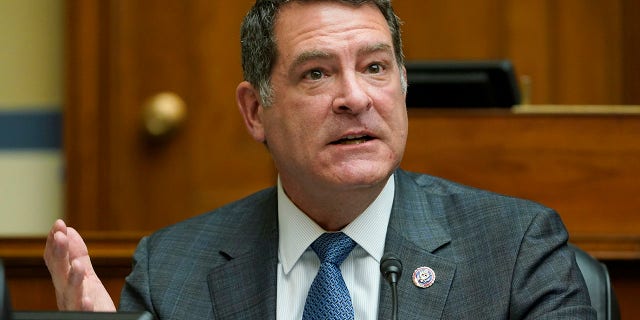 Representative Mark Green, a Republican from Tennessee. (Susan Walsh)
"The rules state that it's pretty clear that you can't impugn someone's character," said the chairman. "Identifying someone or calling someone a liar is unacceptable in this committee. And I make the ruling that we strike those words."
With that, Green rapped the gavel. That censored Greene's charges directed at Mayorkas and banished her from further questioning for the remainder of the hearing.
Goldman sought clarification from the chairman as to what just unfolded. But Greene interrupted.
"Personal inquiry?" requested Greene, her tone shallow compared to her verbal fusillade fired at Mayorkas earlier. "Point of personal inquiry?
"There is no such thing," responded Goldman — which is accurate when it comes to House regulations.
"In consulting the rules of the House, when we strike (words), it does terminate the time of the individual who was speaking," said Green. "So the gentle lady is no longer recognized."
Green then turned over the floor to Rep. Glenn Ivey, D-Md., to question Mayorkas.
DHS CONFIRMS BIDEN OFFICIAL'S WASHINGTON OFFICE SEARCHED BY FEDS, PUT ON ADMINISTRATIVE LEAVE
However, Ivey and Goldman then sought clarification about Green's decision to suspend Greene from speaking.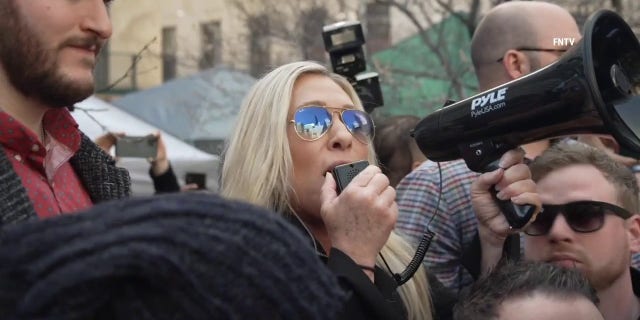 Marjorie Taylor Greene sends message to Eric Adams with bullhorn in hand ahead of Trumps arraignment (Oliya Scootercaster (FreedomNewsTV))
The chairman announced that, according to the rules of the House, a member may accuse someone of "lying." But you cannot call them "a liar." That's because Clause 1 and Clause 4 of House Rule XVII prohibits attacking someone's character and motive.
But Ivey wasn't satisfied even though Green bounced the Georgia Republican from the hearing.
"I can't imagine an allegation worse than the one she just made," argued Ivey.
"It does not fit the rules by the ruling of the chair," said Green. "We have the secretary until about 1:30 and we're going to move on."
And therein lies the rub about Greene attacking Mayorkas — whether he deserves criticism or not.
MAYORKAS HELD CALLS WITH ACLU NEARLY TWO DOZEN TIMES IN FIVE-MONTH PERIOD IN 2021, DOCUMENTS SHOW
A cadre of House Republicans hope to impeach Mayorkas. Mark Green suggested that the hearing was part of a process to provide a "packet" to House Judiciary Committee Chairman Jim Jordan, R-Ohio, about Mayorkas's record. It would then be up to Jordan to launch an impeachment inquiry into Mayorkas. It's far from clear whether the Judiciary Committee has the votes to prepare articles of impeachment for Mayorkas. It's even less clear that Republicans would ever try to impeach Mayorkas on the floor because of the narrow GOP majority. Republicans would likely lack the votes.
The chairman said he was going to speak to Greene about her conduct. Other Republicans signaled while they lost no love for Mayorkas, they didn't appreciate Greene's lack of civility.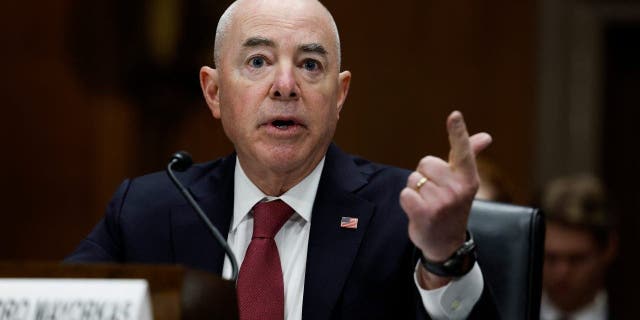 U.S. Secretary of Homeland Security Alejandro Mayorkas speaks during a hearing with the Senate Homeland Security Committee in the Dirksen Senate Office Building on April 18, 2023 in Washington, DC. Mayorkas testified on the Department of Homeland Security's Fiscal Year 2024 budget request and took questions on a range of topics including the U.S. northern and southern borders. (Anna Moneymaker)
There wasn't a lot of news coverage about Mayorkas's testimony or problems at the border. That's because in the social media age, the loudest voices command the most attention. It's often volume over substance.
Homeland Security Committee Chairman Mark Green and Republicans on that panel wanted to explore Mayorkas's record about the border last week. There was certainly some of that.
But Greene's performance sidetracked that conversation.
CLICK HERE TO GET THE FOX NEWS APP
Mark Green may have eventually silenced Marjorie Taylor Greene in the hearing. But she was far from silent. People may not have heard about Mayorkas. But they certainly heard about Greene.