Germany has approved Poland's request to export five old MiG-29 fighter jets to bolster Ukraine's air power against the Russian invasion, the German defense ministry said on Thursday.
Poland's defense ministry did not immediately comment.
German Defense Minister Boris Pistorius said the request had arrived Thursday, and that Berlin's same-day approval showed that Germany could be relied upon.
INSIDE THE MASSIVE OPERATION TO TRAIN THOUSANDS OF UKRAINE TROOPS AHEAD OF SPRING COUNTEROFFENSIVE
Germany inherited 24 MiG-29 jets from the East German GDR during reunification in 1990. At the time, the aircraft were seen as among the most advanced fighter jets in the world.
In 2004, Berlin passed on 22 of the aircraft to Poland. Of the remaining two jets, one was destroyed in a crash and one is on show at a museum.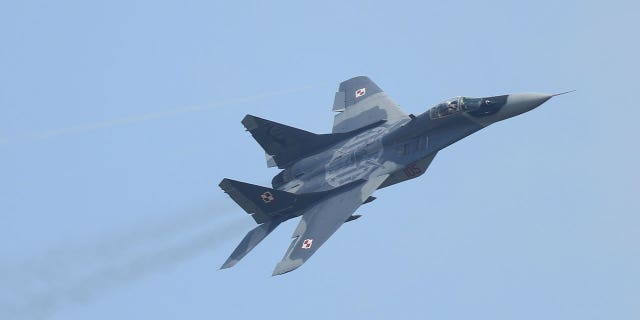 A Mikoyan MiG-29 plane of the Polish Air Force flies on June 1, 2016, in Schoenefeld, Germany. Poland plans to give five old MiG-29 planes to Ukraine to combat Russian invasion. (Sean Gallup/Getty Images)
Poland needs Berlin's consent to send its remaining jets to a third country.
Ukrainian President Volodymyr Zelenskiy said during a visit to Warsaw last week that Poland would help form a coalition of Western powers to supply warplanes to Kyiv.
CLICK HERE TO GET THE FOX NEWS APP
Ukraine, which hopes to launch a counteroffensive in the coming weeks or months, wants to secure fighter jets to defend against air strikes.
Western countries have so far been reluctant to send advanced fighter jets such as F-16's to Kyiv, but some countries have stepped in to send old MiG-29 jets that Ukraine already uses.