During a brief interview with MSNBC Wednesday, Rep. Debbie Wasserman Schultz, D-Fla., lamented that Florida's vegetables will start "rotting" once the state's new anti-illegal immigrant law goes into effect this summer.
The lawmaker responded to MSNBC host Jose Diaz-Balart's question regarding Florida Senate Bill 1718, which was signed by Gov. Ron DeSantis, R-Fla., last week.
As the host noted in his broadcast, the new law, which goes into effect July 1, enforces "Harsher penalties for transporting undocumented immigrants into Florida," "Invalidates driver's licenses" for those who can't prove their legal status, requires hospitals that receive Medicaid to confirm patients' immigration status, and allocates $12 million "to send migrants out of Florida."
DESANTIS EXPANDS DEATH PENALTY LAW FOR CONVICTED CHILD RAPISTS, DEFYING SUPREME COURT PRECEDENT
"I really appreciate you shining a spotlight on this horrific situation that is wholly the responsibility of Ron DeSantis, our governor, who has created a nightmarish culture of fear for immigrants in our state," she said.
The congresswoman added that by driving out illegal immigrants, DeSantis is "going to devastate our economy, tourism, construction, agriculture."
BIDEN ADMIN TELLS AMERICANS TO BRACE FOR BORDER CHAOS AS TITLE 42 ENDS, MIGRANTS SURGE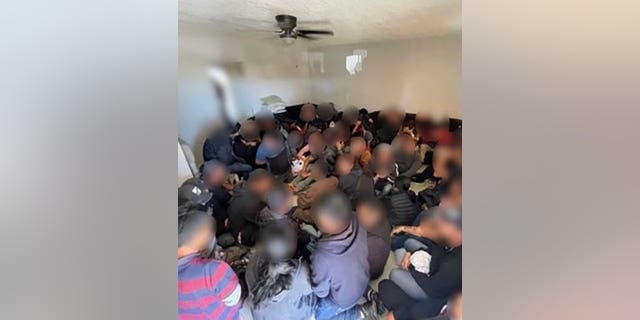 Texas stash house full of illegal immigrants.  (Texas Department of Public Safety )
CLICK HERE TO GET THE FOX NEWS APP
The lawmaker also mentioned that hurricane season is approaching in Florida and critiqued the governor for sending National Guardsmen to help secure the U.S. southern border after the expiration of Title 42 instead of leaving them in Florida to deal with a potential natural disaster.