Researchers have captured dramatic drone footage of blacktip sharks quickly evading a 12-foot-long hammerhead shark by swimming into shallow waters off Florida's coast.
The drone footage captured by researchers with Florida's Atlantic University is the first evidence of large adult sharks using the shallows to flee predators. In the dramatic footage, the adult blacktop sharks are seen fleeing for shallow waters when faced with the hammerhead.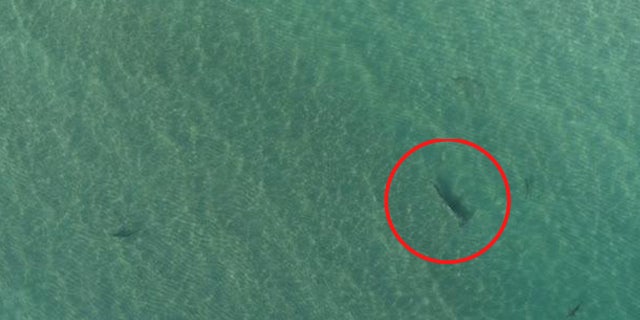 The hammerhead shark was caught approaching the smaller blacktip sharks off the coast of Florida. (Stephen Kajiura, Ph.D., Florida Atlantic University)
According to researchers, shallower waters are common refuges for smaller organisms since predators are more common in deeper waters. Researchers shared that all three of the videos were recorded less than 150 feet offshore of the beach, in water no more than waist deep.
'SNOOTY' THE SMILING SHARK SPOTTED OFF THE COAST OF FLORIDA
Despite hammerhead sharks growing up to 18-feet-long, the sharks are often found in relatively shallow waters that are important areas for their feeding. Their prey typically includes stingrays, bony fishes and other sharks.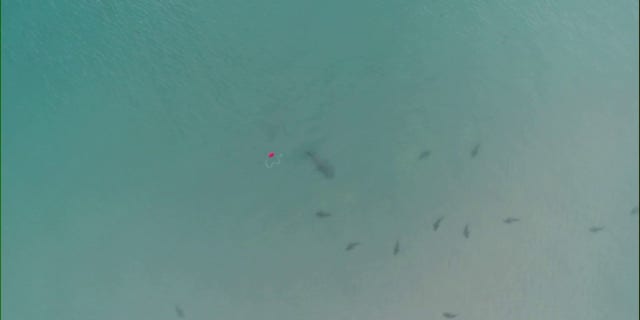 In all three events, blacktip sharks used the shallow waters close to shore as a refuge from a great hammerhead. (Stephen Kajiura, Ph.D., Florida Atlantic University)
By using the drone, researchers were able to observe the natural predator-prey behavior of the sharks without influencing their activity with the presence of boats. The drone captured a group of the smaller and more agile blacktip sharks rapidly retreat to shallower waters after a bigger hammerhead shark made an appearance just off the coast of Palm Beach County, Florida.
NEW RECORD SET FOR DEEPEST FISH EVER FILMED: SEE THE AMAZING VIDEO!
"In two of the three videos, the hammerhead shark actively chased one or more blacktips toward the shore but was unsuccessful at capturing its prey," senior author and professor of biological sciences at Florida's Atlantic Uniersity Stephen Kajiura, Ph.D., said in a press release. "The chases ended with the hammerhead making a sharp turn away from its intended prey and the shore, back into deeper waters. The chasing events showed the hammerhead struggling as it experienced difficulty following the blacktips into the shallow waters."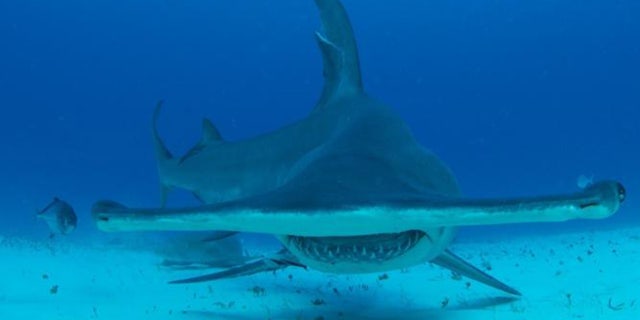 The hammerhead sharks in the video were at least twice the size of the blacktip sharks making them about 12 feet long. They can get as big as 18 feet long. (Stephen Kajiura, Ph.D., Florida Atlantic University)
Florida has two types of hammerhead sharks-great hammerhead sharks and scalloped hammerheads.
CLICK HERE TO GET THE FOX NEWS APP
Great hammerhead sharks can be found patrolling Florida's beaches for food, including blacktip sharks. While hammerheads do come close to humans, it is rare that they attack people.