Pope Francis continues to recover at a hospital in Rome after undergoing abdominal surgery earlier this week.
The pope underwent a laparotomy and received abdominal wall plastic surgery on Wednesday.
The Vatican Press Office released a statement Saturday reporting that Pope Francis is maintaining "a cautious convalescence that aims to minimize strain on the abdominal wall to allow the implanted prosthetic mesh and muscle fascia repair to heal optimally."
POPE FRANCIS WORKING FROM HOSPITAL IN STABLE CONDITION AFTER ABDOMINAL SURGERY, VATICAN SAYS
Francis, 86, underwent a three-hour operation at Rome's Gemelli hospital on Wednesday, June 7, to repair a hernia, which doctors said was successful enough that he should have no limitations on his travels and other activities after he recovers.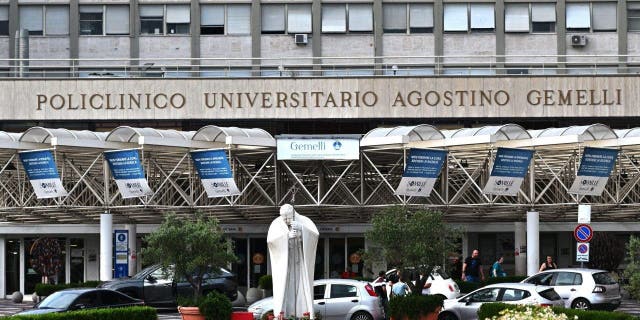 This photograph taken on June 9, 2023, shows candles and flowers layed under the statue of late Pope John Paul II at the entrance of the Rome's Gemelli hospital. Pope Francis was in a hospital in Rome for a medical check-up on June 6, according to Italian media, just over two months after he was hospitalised with bronchitis. (ANDREAS SOLARO/AFP via Getty Images)
During the operation, doctors removed adhesions, or internal scarring, on the intestine that had caused a partial blockage.
POPE FRANCIS UNDERGOING ABDOMINAL SURGERY IN ROME TO DEAL WITH INTESTINAL ISSUE
RUSSIA ACKNOWLEDGES VATICAN PEACE MISSION AS HOLY SEE TRIES TO 'HELP EASE THE TENSIONS'
The Vatican said that all of the pope's private and general audiences had been canceled until June 18 as a precautionary measure.