A gynecologist convicted of federal sex abuse charges should face at least 25 years in prison for assaulting a "staggering number of victims" during a quarter-century career as a serial sexual predator disguised as a doctor at prestigious Manhattan hospitals, prosecutors say in court papers.
Their presentence submission in Manhattan federal court late Tuesday precedes a hearing next week when Robert Hadden's victims can deliver statements to Judge Richard M. Berman before he sentences Hadden next month.
"For decades, the defendant repeatedly leveraged his position of power to target, exploit, deceive, and sexually violate patients seeking medical care, many of whom were especially vulnerable," prosecutors wrote. "He committed serial acts of abuse against patients — all while hiding behind his power as a doctor and enjoying professional and financial success."
NY JUDGE SENDS FORMER OB-GYN ROBERT HADDEN TO JAIL, CONVICTED OF SEXUALLY ABUSING HUNDREDS OF WOMEN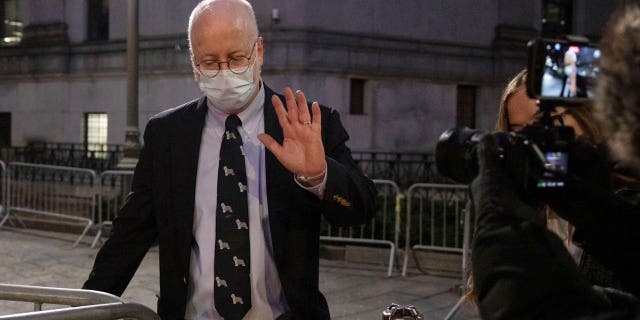 Prosecutors argue that Dr. Robert Hadden, formerly of Columbia University, should face at least 25 years in prison for a "staggering" number of sexual assaults he committed as a gynecologist. (AP Photo/Yuki Iwamura, File)
At the trial, Hadden's lawyers did not dispute that he had molested patients, but they said he was already prosecuted for those crimes in state court, where Hadden pleaded guilty in 2016 to allegations that he had abused several women. That plea required him to surrender his medical license, but he served no time behind bars.
Prosecutors said in their papers that Hadden's "calculated career as a serial sexual predator" began soon after he started working in 1987 at Columbia-Presbyterian Medical Center in New York, which later became New York-Presbyterian Hospital.
Trial evidence proved Hadden committed from 167 to 310 acts of sexual abuse or assault on dozens of patients as he honed his abuse techniques so the assaults would go undetected for over 20 years, prosecutors wrote.
They said he devised ways to get nurses and medical assistants to leave him alone with patients in the examination room, where he pretended that he needed to "conduct a fake second exam, during which time he sexually assaulted patients."
Prosecutors said they learned that Hadden assaulted "a staggering number of victims … under the guise of medical care."
CLICK HERE TO GET THE FOX NEWS APP