An activist detained in Hong Kong began his final appeal Wednesday seeking recognition for his same-sex marriage registered overseas, in a landmark case for the city's LGBTQ+ community.
Jimmy Sham, a prominent pro-democracy activist during the 2019 protests that roiled Hong Kong, first asked for a judicial review five years ago seeking a declaration that the city's laws, which don't recognize foreign same-sex marriages, violate his constitutional right to equality. But the lower courts dismissed his legal challenge and a subsequent appeal over the case.
Sham is now in custody after being charged with subversion over an unofficial primary election under a tough national security law enacted following the protests. Many other leading Hong Kong activists were also arrested or silenced by the law imposed by Beijing on the former U.K. colony.
LATIN AMERICAN COUNTRY REJECTS SAME-SEX MARRIAGE IN LANDMARK COURT CASE; NOT A 'HUMAN RIGHT'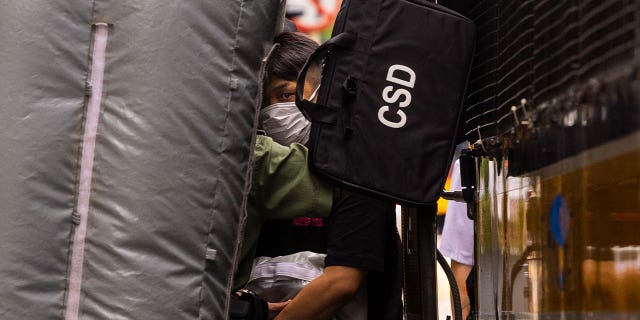 Detained activist Jimmy Sham, center, leaves a prison van to enter the Court of Final Appeal in Hong Kong on June 28, 2023.  (AP Photo/Louise Delmotte)
On Wednesday, Sham appeared spirited inside the courtroom. His supporters wished him a happy birthday as he was turning 36 years old this week.
His lawyer, Karon Monaghan, argued that the absence of same-sex marriages in Hong Kong sent a message that it is less worthy of recognition than heterosexual marriages.
But Stewart Wong, a lawyer who represents the government, said that another law under the constitution guarantees access to marriage for heterosexual couples only. The court will continue to hear the case on Thursday.
Sham's appeal over the case was also dismissed last August.
CLICK HERE TO GET THE FOX NEWS APP
Sham is the former convenor of Civil Human Rights Front, which was best known for organizing the annual march on the anniversary of Hong Kong's handover to Chinese rule on July 1, 1997, for years. The group also organized some of the bigger political protests that roiled the city in 2019.