An increasing number of Democrats have grown comfortable with the notion of Vice President Kamala Harris serving as the nation's commander in chief should President Biden not be able to fulfill his duties, leading several political insiders to question the motives behind Biden's re-election campaign and its long-term implications.
A Suffolk University/USA Today poll released Tuesday cited 86% of Democratic Biden voters who said they are either very or somewhat comfortable with Harris becoming president in place of Biden if the duo is re-elected for another four years and Biden becomes unable to serve the full term.
The likelihood of Harris becoming president, which insiders described to Fox News Digital as a very real possibility, could send a political shock wave through the country and would have an impact on all Americans.
"The DNC's strategy to ensure the Democrat establishment remains in power is to re-elect Joe Biden, no matter how old or capable he is, and then get him to resign or step aside and install Kamala Harris as president," said former Hawaii Rep. Tulsi Gabbard. "She will be untested and unelected, and ready to act as the Democrat Establishment's puppet president. She will then have the advantage and power of incumbency to run in 2028."
"This should be a major issue for voters, but the mainstream media will continue to try to cover for her because they don't want the American people to know the truth: a President Kamala Harris would be disastrous and dangerous for all Americans and our country," she said.
Similarly, Doug Schoen, a Democratic pollster who serves as founder and partner of Schoen Cooperman Research, expressed reservations over Harris' ability to lead the nation while pointing to her low approval ratings.
"Democrats may be happy with Kamala Harris taking over, but the rest of the electorate almost certainly is not," Schoen said. "Harris has lower approval ratings than Biden, and remains very much an open question to the electorate whether she is ready and indeed able to govern."
"Democrats can rely on the left-wing media to sell this lie. However, the American public is fully aware that Kamala Harris is the most incompetent and unqualified person to hold the position of vice president," he added. "There is no way in hell the American public believe that Kamala Harris is qualified to replace Joe Biden, or to serve a single second as president of the United States of America."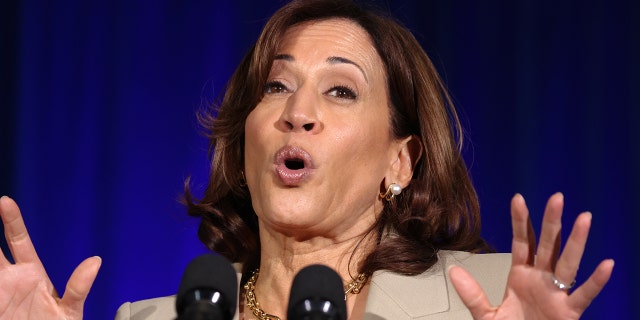 A Monmouth University poll released in May revealed that Kamala Harris' overall approval among all likely voters remains at a low 37%. (Alex Wong/Getty Images)
Harris was announced as Biden's 2024 running mate, but a Monmouth University poll released in May revealed her overall approval among all likely voters remains at a low 37%.
"This doesn't surprise me. Voters, once it has been established that a vice presidential candidate is qualified to take over, don't usually focus much else on the vice president," Marc Lotter, a former special assistant to President Trump who serves as the chief communications officer for the America First Policy Institute. "Voters cast their ballots for the top of the ticket. Make no mistake, Harris will certainly be an anchor on the Democrat ticket, given her horrible approval ratings and history of being a very poor candidate. The Democrats are stuck with an unpopular president and an even more unpopular vice president. There is nothing they can do about it."
KAMALA HARRIS COULD BE MOST CONSEQUENTIAL RUNNING MATE IN MODERN HISTORY AS REPUBLICANS SEE WEAKNESS
Sheinkopf said Democrats will have to make Harris "more appealing to the overall electorate" and "prove her foreign policy chops."
"The reality is that people are very concerned about China, about international relations and about a potential war," he added. "Americans are not stupid, and they're going to vote for the person they think can protect the nation at a time of crisis."
"If I'm Team Biden and I'm looking at these numbers, my first thought is, 'YIKES!,'" Clark said as she referenced the Tuesday polling numbers. "Firstly, this will most likely contribute to what is rumored to be an already tense relationship between the Bidens and VP Harris. Secondly, it means Biden is incredibly unpopular. Kamala Harris has never been a big hit with the base of the Democratic Party. She dropped out of the 2020 Democratic primary with less than 1% of the vote! But now, Biden is in such terrible shape that more than half of voters prefer someone as unpopular as Harris over him."
CLICK HERE TO GET THE FOX NEWS APP
Clark said she believes the polling doesn't suggest there's "any particular enthusiasm for Kamala Harris or 'hope' that she would take over," but it instead serves as a "reflection of the Democrats' total exhaustion with Biden's obvious mental incompetency, frequent policy failures, and countless embarrassing blunders."