FIRST ON FOX: A new budget plan by the conservative Republican Study Committee is eyeing a number of sweeping changes to U.S. border and immigration policy, backing bills that would defund sanctuary cities, end chain migration, and tackle the ongoing crisis at the southern border.
The budget plan is being rolled out Wednesday afternoon by the conservative Republican group and calls for deep cuts in government spending to the tune of $16.3 trillion over 10 years and a tax reduction of $5.1 trillion — but also pushes for significant changes in response to the ongoing crisis at the southern border.
The group said that it is embracing four key principles: to protect the American people from national security threats; prioritize and raise economic opportunities for American workers and lawful immigration; respect the rule of law; and aim to assimilate legal immigrants.
"Far from anyone's ideal, President Biden, DHS Secretary Alejandro Mayorkas, and Congressional Democrats have embraced the opposite: an illegal open-borders agenda that has created the worst border crisis in U.S. history," the group said in a statement. "In doing so they have compromised the sovereignty of our nation and blatantly ignored the executive branch's duty to maintain operational control of the southern border."
The budget backs bills that would finish the border wall, which was ended when the Biden administration took office, as well as bills to restore the Remain-in-Mexico policy and increase the "credible fear" standard for migrants seeking to claim they cannot be returned to their country due to persecution.
HOUSE PASSES GOP PACKAGE TO BOLSTER BORDER SECURITY, OVERHAUL ASYLUM PROCESS
Multiple Republicans have also proposed bills that would tax remittances out of the U.S. in order to fund border security investments. The RSC supports those bills, including one to impose remittances on the top five nations of origin for illegal immigration.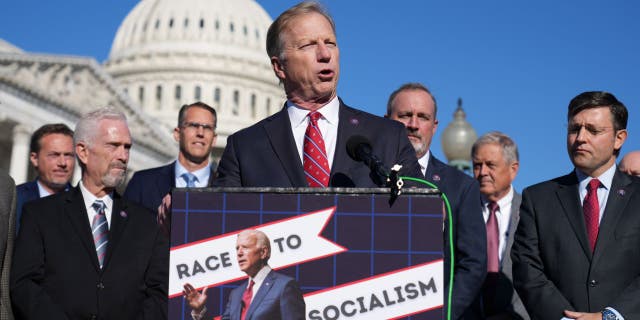 Rep. Kevin Hern, R-Okla., conducts news conference outside of the U.S. Capitol with House Republicans to oppose vaccine mandates on Friday, November 5, 2021. (Photo By Tom Williams/CQ-Roll Call, Inc via Getty Images)
A package passed by the House earlier this year would ramp up resources to the border, including Border Patrol agents, as well as change laws related to unaccompanied children and the use of humanitarian parole. Meanwhile, all major 2024 Republican presidential candidates have pledged to restore the Trump-era Remain-in-Mexico policy.
Fox News' Liz Elkind contributed to this report.