A U.S. Coast Guard crew rescued a man who jumped into the Delaware Bay after flames engulfed his boat Tuesday, officials said.
The 42-foot sport fisher, the Done Deal, caught fire near the Delaware Bay's main shipping channel around 11 a.m., the Coast Guard said.
A good Samaritan reported the incident and provided updates to officials as a Coast Guard crew raced to the burning boat.
The good Samaritan said the boat was fully engulfed and that the vessel's sole occupant had reached the bow. At some point, the man jumped into the water.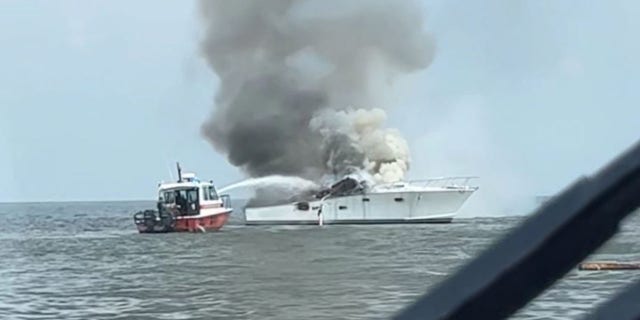 The sole occupant of the boat escaped to the bow before jumping into the water, where he was later rescued. (U.S. Coast Guard)
The victim was taken ashore to New Jersey for treatment, but no medical concerns were reported other than possible smoke inhalation.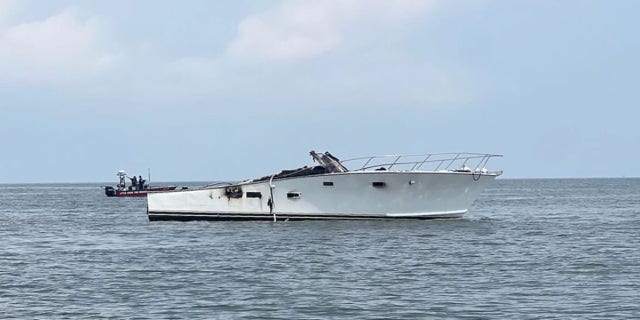 The Coast Guard is continuing to investigate the fire. (U.S. Coast Guard)
HUMAN SMUGGLER SENTENCED IN CALIFORNIA AFTER RAMMING COAST GUARD BOAT NEAR SAN DIEGO
"It is important to highlight the teamwork involved in ensuring the safe recovery of the boater and extinguishing the fire," said Lt. Cmdr. Kevin Higgins. "The efficient and fast communications from everyone involved, especially from the good Samaritan, were critical in saving this man's life today."