China warned on Wednesday that strengthening ties between the U.S. and the Philippines should not harm its security and territorial interests, including longstanding tensions in the South China Sea.
Chinese Foreign Ministry spokesperson Wang Wenbin said in a statement issued by the country's embassy in Manila that U.S. drills held in the Philippines "should not target any third party and should be conducive to regional peace and stability."
The combat exercises – the U.S. military's largest-ever drills with the Philippines – started on Tuesday and involve some 17,000 troops, with President Ferdinand Marcos Jr. reportedly planning to watch an April 26 live-fire drill.
Wang did not say how China would respond if it concludes that the U.S.-Philippine security cooperation was hurting Beijing's core interests.
US MILITARY TO HOLD LARGEST-EVER DRILLS WITH THE PHILIPPINES AFTER CHINA SURROUNDS TAIWAN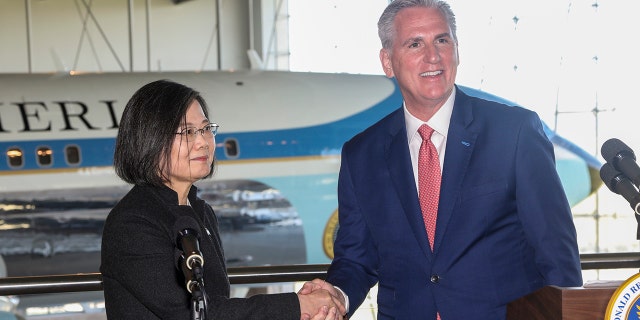 House Speaker Kevin McCarthy, R-Calif., shakes hands with Taiwanese President Tsai Ing-wen after delivering statements to the press at the Ronald Reagan Presidential Library in Simi Valley, California, on April 5, 2023.  (AP Photo/Ringo H.W. Chiu)
The drills in the Philippines come after China took retaliatory action following the meeting of House Speaker Kevin McCarthy and Taiwanese President Tsai Ing-wen.
It imposed a travel ban and economic sanctions against American groups and individuals who were associated with the meeting. Later, China sent warships and fighter jets toward Taiwan, according to the island democracy's government.
The Biden administration has maintained that there was nothing provocative about the visit by Tsai.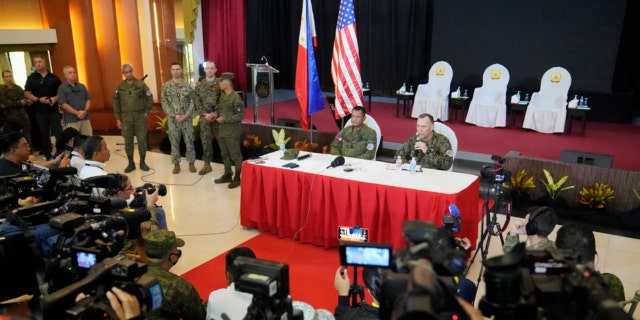 U.S. Marine Corps Major General Eric Austin, right, U.S. Exercise Director Representative, right, with Philippine Army Major General Marvin Licudin, Philippine Exercise Director, answers a question from a reporter after the opening ceremonies of a joint military exercise flag called "Balikatan," a Tagalog word for "shoulder-to-shoulder," at Camp Aguinaldo military headquarters on April 11, 2023, in Quezon City, Philippines.  ((AP Photo/Aaron Favila))
US AND CHINA UNITE IN EFFORT TO REHABILITATE YAYA THE PANDA BEAR
On Tuesday, U.S. and Philippine defense and foreign secretaries met to discuss the development of nine Philippine military camps.
"These sites will support combined training exercises and interoperability between our forces to ensure that we're even better prepared for future crises," Defense Secretary Lloyd Austin said, noting that the U.S. is allocating more than $100 million to build infrastructure there.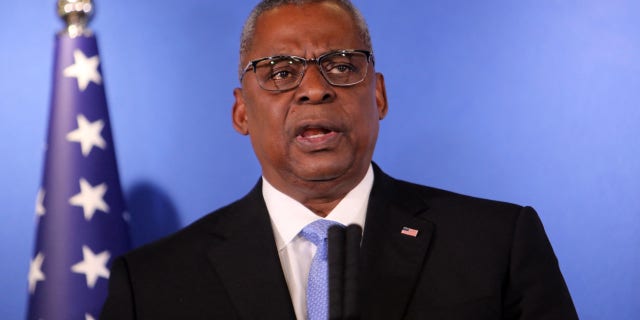 U.S. Secretary of Defense Lloyd Austin delivers a statement to the press at the Israel Aerospace Industries (IAI) headquarters near the Ben Gurion airport in Tel Aviv, on March 9, 2023. (GIL COHEN-MAGEN/AFP via Getty Images)
Americans have been allowed to stay at the sites indefinitely under the 2014 Enhanced Defense Cooperation Agreement.
China has strongly opposed that agreement, which would allow U.S. forces to establish military staging grounds and surveillance in the northern Philippines across the sea from the Taiwan Strait and in western Philippine provinces facing the disputed South China Sea, which Beijing claims virtually in its entirety on historical grounds. Washington disputes China's claims.
CLICK HERE TO GET THE FOX NEWS APP
Austin also said he had discussed the U.S. delivery of defense equipment over the next five to 10 years.
The Associated Press contributed to this report.