A Chinese government official blamed the "negative impact" of military drills for tensions with North Korea after the firing of a ballistic missile which forced Japan to issue a warning to residents warning them to seek shelter.
Chinese Ministry of Foreign Affairs spokesman Wang Wenbin said during a press conference on Thursday that U.S. military drills are causing current tensions between South Korea and North Korea.
"The current round of tension on the peninsula has its causes. The negative impact of the US military drills and deployment of strategic weapons around the peninsula is obvious to all," Wenbin said, according to Agence France Presse.
The North Korean military on Thursday launched a ballistic missile towards the sea which prompted Japan to briefly issue evacuation warnings for the Hokkaido island.
NORTH KOREA FIRED 'NEW TYPE OF BALLISTIC MISSILE' IN LAUNCH THAT SPARKED JAPAN EVACUATION WARNING: OFFICIAL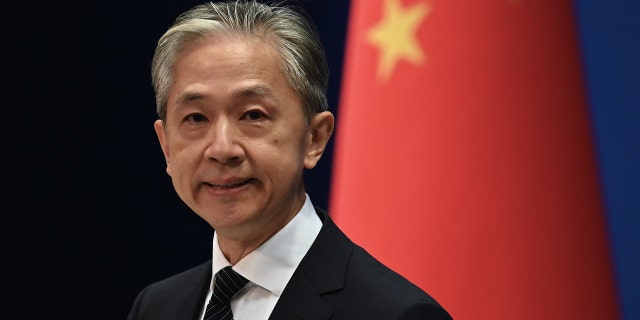 Chinese Foreign Ministry spokesman Wang Wenbin answers a question during a press conference at the Ministry of Foreign Affairs in Beijing on August 8, 2022. (Photo by Noel Celis/AFP via Getty Images))
"Evacuate immediately. Immediately evacuate inside the building or underground," the warning on Thursday morning read. "The missile is expected to fall around Hokkaido around 08:00. Please evacuate immediately."
Japan Broadcasting Corporation, known as NHK, later posted a bulletin stating that the missile wasn't likely to fall in Hokkaido.
A South Korean military official said that the warning to "evacuate immediately" might have involved a "new type of ballistic missile."
NORTH KOREAN MISSILE PROMPTS JAPAN TO CALL FOR FALSE ALARM EVACUATIONS IN HOKKAIDO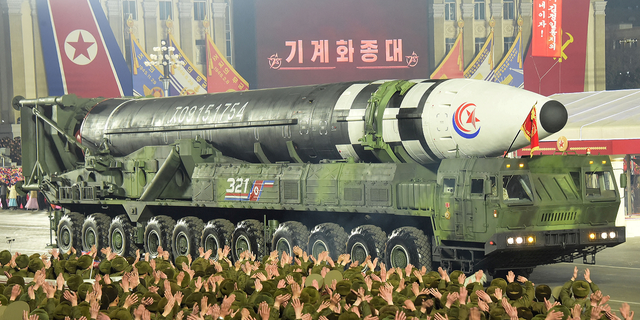 A missile is displayed during a military parade to mark the 75th founding anniversary of North Korea's army, in Pyongyang, North Korea, on Feb. 8, 2023. (Reuters/KCNA)
"So far we assess that they fired a new type of ballistic missile with an intermediate or intercontinental range," the official said, according to Reuters.
In a statement, the White House said it "strongly condemns" the missile launch, stating that the test involved a "long-range ballistic missile."
"The President and his national security team are assessing the situation in close coordination with our allies and partners," National Security Council Spokesperson Adrienne Watson said.
CLICK HERE TO GET THE FOX NEWS APP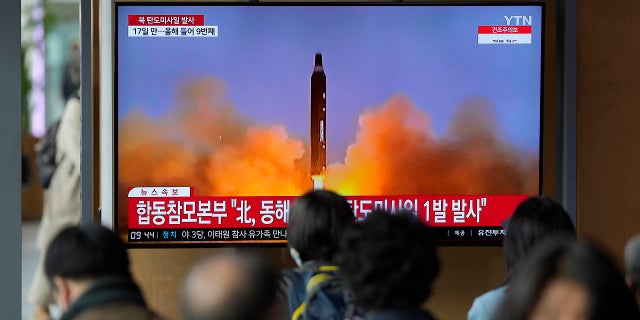 A TV screen is seen reporting North Korea's missile launch on Thursday, April 13, 2023, with file footage during a news program shown at the Seoul Railway Station in Seoul, South Korea. (AP/Lee Jin-man)
"This launch is a brazen violation of multiple U.N. Security Council resolutions and needlessly raises tensions and risks destabilizing the security situation in the region," Watson continued. "This action demonstrates that the DPRK continues to prioritize its unlawful weapons of mass destruction and ballistic missile programs over the well-being of its people."
Fox News' Greg Norman and Andrea Vacchiano contributed to this report.