Supreme Court Chief Justice John Roberts has declined an invitation by Senate Democrats for him, or another justice, to testify before the Senate Judiciary Committee concerning the ethics rules that govern the nation's highest court.
The invitation from Committee Chairman Sen. Dick Durbin, D-Ill., to testify at a May 2 hearing came last week amid the controversy surrounding Justice Clarence Thomas' trips he took with a Republican mega-donor.
"I must respectfully decline your invitation," Roberts wrote the committee in a letter dated Tuesday, citing the "exceedingly rare" circumstances a Chief Justice of the United States would testify before Congress, "as one might expect in light of separation of powers concerns and the importance of preserving judicial independence."
Roberts cited the few instances throughout U.S. history in which a chief justice had testified before Congress on "routine matters" and "mundane topics," and noted the infrequency of the Executive Branch, meaning the president, also testifying before Congress.
LANDMARK SUPREME COURT CASE COULD HAVE 'FAR REACHING IMPLICATIONS' FOR ARTIFICIAL INTELLIGENCE, EXPERTS SAY
Additionally, he attached a Statement of Ethics Principles and Practices he said all members of the Supreme Court abide by.
Durbin released a statement responding to Roberts' letter, saying the hearing would continue as scheduled, and vowed there would be a reform of the Supreme Court's ethics, regardless of its participation in the process.
"I am surprised that the Chief Justice's recounting of existing legal standards of ethics suggests current law is adequate and ignores the obvious. The actions of one Justice, including trips on yachts and private jets, were not reported to the public. That same Justice failed to disclose the sale of properties he partly owned to a party with interests before the Supreme Court," Durbin said.
VP HARRIS CREDITS NONEXISTENT FEDERAL AGENCY WITH APPROVING MIFEPRISTONE: WATCH
"It is time for Congress to accept its responsibility to establish an enforceable code of ethics for the Supreme Court, the only agency of our government without it," he added.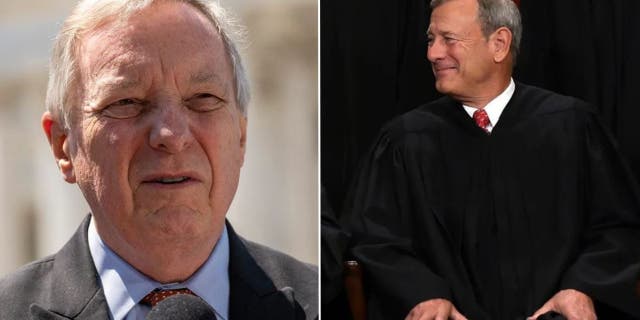 Democratic Illinois Sen. Dick Durbin (left) and Chief Justice John Roberts (right). (Associated Press)
Earlier this month, Durbin asked Roberts to open an investigation into Thomas over what Democrats say is his "misconduct" that was detailed in a report by ProPublica report accusing him of improperly receiving lavish vacations from Republican mega donor Harlan Crow, which reportedly included taking trips across the world on Crow's yacht and private jet without disclosing them.
Experts have dismissed the report as political hit piece and explained that justices are permitted to accept invites to properties of friends for dinner or vacations without paying for it or disclosing it.
HOMEOWNER HEIST? SUPREME COURT TO DECIDE LIMITS OF PROPERTY SEIZURES TO SATISFY TAX DEBTS
Thomas released a statement following the report saying that he has consistently followed ethics guidelines, and would do so in the future.
"Harlan and Kathy Crow are among our dearest friends, and we have been friends for over twenty-five years," Thomas said. "As friends do, we have joined them on a number of family trips during the more than quarter-century we have known them."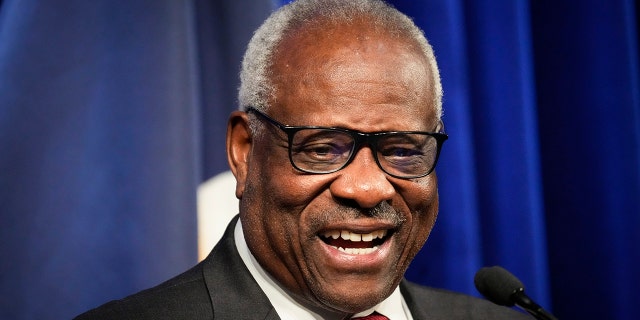 Associate Supreme Court Justice Clarence Thomas speaks at the Heritage Foundation on October 21, 2021, in Washington, DC. (Drew Angerer/Getty Images)
Early in my tenure at the Court, I sought guidance from my colleagues and others in the judiciary, and was advised that this sort of personal hospitality from close personal friends, who did not have business before the Court, was not reportable," he said. "I have endeavored to follow that counsel throughout my tenure, and have always sought to comply with the disclosure guidelines."
CLICK HERE TO GET THE FOX NEWS APP
"These guidelines are now being changed, as the committee of the Judicial Conference responsible for financial disclosure for the entire federal judiciary just this past month announced new guidance. And, it is, of course, my intent to follow this guidance in the future,' he added.
Fox News' Brianna Herlihy contributed to this report.