The NFL Draft creates quite a few heartwarming moments as the dreams of athletes come true.
A lifetime of hard work finally pays off as athletes reach the highest level of competition and financial security for the athletes and their families becomes a reality.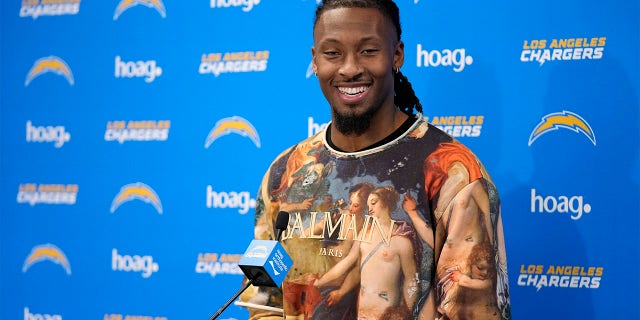 Quentin Johnston speaks during a news conference Friday, April 28, 2023, in Costa Mesa, Calif, to introduce him after he was drafted by the Los Angeles Chargers. (AP Photo/Mark J. Terrill)
Former TCU wide receiver Quentin Johnston was selected by the Los Angeles Chargers with the 21st pick of the 2023 NFL Draft, and his reaction was priceless.
JAGUARS DRAFT PICK ERICK HALLETT SENT TEAM'S PHONE CALLS TO VOICEMAIL
"I just want to give a big shout-out to my mom," Johnston said after being selected. "She's going to be putting her two-week notice in today. She can retire.
"I don't want you working another day!"
Johnston sang his parents' praises Friday, crediting them for his discipline.
"Both of my parents were in the Army. My baseline of Quentin, who I am, is based off of discipline and respect," Johnston said. "It's something that I feel like I've carried with me from the time I could talk until now and something that I'm going to keep doing.
CLICK HERE FOR MORE SPORTS COVERAGE ON FOXNEWS.COM
"There was a lot of waking up early in the morning just to do whatever. A lot of everything, being on point. I got used to it, and that's just how I move now."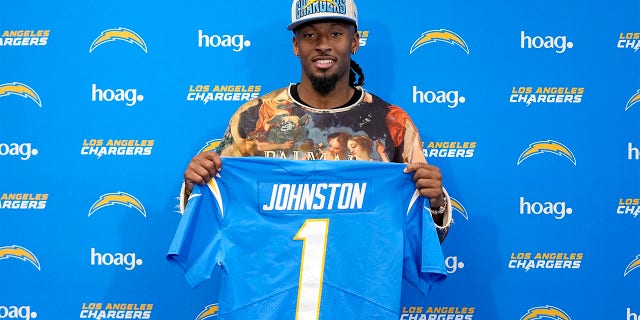 Quentin Johnston poses with his jersey after speaking at a news conference April 28, 2023, in Costa Mesa, Calif., to introduce him after he was drafted Thursday by the Los Angeles Chargers.  (AP Photo/Mark J. Terrill)
Johnston's mother, Sherry, served during Operation Desert Storm/Desert Shield, according to the Chargers' website. His father served in Kuwait in 1995.
Johnston was the second wide receiver taken off the board after Jaxon Smith-Njigba from Ohio State was selected by the Seattle Seahawks at No. 20.
CLICK HERE TO GET THE FOX NEWS APP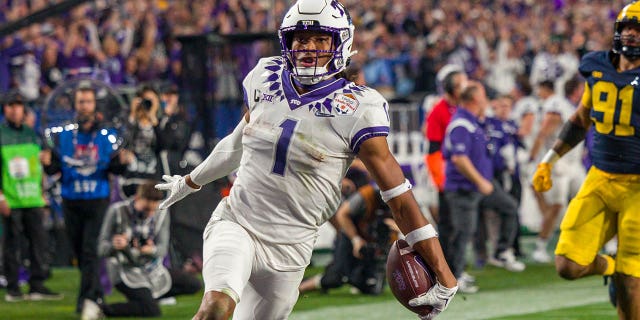 TCU Horned Frogs wide receiver Quentin Johnston (1) runs the ball into the end zone for a touchdown during the Vrbo Fiesta Bowl against the Michigan Wolverines Dec. 31, 2022, at State Farm Stadium in Glendale, Ariz.  (Adam Bow/Icon Sportswire via Getty Images)
He'll join a talented receiving corps in LA playing alongside Mike Williams and Keenan Allen.
The Chargers will be counting on Johnston to provide immediate help as LA looks to bounce back from a wildly disappointing playoff loss to the Jacksonville Jaguars.