Graduation season has arrived, and for those closing one major chapter of their lives and being jolted into the next with a bombardment of messages – inspiring, eye-opening and even brutally honest – some stand out more than others.
For graduates of major universities, a college career seems incomplete without the wisdom and inspiration of commencement speakers who blaze the trail to the real world for those walking across the stage.
With this year's batch of graduates preparing to accept their diplomas, these celebrity speakers served up some surprising advice from the podium that continues to resonate.
5 COLLEGE GRADUATION SPEECHES THAT SHOCKED STUDENTS AND PARENTS ALIKE
Michael Keaton's "I'm Batman" Moment
The "Batman" and "Beetlejuice" legend brought one of his famed personas back to life during a commencement address at Ohio's Kent State University in 2018, where he originally majored in journalism and speech, but never graduated.
After offering nuggets of wisdom about authenticity, self-discovery and the value of education, the star topped off his nearly 20-minute-long speech with an iconic reference to his role as the "dark knight" from the two Tim Burton-directed Batman flicks from 1989 and 1992.
"I've got one more thing to say, and it'll only take me a second, and I've got two words that I want you all to remember," he said. "I'm Batman."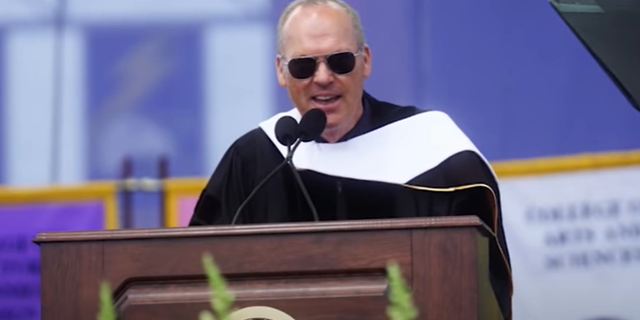 Actor Michael Keaton speaks during 2018 commencement at Kent State University in Ohio. (Kent State University/Global News (YouTube))
The caped crusader left an inspiring message for the students of his alma mater, telling them to chase their authentic selves and, in the process, stare into the face of humility.
"Don't ever live in your false self. Live in your real self because the absolute freedom of not worrying about what other people think is indescribable and worth all the effort that you put into it," he continued.
Sandra Bullock's Impromptu Speech
The Academy Award-winning "The Blind Side" and "Gravity" actress surprised the 2014 graduating class of New Orleans' Warren Easton Charter School by showing up to deliver a commencement speech with some uniquely inspiring tips for success.
Cheers roared from the crowd as Bullock took the stage to nearly everyone's surprise. At the podium, she spoke of effort, taking the extra step and worrying less about what could go wrong.
"Stop worrying so much, OK? Stop being scared of the unknown, because anything I worried about didn't happen. Other stuff happened, but not what I worried about. The unknown we can't do anything about, and I don't remember any of the moments in my life where I worried. So that's a lot of time I couldn't get back," she said, in part.
Embedded in her nuggets of wisdom were tidbits of humor, including one that sounded a bit gross.
"Do not pick your nose in public," she said as the audience chuckled. "How about we just don't pick it in private either? How about we just go get a tissue. It takes a little effort, and it gets the job done right away…"
Robert De Niro's Brutal Message to Artists: "You're f—ed"
At least you are if you majored in the arts. The "Taxi Driver" and "Goodfellas" star uttered the shocking line during a 2015 commencement ceremony speech for NYU Tisch during which he addressed the struggles faced by those who follow their passion and pursue a degree in the arts.
"You discovered a talent, developed an ambition and recognized your passion. When you feel that, you can't fight it — you just go with it," he said.
"When it comes to the arts, passion should always trump common sense. You aren't just following dreams, you're reaching for your destiny.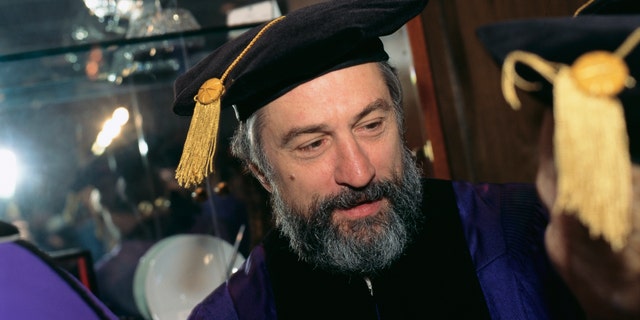 Robert De Niro speaks to fellow graduates at the New York University graduation ceremony. De Niro is receiving an honorary doctorate degree in fine arts from NYU. (Photo by James Leynse/Corbis via Getty Images)
"You're an artist — yeah, you're f—ed. The good news is that's not a bad place to start."
Even further, and in his characteristically blunt fashion, he warned the graduates of the string of rejections that would come in consequence of following their dreams.
"A new door is opening for you — a door to a lifetime of rejection. It's inevitable," he warned. Despite it all, he topped it off with a message that even when your best isn't good enough, keep trying and that, when faced with rejection from one part, aim for another.
Mindy Kaling: Delusion is a "Superpower"
"The Mindy Project" and "The Office" star offered a unique stance during her commencement speech at Dartmouth College, telling the class of 2018 that one of the secrets to success is confidence or, as she put it, "delusion."
"I'll tell you my secret, the one thing that has kept me going through the years, my superpower: delusion," she said. Taking a dig at then-President Trump, she pointed out that unfathomable power comes from believing in yourself, even if the source of that power is unfounded in anything else.
"This is something I may share with our president [Trump], a fact that is both horrifying and interesting. Two years in, I think we can pretty safely say that he's not getting carved onto Mount Rushmore, but damn if that isn't a testament to how far you can get just by believing you're the smartest, most successful person in the world. My point is, you have to have insane confidence in yourself, even if it's not real," she continued.
Tom Hanks' Virtual Speech to COVID-Era Graduates: "The Chosen Ones"
The "Forrest Gump" star gave a hopeful address to class of 2020 graduates at Ohio's Wright State University Department of Theatre, Dance and Motion Picture, labeling the resilient group "the chosen ones" for persevering through the twists and turns of the COVID-19 pandemic, particularly during the earlier months of lockdowns, restrictions and shifts to virtual interaction when the changes were still fresh.
"I am calling you 'chosen ones' because you have been chosen in many ways. First, by the temperament and discipline, you've lived by. By the creative fires that are inside of you. And the instinctive lunges of your desires," he told the graduates.
"You succeeded because of the aid and the love of others that are in your lives, without a doubt. But you have succeeded mostly because you and you alone chose to do so. You are the chosen ones," he continued.
The message resonated with students who were the first graduating class to deal with the complications of moving to an online format and away from traditional, in-person graduation ceremonies that had been available to graduating classes before them.