Flag Day, while between Memorial Day and Independence Day, is an unofficial federal holiday celebrated across the United States.
The day falls on June 14 each year and commemorates the anniversary of the adoption of our nation's flag in 1777.
The U.S. adopted the flag nearly one year after the country declared its independence from Great Britain. Flag Day has been celebrated for more than 100 years but since it's been adopted, there have been 27 official versions of the American flag.
FLAG DAY BY THE NUMBERS: 10 FACTS ABOUT THE AMERICAN FLAG
Not only does this cookie cake taste delicious, it incorporates fruit — so you don't have to feel too guilty about sharing with the kids.
For this recipe, you can use either a round or rectangular cookie sheet.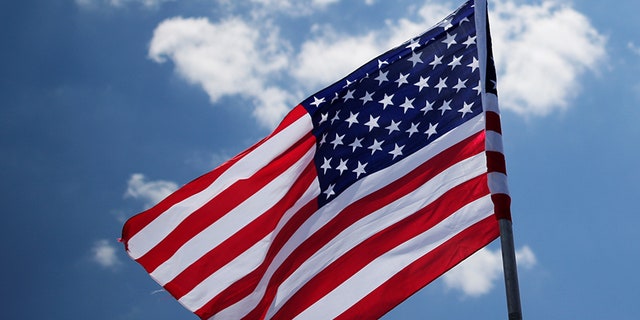 Flag Day has been celebrated in the U.S. for more than 100 years. (Reuters)
Simply buy or make homemade cookie dough and bake it in the oven on the cookie sheet of your choice. Feel free to make the cookie with any and all ingredients you like.
Bake until golden brown and be sure to avoid burning. The cookie cake will harden once it settles to room temperature so don't feel like you need to cook it until it's all brown.
Once cooked, remove from the oven and let cool for at least one hour before topping with frosting and fruit. You want to avoid adding anything while the cookie is warm, as it will melt the frosting.
If you want to cover the entire cake in frosting, now would be the time to do so. You will then line washed blueberries in the upper left corner for the stars part of the American flag.
After you've washed and sliced strawberries, you'll add them as the stripes part of the flag, skipping one row and leaving it white with just frosting.
Now, pipe frosting with either a rose nozzle tip using a ribbon technique or smooth over a line of frosting. Add sliced strawberries to the frosting. Skip the same sized section as the first "stripe" and pipe another line of frosting as you did the first. You will begin creating the stripe portion of the American flag.
If you want to make it look even fancier, layer the strawberries left on one stripe and right on the other stripe, so they appear to be more dimensional.
2. Pound cake trifle
Pound cake
Cool Whip
Blueberries
Strawberries
This dessert can be completed using homemade or store-bought pound cake or box vanilla cake.
If you finish the trifle cake and cake or berries are at the top of it, sift powdered sugar atop and serve with spoons and bowls.
3. Red, white and blue Charcuterie
Would it be a party without a Charcuterie board?
Because Flag Day falls right before summer, consider how hot it will be outside and avoid certain foods. While a number of delicious and typical Charcuterie items like pepperoni and salami have a red hue, you might want to avoid them in the sun.
On a Charcuterie board, a platter or a cutting board, arrange the following items however they will look both appetizing and aesthetically pleasing. It's recommended you create an American flag shape of sorts, if possible.
Blueberries
Strawberries
Raspberries
Blackberries
Watermelon
Red grapes
Sliced red bell peppers
Cherry tomatoes
Crackers
Peanuts
Ranch dressing
Fruit dip