A Maryland man is facing charges after the U.S. Capitol Police on Friday confiscated a rifle found in the backseat of a truck at an off-site facility.
Michael J. Donohue, 57, had the gun partially wrapped in a blanket on the backseat of a Ford pick-up truck, when Capitol Police officers spotted it around 5 a.m. Friday.
"Although our investigators are still looking into this case, at this time, there is no evidence that shows this person was targeting the Congress or the Capitol Complex," Capitol Police said in a statement.
EX-FIREFIGHTER GETS 52 MONTHS FOR THROWING FIRE EXTINGUISHER AT CAPITOL POLICE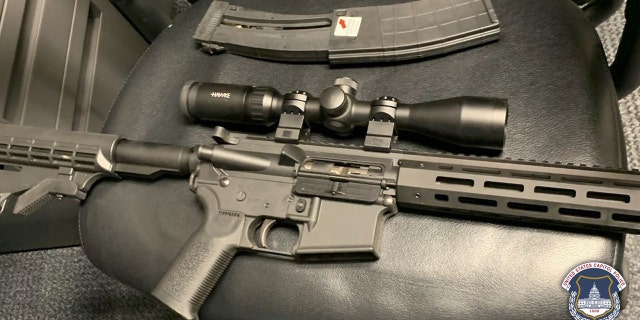 U.S. Capitol Police said Friday the department seized a rifle in a Maryland man's truck at an off-site delivery inspection site. (US Capitol Police)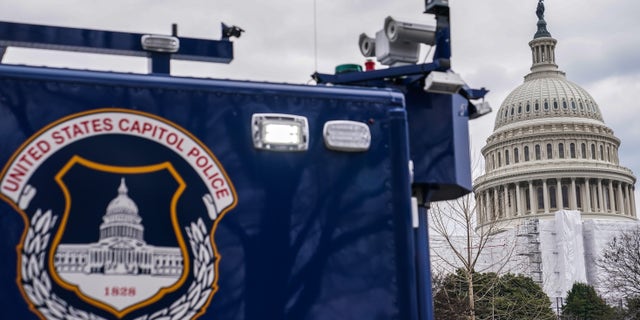 A Capitol Police command truck near security fencing outside the U.S. Capitol in Washington, DC, on Monday, Feb. 6, 2023.  (Photographer: Nathan Howard/Bloomberg via Getty Images)
The truck was flagged and searched at an off-site facility where law enforcement inspects vehicles before they are brought onto Capitol grounds.
The gun found in the Ford vehicle had an extended magazine and scope.
"This serves as yet another reminder that all weapons are prohibited from Capitol Grounds," Capitol Police Chief Tom Manger said.
TUCKER CARLSON TALKS EXCLUSIVELY WITH KEY CAPITOL POLICE OFFICER IGNORED BY JAN. 6 PANEL AMID FOOTAGE RELEASE
He added, "I thank our entire team at the off-site screening facility from stopping this gun before it came anywhere near the U.S. Capitol Complex."
Donohue faces charges of possession of an unregistered firearm, possession of unregistered ammunition, and unlawful activity, the department said.
CLICK HERE TO GET THE FOX NEWS APP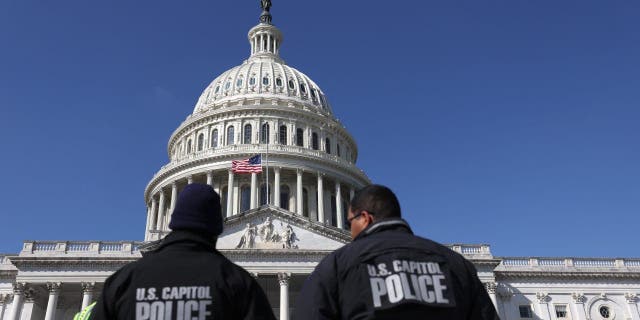 U.S. Capitol police officers gather on the east front plaza of the Capitol on Feb. 28, 2022, in Washington, D.C. (Justin Sullivan/Getty Images)
The USCP warned in their statement that roughly 40 guns were discovered and seized near the Capitol last year — mostly from individuals traveling through the area.
"Even if you have a gun that is legally registered in another state, it is still illegal to bring it on Capitol Grounds, which includes screening facilities like the one from this morning," the USCP wrote.