Artificial intelligence is being used and introduced across all sectors, aiding the research of oncologists and NASA scientists.
Algorithms and machine-learning models, like the newly popular ChatGPT and Google's Bard, have helped students and professionals – although the technology comes with a warning as governments around the world rush to devise regulations and standards.
The potential of the industry and AI may appear to be boundless at this phase, with new research and tools publicly announced every week.
Just days after the Biden administration called for public input on proposed artificial intelligence policies, tropical cyclones are already a topic of discussion.
PENTAGON GOES ON AI HIRING SPREE TO BRING MACHINE LEARNING CAPABILITIES TO THE BATTLEFIELD
Severe and deadly weather ripped through communities in the South and Midwest and extreme flooding took southern Florida by storm on Wednesday, with nearly a foot of rain falling in just a matter of hours. Fort Lauderdale issued a state of emergency, and the forecast called for more rain on Thursday.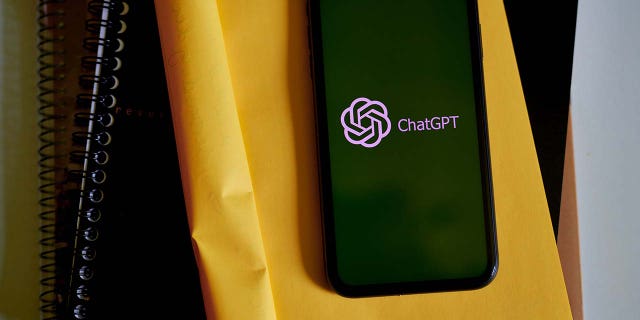 Algorithms and machine-learning models, like the newly popular ChatGPT and Google's Bard, have helped students and professionals – although the technology comes with a warning as governments around the world rush to devise regulations and standards. (Gabby Jones / Bloomberg via Getty Images / File)
Meteorologists remarked on the extremity of the event.
One company, Weather 20/20, uses machine learning for long-range forecasting months out with a method it calls Lezak's Recurring Cycle (LRC).
Founded by retired Kansas City broadcast meteorologist Gary Lezak, the approach identifies cycles in the atmosphere's behavior over time that establish recurring patterns each year. Those patterns, the company says, can be used to project forward actual weather conditions over long windows of time.
"We use what actually happened to predict what is going to happen," it says. Key influences of the LRC include El Nino/La Nina patterns, harmonics and the Arctic and North Atlantic oscillation cycle.
While some in the field have questioned claims from Weather 20/20 and its founder's published work, admitting it has shown some efficacy to the Daily Beast in March, Lezak has answers for skeptics and those who say the theory of order in chaos would make long-range weather prediction impossible due to the sensitivity of initial measurements and small errors present in any meteorological prediction.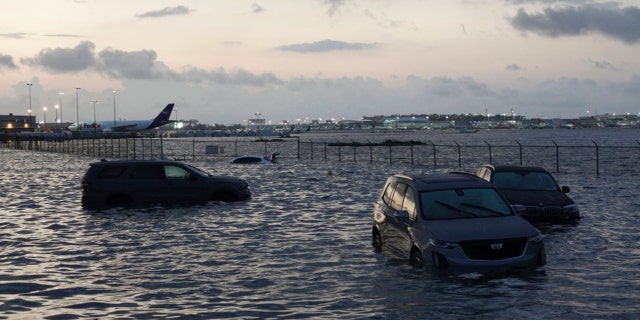 Flooding lingers at Fort Lauderdale-Hollywood International Airport on Thursday, April 13, 2023, after heavy rain pounded South Florida on Wednesday. (Joe Cavaretta / South Florida Sun-Sentinel via AP)
"We just don't have the computing [to eliminate these errors], nor are the physical processes represented perfectly," David DeWitt, the director of the National Weather Service's Climate Prediction Center, told the site.
FORT LAUDERDALE FLOODING FORCES AIRPORT TO CLOSE, LEAVES DRIVERS STRANDED FOR HOURS
In a podcast responding to the Daily Beast article – as well as in the article itself – Lezak pushed back, touting the Weather 20/20 results.
Ahead of the deadly weather in Mississippi last month, Lezak said the accuracy of a 65-day outlook "predicted as good as the one-day or two-day outlook" from the National Weather Service's Storm Prediction Center, naming Mississippi as the target.
"And we didn't just take a stab and say, 'Hey, right around March 20th and 25th there's going to be one.' It's based on the LRC. You can go back, scientifically analyze the weather patterns and make a prediction based on the technology that we have," he said.
Weather 20/20 has made nearly a dozen predictions for the season, and Lezak says his model is a "paradigm shift in meteorology."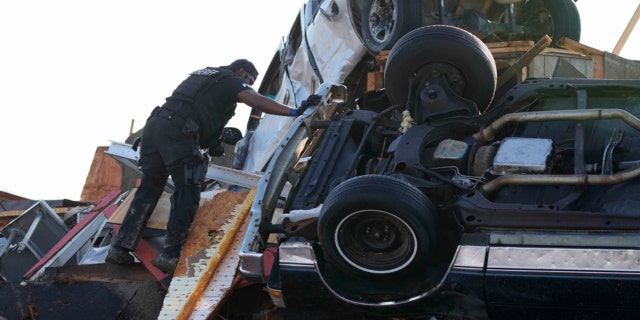 A sheriff's deputy climbs onto a pile of wind-tossed vehicles to search for survivors or bodies in Rolling Fork, Mississippi, March 25, 2023. (AP Photo / Rogelio V. Solis)
Lezak addressed concerns that such long-range forecasting could provide undue stress for affected areas, telling the Daily Beast there is an advantage in knowing ahead of time and in planning ahead.
The head of Baron Weather – which provides predictions and storm-tracking tools for government agencies and TV stations – has agreed with the success of Weather 20/20, and the two announced a partnership in February.
CLICK HERE TO GET THE FOX NEWS APP
"Weather 20/20 has a successful track record for providing long-range guidance with respect to the geographic region and timing of significant weather risks," Baron Weather President and CEO Bob Dreisewerd said in a statement. "Our business clients have a need for guidance beyond the typical 7-14 day forecast period and will find the forecast insights by Weather 20/20 very valuable in terms of long-range planning, risk mitigation and decision support."
Lezak said he wasn't surprised that scientists doubt his work, knowing that it "makes other scientists a little nervous," and agreed with the sentiment at the conclusion on the piece: Only time will tell how the LRC will fare.
Fox News Digital's request for comment from Weather 20/20 was not immediately returned.
The Associated Press contributed to this report.