Bryan Kohberger is seen pushing back at a Washington State University Police officer after an October traffic stop in newly released bodycam video made public Thursday evening, giving a new glimpse at the prior life of a suspected quadruple murderer.
"I think you know why I stopped you," the officer tells Kohberger. "You ran the red light."
"What actually happened is I was stuck in the middle of the intersection," Kohberger replies. "So, I was forced to go to the left."
"Yeah I was behind you the whole time," the officer says. "You're not supposed to enter the intersection at all for that reason because if the light turns red, then you're stuck in the intersection."
IDAHO STUDENT MURDERS: BRYAN KOHBERGER JUDGE FACES NEW GAG ORDER APPEAL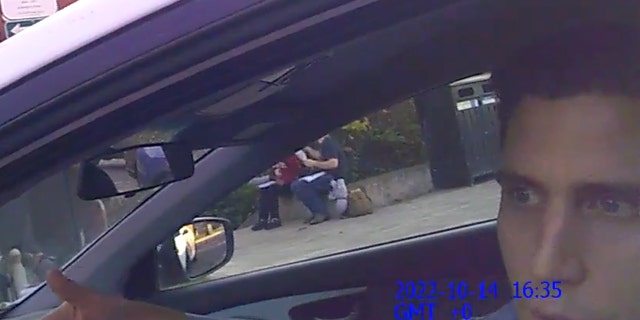 Bodycam video shows Bryan Kohberger interacting with a Washington State University Police officer in October 2022, about a month before the stabbing deaths of four students at the nearby University of Idaho. He is accused of the slayings and is being held without bail on four counts of first-degree murder. (Washington State University Police)
Kohberger claimed he was unfamiliar with how to drive through crosswalks because he was from a rural part of Pennsylvania.
"It never even occurred to me that was actually something wrong," Kohberger tells the officer.
The officer explains to Kohberger that, under Washington state law, drivers can't enter an intersection unless there's enough space for their vehicles on the opposite side.
WATCH: Idaho murders suspect Bryan Kohberger stopped by WSU police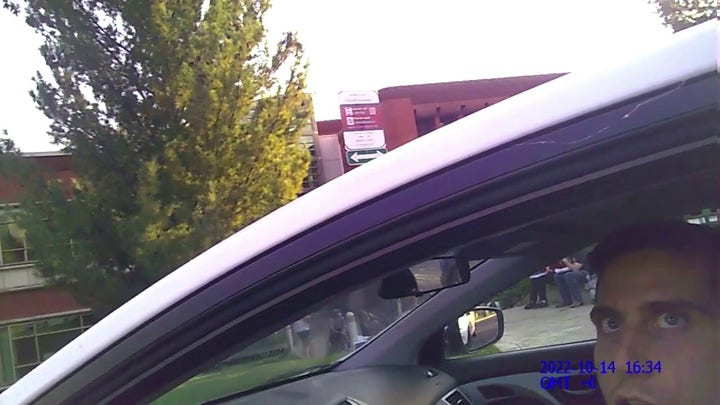 Video
However, he asks her to explain the rules for him, a request she accommodates.
"Can you explain that to me a little bit further?" Kohberger, a 28-year-old with a master's degree in criminal justice, asks the officer during the encounter. "So, in Pennsylvania, when you're stuck in an intersection, you have to make the left. What would the appropriate thing for me to have done been?"
"You're not supposed to block an intersection like that in Washington," she replies.
He was eventually let off with a warning.
"I do apologize if I was asking you too many questions about the law," Kohberger says.
The release also includes officers banging on his apartment door Dec. 30, announcing their presence before serving a search warrant. He was already in Pennsylvania, where he was taken into custody by state police and the FBI at his parents' house that same day.
IDAHO MURDERS: BRYAN KOHBERGER DA CALLS IN BIG GUNS FROM STATE TO JOIN DEATH PENALTY CASE
Documents describe Kohberger's sparsely furnished apartment
Previously unsealed court documents go into more detail about what police found in his apartment in Pullman, Washington. The new documents give a glimpse at was missing.
"We also noticed, while clearing the apartment, it was sparsely furnished and fairly empty of belongings, including no shower curtain in the bathroom and the trash cans appeared empty," wrote WSU Assistant Chief of Police Dawn Daniels.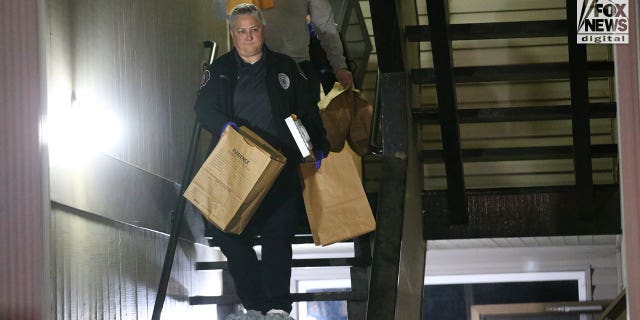 Investigators search Bryan Christopher Kohberger's home in Pullman, Wash., after dark Dec. 30, 2022. (Derek Shook for Fox News Digital)
The search of his office in the school's department of criminal justice and criminology turned up nothing, Fox News Digital has previously reported. The new documents reveal his desk was completely empty.
In the apartment, police found hair samples, fabric with dark red stains and a single black glove and other evidence.
Police seized a single "nitrite-type black glove," a Walmart receipt and Dickies tag, two receipts from a Marshalls store, the dust container from a Bissell vacuum, eight "possible hair strands," a Fire TV stick, a single "possible animal hair strand," four other "possible" hairs and a computer tower.
They also found a dark red spot, two "cuttings from uncased pillow of reddish/brown stain," and mattress covers with multiple stains.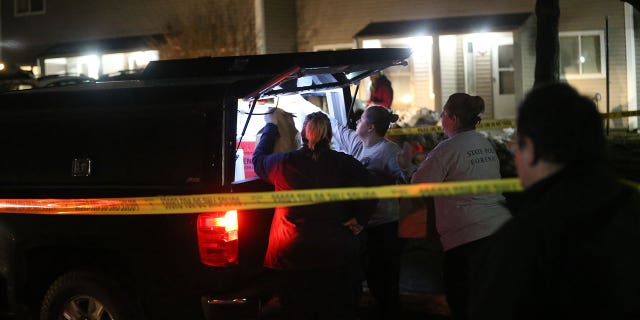 Investigators search Bryan Christopher Kohberger's home in Pullman, Wash., Dec. 30, 2022. (Derek Shook for Fox News Digital)
Lastly, the school released an official letter from the school informing the suspected murderer and former Ph.D. criminology student he is no longer welcome on campus. It was signed by Kohberger from his Idaho jail cell.
Kohberger is accused of fatally stabbing four University of Idaho students Nov. 13. Their school is less than 10 miles from where Kohberger was studying.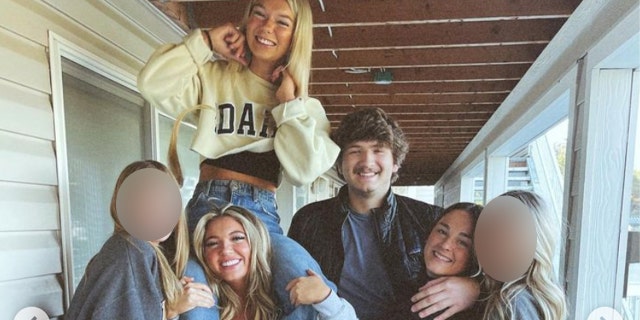 Madison Mogen, top left, smiles on the shoulders of her best friend, Kaylee Goncalves, as they pose with Ethan Chapin, Xana Kernodle and two other housemates in Goncalves' final Instagram post shared the day before the four students were stabbed to death. (@kayleegoncalves/Instagram)
Victims Kaylee Goncalves, 21, Madison Mogen, 21, Xana Kernodle, 20, and Ethan Chapin, 20, were found dead hours after a surviving housemate told police she heard strange noises and saw a masked man with "bushy eyebrows" leaving out the back door.
According to police in Moscow, Idaho, he allegedly entered their house at 4 a.m. and massacred them with a large knife. At least some of the students were believed to have been sleeping at the start of the attack, according to the Latah County coroner.
Police found a Ka-Bar knife sheath at the apartment, from which they recovered DNA, which allegedly helped link Kohberger to the killings.
CLICK HERE TO GET THE FOX NEWS APP
Police also identified the white Hyundai Elantra in which he was pulled over in October as the suspect vehicle in the November attack.
Kohberger is being held without bail at the Latah County Jail. A preliminary hearing is scheduled for June 26. He has not yet entered a plea.
Fox News' Jasmine Baehr and Matteo Cina contributed to this report.