NASHUA, N.H. – Robert F. Kennedy, Jr.'s polling in the mid to upper teens in the latest Democratic presidential nomination public opinion surveys, as he primary challenges President Biden.
But the environmental lawyer and high-profile vaccine critic, who's a scion of arguably the nation's most famous family political dynasty, charges that despite his poll position, "the mainstream media has dismissed my candidacy as an irrelevancy."
Kennedy, when asked during an interview with Fox News Digital on Tuesday during a campaign stop in New Hampshire about his standing in the polls, alleged unfair treatment.
"Places like CNN, which have invited many of the Republican candidates who have much, much less polling support that I do, to do town halls and express themselves on their important TV shows, has not treated me that way. I think that's interesting," he emphasized.
Kennedy, who was making his second campaign swing through New Hampshire since launching his presidential campaign in April, was interviewed as he stood aside a bust of his uncle, the late President John F. Kennedy, outside of Nashua's city hall. He's one of two nationally known Democrats, along with best-selling author and spiritual adviser Marianne Williamson, challenging Biden for the 2024 nomination.
Kennedy sparked speculation about a potential White House run early this year by visiting New Hampshire, which for a century has held the first primary in the presidential nomination race. He was joined on his trip to the state by his wife, actress Cheryl Hines, best known for portraying the wife of Larry David on the popular HBO comedy series "Curb Your Enthusiasm."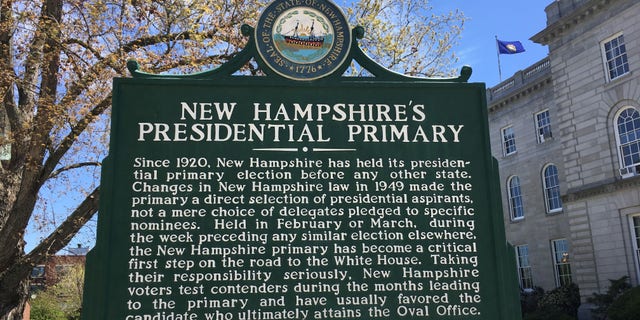 New Hampshire has held the first-in-the-nation presidential primary for a century. A sign outside the state capitol in Concord marks the state's treasured primary status. (Fox News )
On that trip, Kennedy took aim at Biden and the Democratic National Committee (DNC) over their decision to move the New Hampshire presidential primary out of its lead-off primary position. New Hampshire will now vote second in the DNC's calendar, along with Nevada, three days after South Carolina, under the DNC's new schedule.
CLICK HERE TO GET THE FOX NEWS APP
Kennedy once again urged Biden to participate in the New Hampshire primary. He stressed, "We ought to have a real contest. we ought to have retail politics and town halls and debates and open primaries so the Democrats can choose the candidate who's going to be most effective in running against our Republican adversary. For a small group of people in the DNC to pick that candidate without input from the public I think is wrong."