Florida Gov. Ron DeSantis struck back at Disney World Monday, announcing forthcoming legislative action that would void a development agreement that enshrined the corporate giant's self-governing power.
"We want to make sure that Disney lives under the same laws as everybody else," DeSantis said during a press conference in Lake Buena Vista, where Disney World is located.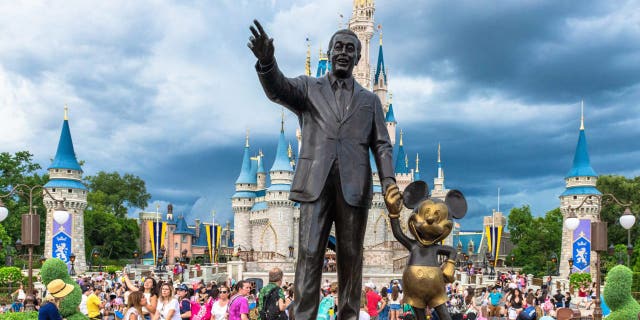 Florida Gov. Ron DeSantis earlier this year gained control over a board that oversees aspects of Disney World. (Roberto Machado Noa/LightRocket via Getty Images)
WAR OVER THE CORPORATE KINGDOM: DESANTIS' NEW BOARD SPARS FOR CONTROL WITH DISNEY
The presumptive 2024 presidential candidate teased threats of reassessing Disney's property value for taxes, and allowing construction of more amusement parks in the special district.
"Someone even said, like, 'Maybe you need another state prison.' Who knows?" DeSantis said. "I just think that the possibilities are endless."
The Florida Legislature approved a plan in February replacing Disney World's self-governing authority with a state board. But hours before lawmakers finalized the deal, the board — still under control of company appointees — transferred most of its power to Disney using an obscure royal clause dating back to 1692 in Great Britain.
"This essentially makes Disney the government," Ron Peri, a newly-appointed member of the Central Florida Tourism Oversight Board (CFTOB), said at a Feb. 27 meeting. "This board loses, for practical purposes, the majority of its ability to do anything beyond maintain the roads and maintain basic infrastructure."
Disney said in a statement at the time, "All agreements signed between Disney and the District were appropriate, and were discussed and approved in open, noticed public forums in compliance with Florida Government in the Sunshine law."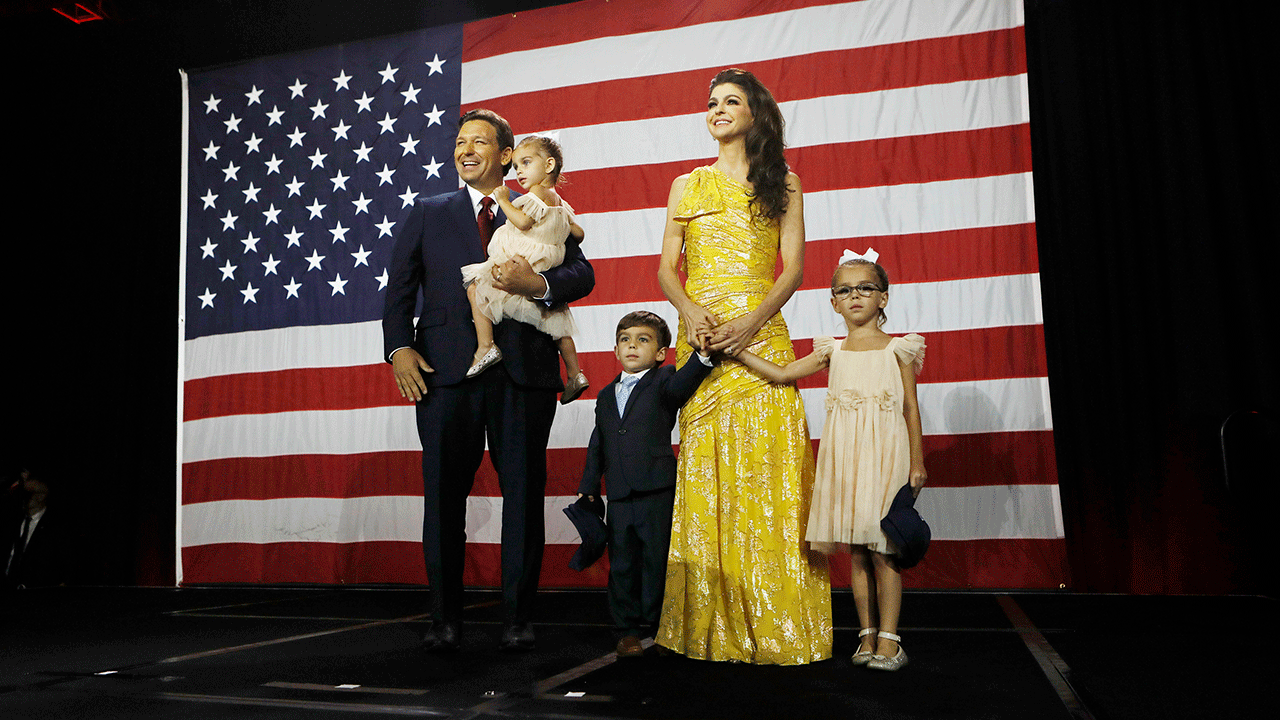 Florida Gov. Ron DeSantis cruised to reelection in November 2022. (Octavio Jones/Getty Images)
FORMER DISNEY CEO PRIVATELY COMPLAINED TO DESANTIS ABOUT 'PRESSURE' FROM WOKE LEFT AMID FLORIDA FIGHT: BOOK
But on Monday, DeSantis said Disney's attempt to usurp the state oversight board is "not going to fly."
"There is a bill that will be put out in the Florida Legislature that will make sure that the agreements purported to be entered into by Disney are revoked and the people's will is established and is upheld," DeSantis said.
Rep. Fred Hawkins, who sponsored the original legislation transferring power to the state board, said details of the new action would roll out in the coming days.
DeSantis has clashed with Disney — which he refers to as a "corporate kingdom" — numerous times during his tenure as governor. Disney publicly opposed the Republican-led Parental Rights in Education bill, which banned schools from giving instruction on sexual orientation or gender identity to young children.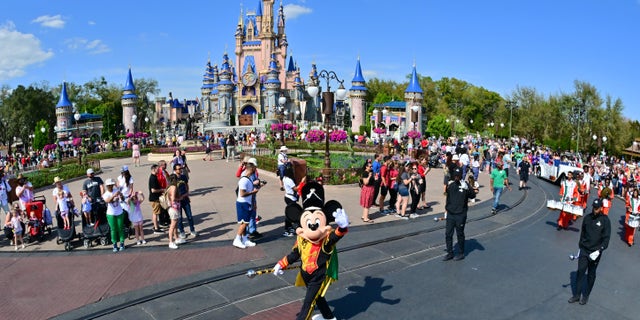 Mickey Mouse waves to fans during a parade at Walt Disney World Resort on March 3, 2022 in Lake Buena Vista, Florida. (Photo by Julio Aguilar/Getty Images for Disney Dreamers Academy)
CLICK HERE TO GET THE FOX NEWS APP
Disney World also required visitors to wear face masks until mid-2022, another business decision DeSantis said the new CFTOB may be able to override in the future.
"Disney clung to forcing these young kids to wear masks forever," DeSantis said in Monday's press conference. "I think that the district would be within its right to say that, you know, anyone who's a patron of any business in this district has a right to do it mask-free."
Matt Leach contributed to this report.