Andrew McCarthy recalled his rise to stardom as one of the members of the Brat Pack.
During the '80s, the actor was a reluctant member of the Brat Pack – which consisted of a group of young idols such as Molly Ringwald, Judd Nelson, Demi Moore and Rob Lowe – who dominated Hollywood.
McCarthy, 60, reflected on how the term had a negative impact initially, but he learned to embrace it later in his career.
'PRETTY IN PINK' STAR ANDREW MCCARTHY ON BRAT PACK FAME, FACING ALCOHOL ABUSE: 'IT WAS SO ALL-CONSUMING'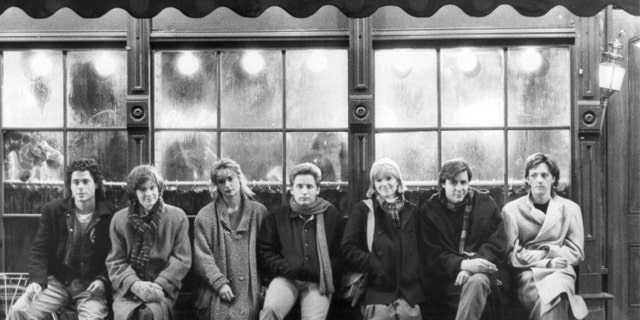 The cast of "St. Elmo's Fire," directed by Joel Schumacher, in 1985, from left, Rob Lowe, Ally Sheedy, Demi Moore, Emilio Estevez, Mare Winningham, Judd Nelson and Andrew McCarthy. (Getty Images)
He said after chatting, they all agreed that they "hated" being coined the Brat Pack because it was initially a "negative" term.
"Now… it's an iconic… affectionate phrase… I'm an avatar of people's youths… it's a warm fuzzy thing," McCarthy laughed.
'BREAKFAST CLUB' STAR ANTHONY MICHAEL HALL REFLECTS ON BRAT PACK FAME: 'I DIDN'T ANTICIPATE ANY OF THAT'
He took to Instagram to share an old photo of the two on set, along with a modern-day snap of them.
 
 

 
 
View this post on Instagram
 

 
 
 

 
 

 
 
 

 
 

APP USERS CLICK HERE TO SEE INSTAGRAM PHOTO
McCarthy additionally opened up about suffering from imposter syndrome early in his successful career.
"When I was younger I had that because so much happened so fast when I was a kid in the movies and everything… it was a wondrous time but completely beyond my comprehension."
He said he doesn't suffer from the health condition anymore and quipped, "I am what I am at this point."
Impostor syndrome refers to someone who believes they are undeserving of their high achievements, according to Psychology Today.