African American families are seeking the return of land or some form of reparations from both the University of Alabama and the University of Georgia for having seized their land decades ago.
A set of families have demanded the University of Georgia and Athens-Clarke County pay them $5 million in reparations for the land they were moved from in the 1960s.
Meanwhile, the Jones family has sought just compensation for their land that was sold to the Alabama college around the same time period after the government seized it through eminent domain.
A New York Times report framed these legal claims as a "new front in reparations" and began its deep dive on subject by remarking on the growing trend of African Americans trying to get compensation for their land after it was allegedly taken from them by the government years ago.
The Times stated that some African American families now "want the land or to be paid current market value," adding, "In some cases, families are asking for acknowledgment of the harm done as a way to return their history to public memory."
The legal claims to seized land have apparently grown in number in recent years, with the outlet noting that "a national organization dedicated to helping Black families recover lost land has received about 700 claims to properties since 2021."
It acknowledged however, that "Only a very few such cases have gotten traction; most are in the early stages and could take years to progress, if they do at all."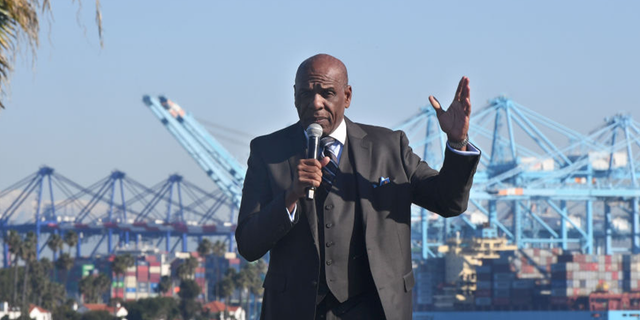 Reparations calls have yet to grow major traction in the U.S. Even California state Democratic Sen. Steven Bradford has advised African American state residents not to get their hopes up on massive individuals reparations payments.  (Media News Group/Long Beach Press-Telegram)
The article first mentioned the Jones family claim against the University of Alabama and the local county. It said, "Mr. Jones said his research shows that the land was seized in 1962 from his parents by local government using eminent domain — authority that allows governments to seize properties in the interest of public use."
The claim has caught the attention of the legal team representing the City of Huntsville, though according to the outlet, the city's communications director declined to comment on the claim, saying, "Our legal team is aware, and it would be inappropriate for the City of Huntsville to publicly comment on the matter at this time."
The paper then detailed how multiple families were bought out of land in a neighborhood called Linnentown, near the University of Georgia in the 1960s. The school has since acknowledged these families were underpaid for the land.
CLICK HERE FOR THE FOX NEWS APP
Fox News Digital reached out to both universities on Thursday for comment on the Times' report. Trevor provided what appeared to be the same statement he gave to The New York Times. He said, "Under Georgia law then and now, only the Board of Regents may acquire and own property on behalf of member institutions of the University System of Georgia. The Board of Regents lawfully purchased this tract of land from the City of Athens after an eminent domain proceeding. Questions about the specifics of this project should be directed to the University System of Georgia in Atlanta."
He added, "Decisions about building names and physical markers at member institutions also rest with the Board of Regents."