The overwhelming majority of requests made by migrants for an exception to the Title 42 public health order using the recently-expanded CBP One app have been accepted, with 99% of migrants being found to have met the criteria — just as the app continues to face scrutiny from both the left and the right.
The Biden administration expanded the use of the CBP One app in January to allow for migrants seeking a humanitarian exception to Title 42 — the COVID-era public health order that allows for the rapid expulsion of migrants at the southern border due to the pandemic.
It allows migrants to upload information, including a photo, and schedule an appointment at a port of entry to pursue the exception to the order, which is due to end next month. The administration says it is a key part of promoting a safe, orderly and humane process at the border and discourages illegal immigration between the ports.
"The CBP One app is an innovative solution we are using to facilitate the safe and orderly arrival of noncitizens who believe they meet certain vulnerability criteria and are requesting a humanitarian exception to the CDC's Title 42 Order," Homeland Security Secretary Alejandro Mayorkas said in January. "When Title 42 eventually lifts, this new feature will join one of the many tools and processes this Administration is providing for individuals to seek protection in a safe, orderly, and humane manner and to strengthen the security of our borders."
More than 75,000 applications have either been carried out or scheduled until April 25, a CBP spokesperson told Fox News Digital this week. The spokesperson said that when appointments are opened up, they are filled within a matter of minutes.
WITH TITLE 42'S END A MONTH AWAY, BIDEN ADMIN MAKING MOVES TO DEAL WITH SURGE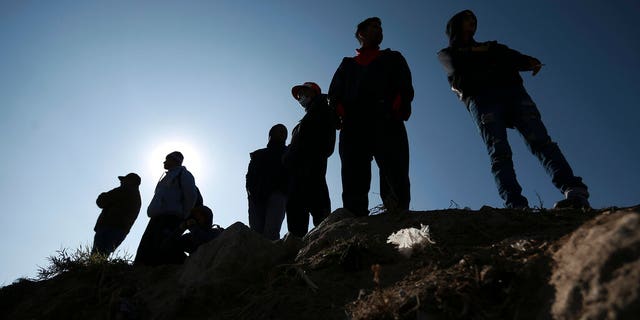 Migrants stand near the U.S.-Mexico border in Ciudad Juarez, Mexico, Monday, Dec. 19, 2022.  ((AP Photo/Christian Chavez))
But of those migrants who have had their appointments, the spokesperson said that fewer than 1% have been found not to have met the exception criteria. It means that the overwhelming majority of those who secure an appointment with the app are approved for an exception then moved into Title 8 processing — which is the regular authority for immigration removal proceedings for migrants without documents.
From there, migrants who are given the exemption from Title 42 can be released into the U.S. with a Notice to Appear, paroled into the U.S., or in some cases removed via expedited removal.
Court filings in Louisiana showed that over 21,000 humanitarian exceptions were processed for those who applied through the application in January, and over 20,000 in February.
The stats may fuel criticism from the right, that has painted the app as a "concierge service" for illegal immigrants.
HAWLEY PUSHES DHS FOR ANSWERS ON MIGRANT APP HE BRANDS 'CONCIERGE SERVICE' FOR ILLEGAL IMMIGRANTS
"It's like a concierge service for illegal immigrants. My question is, you didn't think the border crisis was bad enough that now we're going to have an app that allows illegals to schedule their appointments and come and be admitted to this country" Sen. Josh Hawley, R-Mo., told Mayorkas last month.
Mayorkas accused Hawley of "mischaracterizing" the application's use and said that currently being used for those who claim an exception to the Title 42 expulsion authority which is due to end in May.
"So instead of them coming in between the ports of entry to claim that urgent medical condition, that extraordinarily acute humanitarian cause, we allow a limited number to arrive at our ports of entry and seek the emergency relief that they need," he said.
BIDEN ADMINISTRATION'S CBP ONE APP TO MANAGE MIGRATION PLAGUED BY LOW STORE RATINGS, TECH ISSUES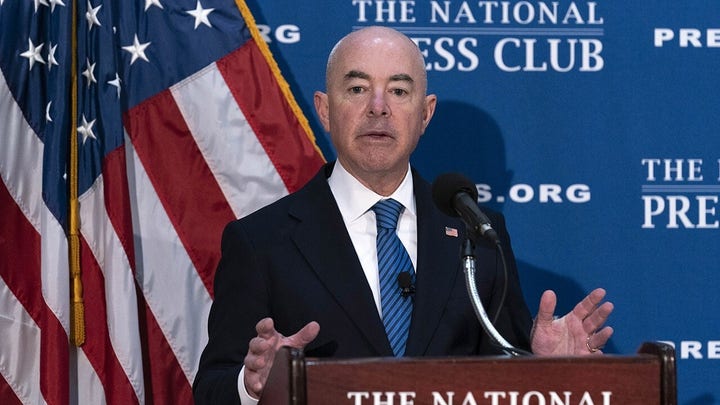 Video
But the app, the use of which is set to be expanded once Title 42 ends on May 11 along with the COVID-19 public health emergency, has also taken criticism from the left — with activists pointing to initial tech issues that have plagued the app and what they see as a process that is not allowing migrants in quickly enough.
"This expanded use of the CBP One app raises troubling issues of inequitable access to — and impermissible limits on — asylum, and has been plagued by significant technical problems and privacy concerns. DHS should shelve the CBP One app immediately," Senator Ed Markey, D-Mass., said in a letter to Mayorkas in February.
But the administration has pushed back against that criticism. Officials have said that tech issues have been resolved and that the vast number of migrants who have used the app — which has also been used by approximately 100,000 applications from Venezuelans, Cubans, Haitians and Nicaraguans since October to fly into the U.S. on a humanitarian parole program — shows that the app is dealing with high demand.
Those objections come amid broader objections from left-wing immigration activists at a number of recent moves by the Biden administration that they see as an imposition of the right of anyone to come to the U.S. without documents and be admitted to the U.S. to claim asylum.
CLICK HERE TO GET THE FOX NEWS APP
Recently the Biden administration unveiled a new proposed rule that will make migrants ineligible for asylum if they have crossed illegally, have not used the app and have failed to claim asylum at a country through which they have previously traveled.
It has also paused a rule to expedite asylum claims and is implementing a pilot program to hold credible fear screenings in CBP custody as a way to speed up the process.