White House press secretary Karine Jean-Pierre condemned Florida's migrant relocation program Wednesday, calling it "dangerous" and "unacceptable."
However, Jean-Pierre would not comment on whether Florida Gov. Ron DeSantis is guilty of kidnapping, as California's governor and attorney general have suggested.
The Florida Division of Emergency Management confirmed to Fox News that Florida flew dozens of migrants to California in recent days who had volunteered to relocate. The migrant flights are part of the $12 million "unauthorized alien transport program" that DeSantis, a Republican candidate for president, signed into law in February.
California Gov. Gavin Newsom and Attorney General Rob Bonta, both Democrats, have accused Florida of exploiting the migrants. Newsom lashed out against DeSantis in a tweet, calling him a "small, pathetic man" and suggesting he was guilty of kidnapping under California statutes.
NEWSOM THREATENS DESANTIS WITH 'KIDNAPPING CHARGES' OVER MIGRANT FLIGHTS TO SACRAMENTO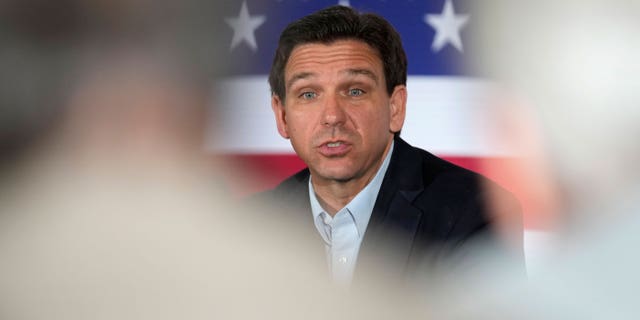 Florida Gov. Ron DeSantis speaks at a political roundtable May 19, 2023, in Bedford, N.H. (Robert F. Bukaty/AP Photo)
"I just don't understand what are these governors doing? Why are they causing chaos? Why are they causing confusion?" Jean-Pierre said. "What does that actually do for their constituency or for the people who are being put on these planes or on the buses? And it just doesn't make sense.
"Their playing games and political strategies are not going to actually deal with the issue at hand," she added, suggesting that Republicans should "meet us at the middle" and come up with bipartisan immigration reform.
CLICK HERE TO GET THE FOX NEWS APP
"From left-leaning mayors in El Paso, Texas, and Denver, Colorado, the relocation of those illegally crossing the United States border is not new. But, suddenly, when Florida sends illegal aliens to a sanctuary city, it's false imprisonment and kidnapping," they said.
Neither DeSantis nor his political campaign have commented on Newsom's kidnapping accusation.