The White House has quietly corrected a claim made Tuesday by press secretary Karine Jean-Pierre that President Biden has taken more questions from the press than former Presidents Donald Trump, Barack Obama and George W. Bush combined.
Without alerting the public to the changes, the White House corrected the official transcript of Jean-Pierre's gaggle with reporters aboard Air Force One to read "question-and-answer sessions" rather than "questions," despite her making the claim four times.
The topic was brought up during the gaggle when a reporter asked Jean-Pierre whether the administration had decided Biden would hold a press conference during his trip to Ireland this week, prompting her to share data she promised a day earlier she would share when questioned on the president's lack of availability to the press.
KARINE JEAN-PIERRE DENIES WHITE HOUSE 'TRYING TO PROTECT' BIDEN FROM PRESS QUESTIONS: 'ABSOLUTELY NOT'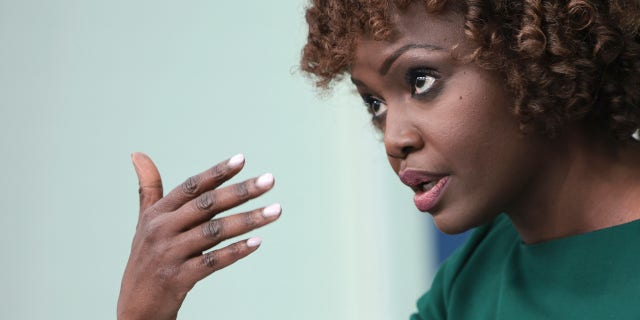 White House press secretary Karine Jean-Pierre answers questions during the daily press briefing at the White House in Washington, D.C., on March 3, 2023. (Win McNamee/Getty Images)
"The President regularly — and takes questions from the press informally — informally as well at different locations and different formats. Right before he got on Air Force One, he took about five very newsy questions for all of you, which I think was very important for all of you," Jean-Pierre said, according to the transcript of the gaggle shared by the White House.
"The informal and informative Q&A that the President Biden engages in the — in with the press corps is more than — more than the last three Presidents… If you think about the informal questions and the formal questions. And I told — I mentioned to all of you yesterday that we actually had some — some data to share. It's more than Presidents Trump; it's more than Obama — Obama — combined —," she added.
REPORTERS ERUPT ON JEAN-PIERRE OVER BIDEN NOT TAKING QUESTIONS FROM PRESS POOL: 'THAT'S NOT TRUE'
A reporter then questioned Jean-Pierre on the measurement used to determine that Biden had taken more questions than Trump and Obama, who had a combined 12 years in office prior to his presidency.
"We're happy to share that. I'm just letting you know," she responded, before the reporter then asked if it was based on the "minutes spoken" by Biden.
"It's questions. I just said questions," Jean-Pierre said.
The reporter clarified that she meant the "number of questions" Biden has answered, to which Jean-Pierre repeated two more times that it was.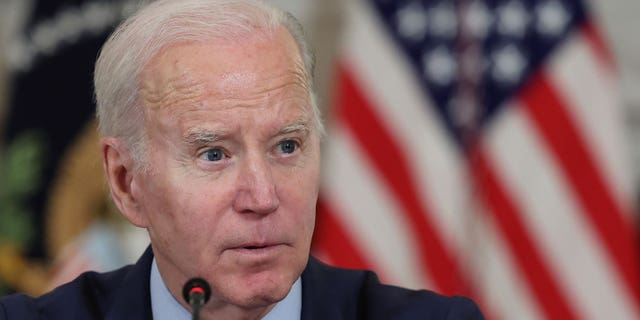 President Biden holds a meeting with his science and technology advisers at the White House in Washington, D.C., on April 04, 2023. (Kevin Dietsch/Getty Images))
Jean-Pierre stated a fourth time that Biden had taken more questions than Trump and Obama combined, but this time added former President Bush as well, who served for eight years prior to Obama's presidency.
"And here you go. To your question, he has answered over 320 questions, and that's not even including more — more formal press conference and interviews. So look, we're going to try and — we're going to keep — be consistent in his engagement with reporters," she said.
WHITE HOUSE'S KARINE JEAN-PIERRE STUMBLES WHEN PRESSED ON BIDEN ABSENCE AT KING CHARLES' CORONATION
In addition to replacing each instance Jean-Pierre said "questions" with "question-and-answer sessions" when the White House published the transcript on its website, it also added "in the first 20 months of their presidencies" where she claimed Biden had taken more questions than Trump, Obama and Bush.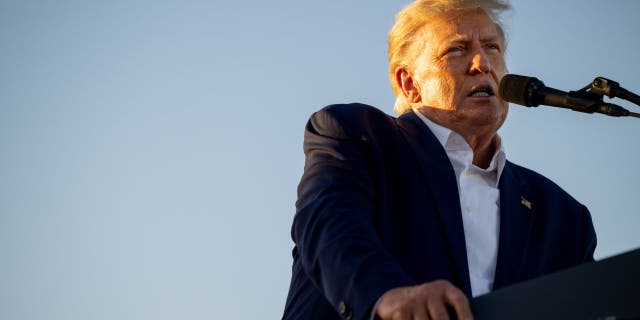 Former President Donald Trump speaks during a rally in at the Waco Regional Airport in Waco, Texas, in March 2023. (Brandon Bell/Getty Images)
CLICK HERE TO GET THE FOX NEWS APP
Fox News Digital reached out to the Biden administration for comment but did not immediately receive a response.