The Department of Veterans Affairs' (VA) medical facilities will continue to provide abortions on taxpayers' dime after a vote to overturn the rule failed on Wednesday.
The resolution put forth by Republican Alabama Senator Tommy Tuberville in February to stop the VA from providing taxpayer-funded abortions at its medical facilities failed to advance for a final vote, 48-51. Two Republicans voted with the majority of Democrats to block the Senate from voting on the legislation's final passage.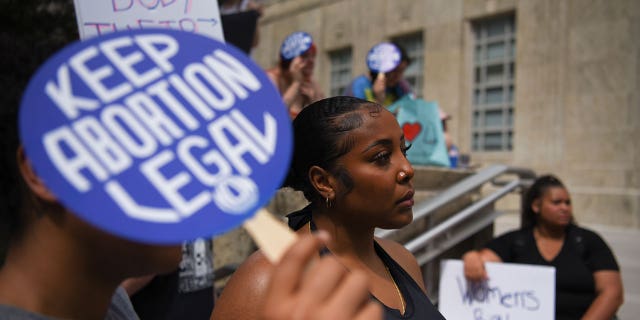 Abortion rights protesters participate in nationwide demonstrations following the leaked Supreme Court opinion suggesting the possibility of overturning the Roe v. Wade abortion rights decision, in Houston, Texas, U.S., May 14, 2022.  (REUTERS/Callaghan O'Hare)
On September 9, 2022, the VA announced its plans to begin providing abortion services for veterans and their dependents through the taxpayer-funded VA health care system, which Republicans in favor of the voted-down resolution said is a blatant violation of Section 106 of the Veterans Health Care Act of 1992.
COLORADO HEALTHCARE CLINIC SUES STATE OVER LAW BANNING USE OF HORMONE THAT REVERSES EFFECTS OF ABORTION PILL
Tuberville, along with Texas Republican Rep. Michael Cloud, introduced the bicameral joint resolution of disapproval under the Congressional Review Act (CRA) to reverse the rule, which they argued broke both state and federal laws. Before the rule went into effect, abortions were not covered under the VAs medical benefits. The CRA gives Congress the authority to review major rules issued by federal agencies before they take effect and if it disapproves of a rule, the rule doesn't stand.
"Last year, the VA announced they would begin providing taxpayer-funded abortions. Last year. This is something the VA has never, ever done before. Let me repeat that," Sen. Tuberville said during his remarks on the resolution. "The VA has never done abortions. In fact, the VA has been prohibited — by the body — from performing abortions at its facilities for more than 30 years. The 102nd Congress — 1991 and 1992 — made taxpayer-funded abortions at VA facilities illegal … They did this with the bipartisan Veterans Health Care Act of 1992. Last I heard, that is a federal law, passed by this body."
FLORIDA LEGISLATURE PASSES SIX-WEEK 'HEARTBEAT BILL' TO LIMIT ABORTION
"Taxpayers shouldn't be forced to pay for abortions. Especially not when this was done without anybody taking a vote in this building," he added. "Especially not when Congress voted to make it illegal 30 years ago. It's illegal and it's wrong."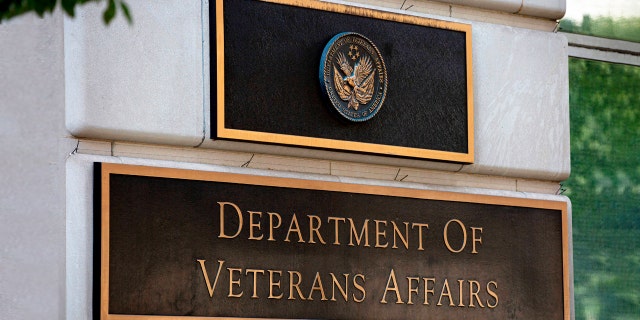 The US Department of Veterans Affairs building is seen in Washington, D.C. The agency said Friday it will offer abortions for veterans in certain cases.  (ALASTAIR PIKE/AFP via Getty Images)
March for Life President Jeanne Mancini told Fox News Digital in a statement that the resolution would have halted the VA ruling that "allows for painful abortions on demand, up until the moment of birth in our VA hospitals," adding that the Senators who voted the resolution down "demonstrate they are without either common sense or compassion."
"The American people overwhelmingly reject this abortion extremism, and certainly object to paying for it with their tax dollars," she added.
OREGON MOM STANDS UP TO ADOPTION POLICY THAT FORCES GENDER POLICIES ON RELIGIOUS PARENTS: 'JUST SO UNFAIR'
Marilyn Musgrave, the Vice President of Government Affairs at SBA Pro-Life America said the resolution should have received votes from every senator in the chamber and described the use of taxpayers dollars for abortions at VA hospitals as "illegal, morally wrong and far out of step with the American people."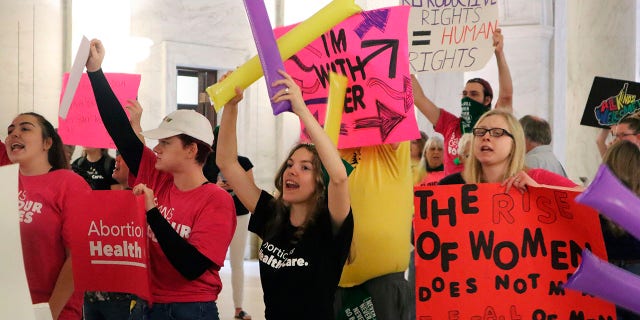 Protestors rally outside the Senate chamber at the West Virginia state Capitol in Charleston, W.Va., as lawmakers debated a sweeping bill to ban abortion in the state with few exceptions on Tuesday, Sept. 13, 2022. Several Republican lawmakers have said they hope the bill will make it impossible for the state's only abortion clinic to continue to offer the procedure. (AP Photo/Leah Willingham) (. (AP Photo/Leah Willingham))
"The prohibition against the VA paying for abortions goes back 30 years to the Veterans Health Care Act of 1992. Not only did it pass by unanimous consent, Joe Biden even supported it," she said. "Now, the only Democrat in the Senate bold enough to stand up to the extremists in his party who want abortion on demand until birth nationwide for any reason, paid for by taxpayers, is Joe Manchin."
CLICK HERE TO GET THE FOX NEWS APP
"We are thankful to Senator Tuberville for leading this fight and all his colleagues who stood together," she added. "We will work tirelessly to hold members accountable for their pro-abortion votes."