Republican state leaders are demanding the American flag be reinstated at a veterans cemetery, where some Mississippi residents noticed on Memorial Day it had been replaced with a rainbow LGBTQ flag for June pride month.
American flags flying over the Biloxi National Cemetery and VA Medical Center were replaced with rainbow LGBTQ flags after Secretary of Veterans Affairs Denis McDonough authorized the flying of such flags above VA facilities.
The decision was dubbed a "political stunt" by Republicans in the state Senate who are calling for its removal out of respect for "service members, veterans and their families."
"We believe this decisions shows deep disrespect to our service members, veterans and their families, and demand that you take immediate action to restore the United States flag to its rightful place at Veterans Affairs facilities across the state of Mississippi," five Mississippi Republicans wrote in a letter to McDonough Monday.
FIGHTS ERUPT AS CALIFORNIA PARENTS PROTEST PRIDE EVENT AT ELEMENTARY SCHOOL: 'THEY'RE TOO YOUNG'
"Taking down American flags and replacing them with pride flags is a disgrace. All people are represented by the Stars and Stripes. Black, white, latino, gay, straight, Christian, Jewish or Muslim are all represented under the US Flag," Mississippi resident Carl Boyanton wrote on Facebook from the site of the protest.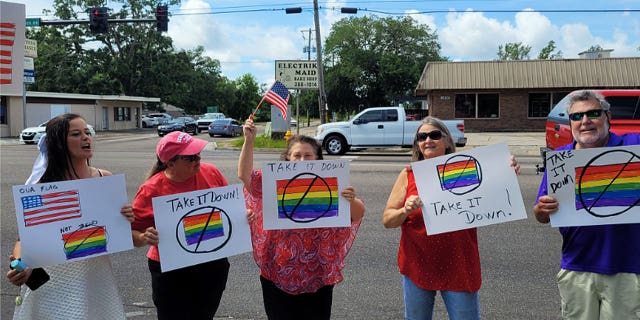 Mississippi residents call for the VA to take down the pride flag flying at the Biloxi National Cemetery. (Courtesy of Carl Boyanton)
Boyanton is arranging another protest for Friday, saying "we have to show up to fight this woke agenda."
"VA facilities fly the flag as a symbol of VA's commitment to inclusion and as a tribute to the service and sacrifice of LGBTQ+ Veterans, their families, caregivers, and survivors," Hayes said, noting that VA would be directly contacting their congressional partners on the matter.