Treat Williams had an over 50-year career in entertainment, with more than 120 film, TV and theater credits to his name when he tragically died in a motorcycle accident at 71.
Williams was a versatile and well-loved actor on and off-screen, with friends and co-stars sharing an outpouring of grief over his death.
The Connecticut-born actor got his start in theater and appeared in the original Broadway production of "Grease" as Danny Zuko, as a replacement. (John Travolta also appeared in the Broadway production, as T-Bird Doody before playing Danny in the 1978 film).
He made his film debut in the 1975 movie "Deadly Hero" as a police officer, before going on to secure one of his best-known roles in "Hair."
Beverly D'Angelo, who co-starred in "Hair" with Williams shared the last text exchange between the two after hearing of Williams' death.
She wrote, "Hey treatski. Thank you for calling just love you," and he replied with three heart emojis and "Good talk," followed up by a photo from the cockpit of a plane he was flying (a favorite hobby of the star).
"I was thanking him after our last phone call minutes earlier, I wanted to memorialize it I guess – We always gave each other pep talks like the kids we had been," D'Angelo wrote on Instagram.
 
 

 
 
View this post on Instagram
 

 
 
 

 
 

 
 
 

 
 

THEN/NOW: THE CAST OF 'NATIONAL LAMPOON'S CHRISTMAS VACATION'
Williams starred in a variety of films through the 70s and 80s, including "Prince of the City," which earned him a Golden Globe nomination for best actor, Steven Spielberg's WWII comedy "1941," "The Eagle Has Landed" and "Once Upon a Time in America."
James Woods, Williams' co-star in "Once Upon a Time in America," shared a fond tribute to the actor on Twitter.
"Treat and I spent months in Rome filming Once Upon a Time in America. It can be pretty lonely on the road during a long shoot, but his resilient good cheer and sense of humor was a Godsend. I really loved him and am devastated that he's gone," Woods said.
JAMES WOODS WEARS GOLD ON RING FINGER WITH SARA MILLER AFTER SEEMINGLY CELEBRATING NEW MARRIAGE ON INSTAGRAM
Williams' career continued, with dozens of movie roles, including "The Phantom," "The Devil's Own" and "The Deep End of the Ocean," to name but a few.
Emily VanCamp, who played the love interest of Williams' character's son, shared a young photo of Williams on her Instagram, writing, "The many times we worked together- always wonderful and I was always excited for the next time. Sending all my love to your family Treat. Fly high my friend."
 
 

 
 
View this post on Instagram
 

 
 
 

 
 

 
 
 

 
 

Williams later appeared in roles on "White Collar," "Chicago Fire" and "Chesapeake Shores."
Matt Bomer shared his grief for Williams, who played his dad on the series "White Collar."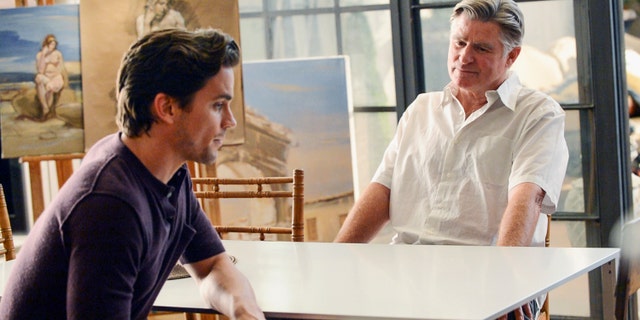 Treat Williams appeared as Matt Bomer's dad in the series "White Collar." (David Giesbrecht/USA Network/NBCU Photo Bank/NBCUniversal via Getty Images)
"This is a tough one, and I don't like doing this on social media, but I want to share what an absolute treasure Treat Williams was- both as an actor and a person," Bomer wrote on Instagram. "I was so honored that he agreed to play my father on White Collar, and he jumped in and made every day on set a joy."
 
 

 
 
View this post on Instagram
 

 
 
 

 
 

 
 
 

 
 

He continued, "Treat- you were an amazing actor and an even better person and I will miss you. I count myself so blessed to have known you."
Tributes have also poured in from all across Hollywood from friends, co-stars and famous fans of the actor, including Lou Diamond Phillips, Malcolm MacDowell, Sam Neill and more.
Alec Baldwin's wife, Hilaria Baldwin also remembered the star with a post on her Instagram stories (Alec and Williams had starred together in the film "Drunk Parents.")
"We feel sick…Our hearts are broken…rest in peace, dear friend," Hilaria wrote.
Williams also appeared in "Dolly Parton's Christmas on the Square," and most recently had a recurring role on the CBS series "Blue Bloods," alongside Tom Selleck and Donnie Wahlberg.