A UK transgender physics teacher and journalist is calling out companies who partner with Dylan Mulvaney as beer company Anheuser-Busch loses billions in value from their polarizing marketing campaign with the transgender influencer.
"I think its ridiculous. It's crazy," Debbie Hayton reacted to Fox News Digital. Hayton transitioned in 2012 and now identifies as a transgender woman. Since then, Hayton has frequently written on the harmful effects of society elevating gender identity over biological sex.
"I just find Mulvaney juvenile… I just can't understand, you know the fact that Mulvaney identifies as trans and is going on this seemingly nauseating campaign of these days of girlhood, is just—I'm just not interested in that," Hayton said.
Mulvaney comes across as "a five-year-old whose been let loose in a candy store," the critic added.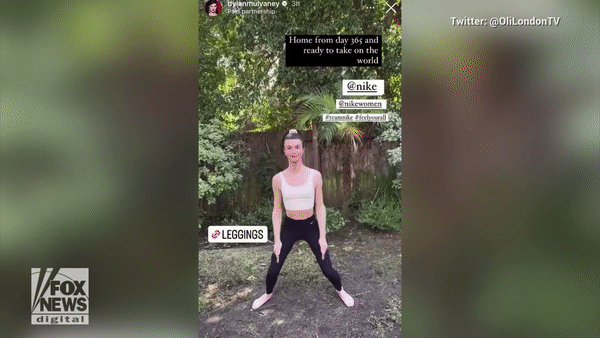 Trans influencer Dylan Mulvaney promotes Nike sports bras on Instagram as a paid partner for the brand. (Fox Gif)
RILEY GAINES RIPS NIKE FOR PARTNERSHIP WITH TRANS INFLUENCER DYLAN MULVANEY: 'THEY CAN FORGET TAKING MY MONEY'
Beer company Anheuser-Busch has seen its value drop by nearly $5 billion since Bud Light's polarizing partnership with the transgender activist.
Earlier this month the beer company sent packs of Bud Light with Mulvaney's face printed on the cans as part of an ad for the beer company's March Madness contest and as a way to celebrate a full year of "girlhood."
The decision drew backlash from consumers and some celebrities. Singer Kid Rock responded to the marketing ploy by using Bud Light cans as target practice while declaring, "F— Bud Light and f— Anheuser-Busch!" Country singer Travis Tritt also announced on Twitter that he would be removing Anheuser-Busch products from his tour hospitality rider.
Bud Light's parent company is down 4.7 percent and has lost about $4.56 billion in market cap since March 31, according to the Dow Jones Market Data Group.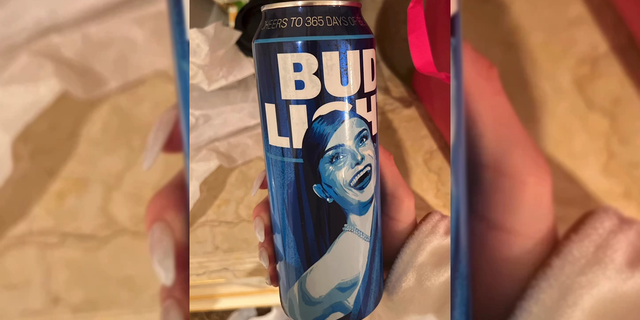 A picture of the commemorative Bud Light can featuring TikTok influencer Dylan Mulvaney.  (Dylan Mulvaney/Instagram)
AUSTRALIAN BANK GIVES TRANSGENDER EMPLOYEES SIX WEEKS OF PAID LEAVE FOR 'GENDER AFFIRMING CARE'
The transgender journalist and teacher didn't understand what demographic the company was trying to appeal to.
"Why are marketing departments keen on having this character market their products? I don't understand it," Hayton said. "It wouldn't be selling any products to me."
Hayton has also been an outspoken critic of the transgender movement's push to normalize trans issues for children.
Hormone blockers and gender reassignment surgery is not for children, the teacher said.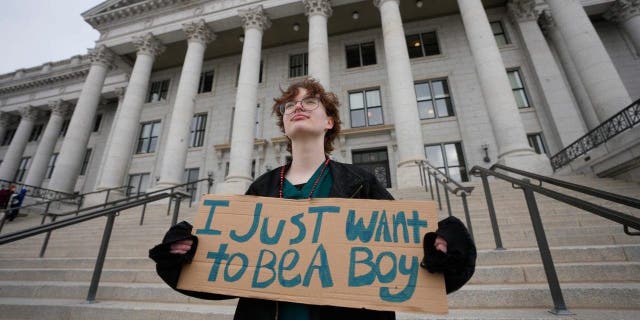 Tree Crane, 17, poses for a photograph following a rally where hundreds gathered in support of transgender youth at the Utah State Capitol Tuesday, Jan. 24, 2023, in Salt Lake City.  (AP Photo/Rick Bowmer)
CLICK HERE TO GET THE FOX NEWS APP
Society puts age limits on drinking, smoking and getting tattoos and should do the same for gender changing medical care, Hayton said.
"These are causing permanent changes to children's bodies before they can possibly understand what it means to be an adult," Hayton said.
Hayton said while there is more tolerance for transgenders in society today, it was a "psychological disorder" that should not be "put on a pedestal."
"I've described trans people in my writing as being like a priestly class that can do no wrong…it's ludicrous…To be trans is not seen as a problem or a distressing condition it's almost seen as something to aspire to," Hayton said.
Hayton is also critical of transgender women competing in women's sports.
NPR caused controvsey recently when they reported there was limited scientific research to prove transgender women had an advantage over other players in female sports.
Hayton disagrees.
"Male and female bodies are different. You can't identify out of male advantage," the trans journalist said.
Fox News' Brian Flood contributed to this report.