Police are literally leaving no stone unturned in their search for 6-year-old Noel Rodriguez-Alvarez.
On Monday, law enforcement removed an "unpermitted" and "suspicious" concrete patio behind the boy's home in Everman, Texas, which is nothing more than a dirty shed where he lived with his mother, stepdad and six siblings.
Cadaver dogs picked up scents of human remains on the soil under the concrete slab during Monday's 20-hour operation, police said.
"This has led investigators to believe that, at some point in time, there were human remains contained within the shed, prior to the installation of the patio," Everman Police said in a statement.
MISSING MOM MADELINE KINGSBURY'S FAMILY FEARED FOUL PLAY WHEN SHE DISAPPEARED AFTER DAY CARE DROP-OFF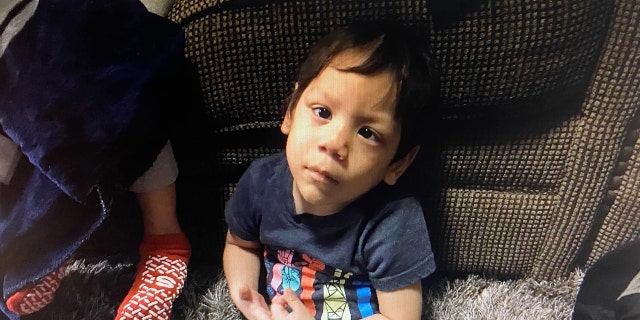 Missing 6-year-old Noel Rodriguez-Alvarez of Everman, Texas, requires consistent medical care, and authorities are desperately searching for him.  (Everman Emergency Services Facebook)
"Although this search revealed minimal physical evidence, it has certainly provided additional guidance for investigators."
The backyard patio is a suspicious oddity that's been heavily investigated by law enforcement, which said the boy's mother, Cindy Rodriguez-Singh, paid to install it last month.
"She doesn't own the home. We find that very odd that she would spend her funds on somebody else's home to put in a concrete patio, especially one as large and as elaborate as this," Everman Police Chief Craig Spencer told Fox 4 KDFW.
MISSING LAWYER CIERA BRELAND'S MOM BELIEVES SHE WAS KILLED
"When we came out the first time, we didn't do a complete search of the whole patio with the ground-penetrating radar. It did not reveal anything new. However, we know this ground-penetrating radar is not 100%. So we are being thorough, making sure we aren't missing anything."
A missing person case wasn't opened until Texas child protective services requested a welfare check on March 20 for Noel and his six siblings living in the home, but he hasn't been seen alive since mid-October and appeared "unhealthy and malnourished," police said last week.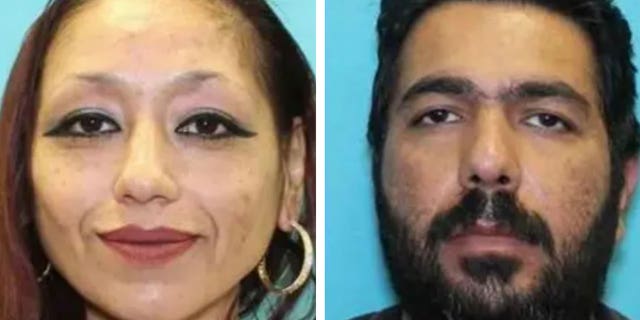 Law enforcement has obtained arrest warrants for Rodriguez-Singh and Arshdeep Singh after their son, Noel Rodriguez-Alvarez, 6, went missing. (Texas Department of Public Safety)
Charles Parson, who owns the property, told Fox 4 that he didn't think there was anything suspicious about the patio and believes Noel is alive with family in Mexico.
"I kept telling them the slab was poured after Noel supposedly had disappeared," Parson said. "Why would he be underneath the slab? I think they just tore it up because they don't have no idea where he is, and they're frustrated."
MISSING TEXAS WOMAN FOUND ALIVE IN SUBMERGED CAR, PULLED TO SAFETY FROM LAKE
But that's not how law enforcement is investigating the case.
Police canceled the missing endangered persons alert of Noel and transitioned to a death investigation, Spencer announced during an April 6 press conference.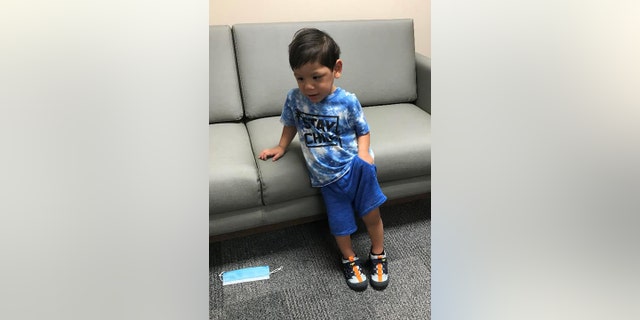 An Amber Alert for Noel Rodriguez-Alvarez was canceled after police learned he had not been seen since October 2022, and his family left the country without him. (Everman Emergency Services Facebook)
Noel, who has special needs, seemingly vanished around the time his mother gave birth to twins, and she allegedly referred to him as "evil" and "possessed" and feared he would hurt the newborns, according to police.
"Cindy was known by relatives to be abusive and neglectful to Noel," Spencer said April 6. "One relative witnessed Cindy strike Noel in the face with keys for drinking water.
TEXAS 13-YEAR_OLD KIDNAPPED IN FEBRUARY FOUND IN MISSISSIPPI WITH 27-YEAR-OLD MAN
"Witnesses additionally state that food and water were often withheld from Noel because Cindy did not like changing Noel's dirty diapers."
Over the last month, investigators from several law enforcement agencies have uncovered pieces of the puzzle, but they're not sure how they all fit.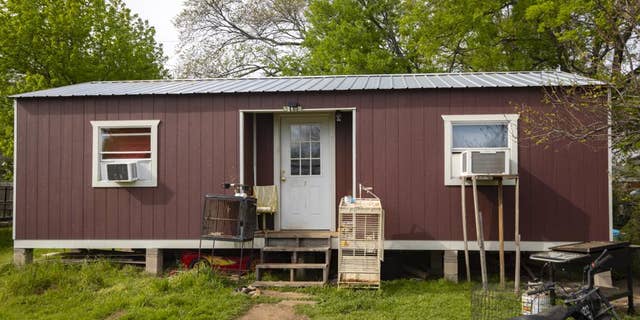 Noel Rodriguez-Alvarez's home in Everman, Texas, where the 6-year-old boy lives with his six siblings, mother and stepdad (Associated Press)
On Nov. 1-2, Rodriguez-Singh got passport photographs and applied for passports for all of her children, except Noel, police said.
Investigators recovered a large carpet that Noel's stepdad threw away, police said Tuesday. And an altar to Santa Muerte, the saint of death, was found during a prior search of the crammed, rundown shack that Noel called home.
During the March 20 welfare check, Rodriguez-Singh told police Noel was with family in Mexico, but detectives disproved that story, according to Everman Police.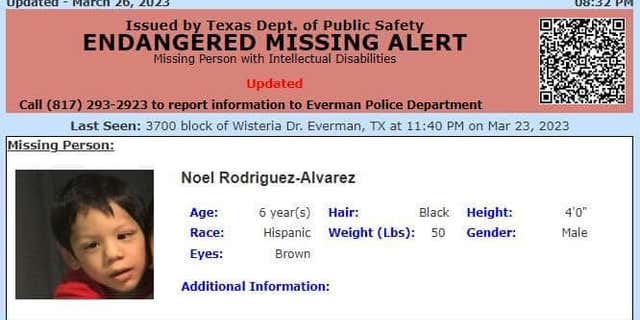 Noel Rodriguez-Alvarez, 6, hasn't been seen alive since October and is presumed dead, according to Everman Police. (Everman, Texas Police Department)
Two days later, on March 22, Rodriguez-Singh and Noel's stepdad Arsdeep Singh, boarded an international plane with six children between the ages of five months and 11, but Noel wasn't one of them, police said.
Felony warrants for child endangerment were issued for their arrest. Law enforcement believes the wanted couple is in India.
CLICK HERE TO GET THE FOX NEWS APP
"We're going to keep searching until we find him," the chief said, according to Fox 4. "We are not giving up. All of our investigators are obviously committed on this case."
There was speculation Noel's mother sold him to someone at a "Fiesta Market" store, but Everman Police said there's no evidence supporting that rumor.