States across the country are taking the lead in keeping biological males out of girls' sports with a flurry of recent legislation while President Biden's White House at the federal level slams such measures as "discrimination" against transgender students.
North Carolina on Tuesday took a step closer to joining a growing number of states in banning transgender student athletes from playing on teams that align with their gender identity, requiring them instead to compete against those with the same biological sex.
The state Senate advanced out of its Education Committee the Fairness in Women's Sports Act, which would require athletes to play on teams that match their sex as determined by "reproductive biology and genetics at birth."
North Carolina's House is pursuing its own version of the same bill to make transgender athletes play on sports teams associated with their sex. A similar measure introduced this month would prevent the "male sex" from participating in "interscholastic athletic activities designated for females, women, or girls."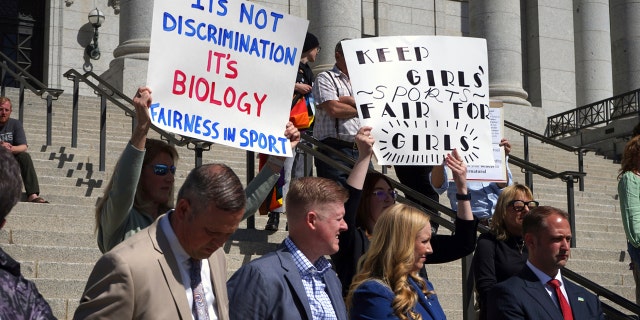 Multiple states have banned transgender student athletes from participating on the teams that align with their gender identity. (AP Photo/Samuel Metz, File)
BIDEN TO VETO GOP BILL PROTECTING WOMEN'S SPORTS, CALLS IT 'DISCRIMINATION' AGAINST TRANSGENDER STUDENTS
Republicans in both chambers now hold a veto-proof supermajority thanks to a recent high-profile defection of a Democratic legislator, meaning the bills could potentially become law even if Democratic Gov. Roy Cooper opposes them.
North Carolina is hardly alone. At least 21 states have now imposed restrictions on transgender athletes, primarily with the intention of protecting girls by prohibiting biological males who identify as female from competing against them. And many additional states may soon join that list or expand their restrictions.
The Alabama House of Representatives on Tuesday passed a bill that would ban transgender athletes from participating in collegiate sports, extending a 2021 measure in the state that applied to K-12 sports teams.
"Forcing women to compete against biological men would reverse decades of progress women have made for equal opportunity in athletics," Republican state Rep. Susan DuBose, the bill's sponsor, told fellow lawmakers, arguing that "no amount of hormone therapy can undo" physical advantages.
The bill states that sports teams "designated for females, women, or girls shall not be open to a biological male," and that a "biological female" would similarly not be allowed to participate on teams for boys and men. The legislation now moves to the Alabama Senate, where it will likely pass.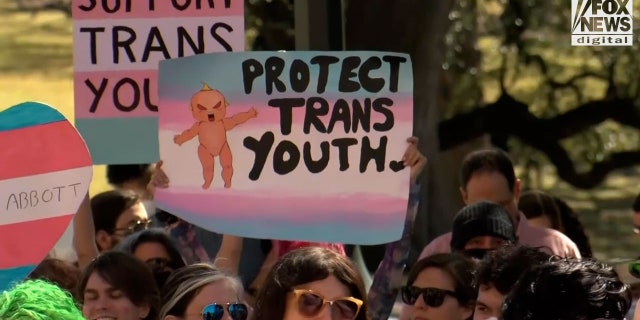 Demonstrators protest in support of rights for transgender youth. (Fox News )
GOP MOVES TO 'SAVE WOMEN'S SPORTS': BILL BACKED BY RILEY GAINES HEADED FOR HOUSE VOTE
One day earlier in Missouri, the state House passed its own version of a bill prohibiting transgender athletes from competing according to their gender identity.
The Senate approved similar legislation last month. Each chambers' bill extends through college athletics, including in Missouri's private universities. However, while the House bill begins at grade six, the Senate version applies for any grade level.
Last week, North Dakota's Republican Gov. Doug Burgum signed into law a measure prohibiting transgender girls and women from joining female sports teams in K-12 and college. About a week earlier, the Kansas Legislature overrode Democratic Gov. Laura Kelly's veto banning transgender athletes from girls' and women's sports. And two weeks before that, a similar measure preventing "students of the male sex from competing on a team designated for students of the female sex" became law in Wyoming.
Despite the momentum at the state level, however, don't expect the federal government to follow suit.
The White House vowed Monday that President Biden will veto a Republican-backed bill that would prevent biological males from participating in women's sports should it pass both houses of Congress.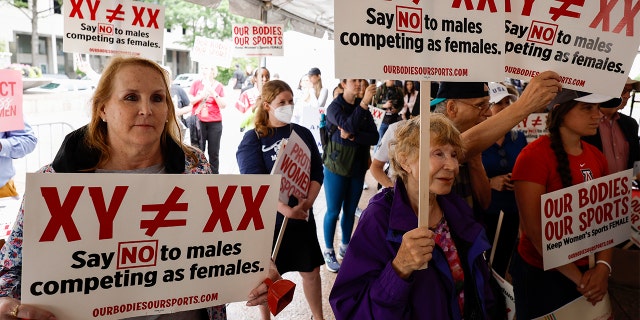 Demonstrators listen to the speaking program during an "Our Bodies, Our Sports" rally for the 50th anniversary of Title IX at Freedom Plaza on June 23, 2022 in Washington, D.C.  (Anna Moneymaker/Getty Images)
'THAT IS A FRAUD': GOV. DESANTIS CALLS OUT LIA THOMAS, BIOLOGICAL MEN COMPETING IN WOMEN'S SPORTS
Rep. Greg Steube, R-Fla., introduced the Protection of Women and Girls in Sports Act, or H.R. 734, which is expected to come to a vote on the House floor sometime this week.
"The administration strongly opposes House passage of H.R. 734," the White House said in a statement. "For students nationwide, participating in sports and being part of a team is an important part of growing up, staying engaged in school, and learning leadership and life skills. H.R. 734 would deny access to sports for many families by establishing an absolute ban on transgender students — even those as young as elementary schoolers — playing on a team consistent with their gender identity."
"Schools, coaches, and athletic associations around the country are already working with families to develop participation rules that are fair and that take into account particular sports, grade levels, and levels of competition," the White House statement continued. "As a national ban that does not account for competitiveness or grade level, H.R. 734 targets people for who they are and therefore is discriminatory."
Earlier this month, the Biden administration proposed a new rule that bars outright blanket bans of trans athletes from competing on sports teams that match their gender identity.
The proposal, which must undergo a period of public comment, would prohibit states or school districts from enacting one-size-fits-all policies that "categorically" impose such bans. However, it leaves some wiggle room to limit transgender athletes' participation in sports if it's deemed to undermine competitive fairness. The proposal also allows restrictions relating to "important educational objectives" like reducing the risk of injuries.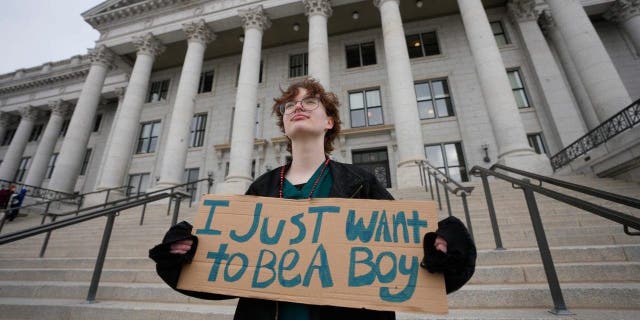 Tree Crane, 17, poses for a photograph following a rally where hundreds gathered in support of transgender youth at the Utah State Capitol Tuesday, Jan. 24, 2023, in Salt Lake City. (AP Photo/Rick Bowmer)
'EXPLOSION' AT UNIVERSITY OF PITTSBURGH TRANSGENDER DEBATE CAUSES 'SAFETY EMERGENCY' AS PROTESTERS YELL, CHANT
Pro-trans and LGBTQ advocates argue the administration's rule is too restrictive and creates guidelines for schools to legally ban transgender athletes.
Beyond athletics, state lawmakers nationwide have been pushing a number of bills affecting transgender individuals. Indeed, this year alone legislators have introduced more than 400 such bills, dwarfing numbers from recent years. Many of these measures, especially those placing restrictions on gender transition procedures for children and the teaching of gender identity in the classroom, have triggered protests across the country.
In Montana, state Democratic Rep. Zooey Zephyr — the state's first and only openly transgender legislator — said Tuesday there will be "blood on your hands" if a bill banning certain gender transition procedures on minors is approved by the state House.
Meanwhile, some lawsuits have been filed to challenge state laws restricting the participation of transgender athletes.
CLICK HERE TO GET THE FOX NEWS APP
In Arizona, parents of two transgender girls filed a lawsuit on Tuesday challenging a year-old state law banning trans girls from participating in school sports, arguing the measure is damaging to then psychologically and denies them equal treatment under the law.
The next day in Ohio, trans athletes and LGBTQ advocates spoke against a House bill, the Save Women's Sports Act, which would ban biological males from competing in female athletics.