Secretary of State Anthony Blinken officially announced on Tuesday that MSNBC analyst Matthew Miller would become the next State Department spokesperson.
In a written statement, Blinken celebrated Miller joining the Department, complimenting his "wisdom" and "experience."
"I benefited greatly from Matt's wisdom, his experience in government, and his deep understanding of foreign policy when he was tapped to head up my nomination. Matt stepped up once again in the early months of Russia's further invasion of Ukraine when he took leave to join the National Security Council to lead our whole of government communications and outreach as part of our support for Ukraine's sovereignty and defense," Blinken said.
In addition to this experience, Miller also worked as a journalist who contributed to various media outlets including The Washington Post and HuffPost as well as serving as a MSNBC analyst.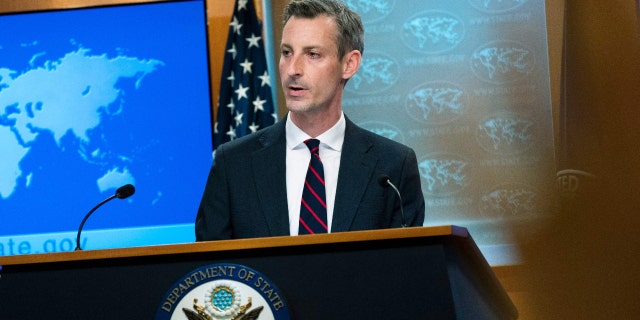 Both Matthew Miller and Ned Price have worked as MSNBC analysts prior to their roles as State Department spokesperson. (Photo by Manuel Balce Ceneta / POOL / AFP)
STATE DEPARTMENT-BACKED GROUP TO STOP FUNDING 'DISINFORMATION' INDEX THAT TARGETED RIGHT-LEANING SITES
Blinken did not reference Miller's experience in the media during his statement. Instead, he noted that Miller previously served as the Director of the Office of Public Affairs and spokesperson to Attorney General Eric Holder, which he claimed added to his qualifications.
"Matt, along with Verdant [Patel] and the rest of the Office of the Spokesperson, will continue the Department's commitment to access and transparency. I am grateful to Matt for once again agreeing to serve his country and look forward to once again benefiting from his counsel and expertise," Blinken wrote.
Miller responded to the news on Twitter, writing, "Honored and excited to re-join the administration and especially to have the opportunity to work with the incredible team at the State Department."
Miller will replace former State Department spokesperson Ned Price who stepped down from his position in March after serving since Jan. 2021.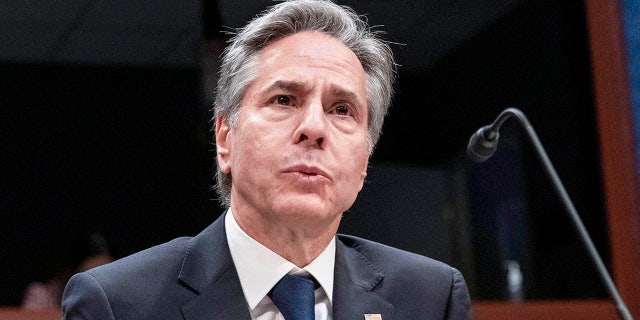 Secretary of State Antony Blinken announced Miller's nomination on Tuesday. (AP Photo/Jacquelyn Martin)
AP REPORTER SPARS WITH STATE DEPARTMENT'S NED PRICE OVER ALLEGATION ON RUSSIA: 'THIS IS ALEX JONES TERRITORY'
"Ned's firm grasp of the policies underlying our messaging made him that much more effective in his role," Blinken said in a statement at the time. "On a personal level, I have constantly benefited from his counsel, as have so many members of the Department. Fortunately, I'll be able to continue to do that, as Ned will continue to serve at State, working directly for me."
Price also served as an MSNBC analyst prior to his spokesperson position.
Before stepping down, Price had been repeatedly grilled by reporters over unclear or contradictory statements. In Feb. 2022, Price sparred with Associated Press reporter Matt Lee over different foreign policies such as the Biden administration lifting Iranian sanctions.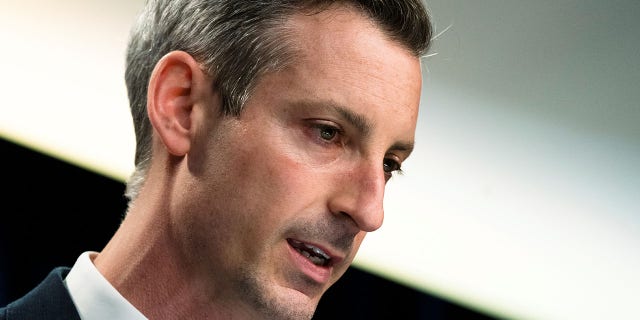 Price stepped down from his role in favor of a senior-level position within the agency in March. ( Manuel Balce Ceneta/Pool via REUTERS)
CLICK HERE TO GET THE FOX NEWS APP
"Ned, are you saying that that long list of things that you said that these waivers give. You're saying that there's no benefit to Iran in any of that?" Lee asked.
"I am saying that the net benefit of this is a nonproliferation goal for us," Price answered.
Lee reiterated, "Iran gets nothing out of it?"
"Matt, you don't need to raise your voice," Price responsed.