Multiple climate protesters were arrested after they "shut down entry" to the offices of BlackRock's New York City headquarters on Friday.
Footage shared online by New York Communities for Change (NYCC), a movement focused on "building power for low and moderate-income communities in New York State," showed several climate activists rushing the handful of men standing guard outside the investment management company's sidewalk entrance.
"Climate activists storm the barricades at @BlackRock and shut down entry to the world's biggest asset manager and fossil fuel investor," the group wrote in a tweet, which was accompanied by a video from the protest.
In the video, multiple men and women rush through the barricades just outside the entrance, with some being brought to the ground. Others stood with their arms raised, chanting a call for the company to put "planet over profit."
BLACKROCK CEO LARRY FINK PREDICTS NUMBER OF TOTAL FEDERAL RESERVE INTEREST RATE INCREASES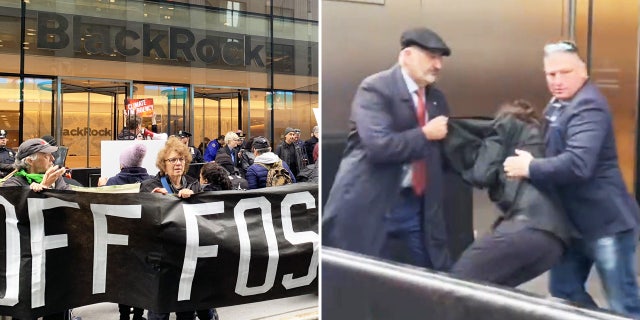 Multiple climate protesters "shut down entry" to BlackRock's New York City headquarters Friday after they stormed the barricades outside. (Reclaim Our Time/New York Communities for Change, Twitter)
"BlackRock invest a staggering ~$9 trillion dollars. It is the world's largest investor in coal, gas and oil. Everyday they pour more money into fossil fuels. It's time for them to stop torching our future," the group wrote in another tweet, which included a link to a website with alleged mishaps by the company.
Eleven of those who protested were arrested, according to a press release from NYCC.
The demonstrators, according to the group, were arrested "after storming the barricades and pouring fake oil at BlackRock's HQ."
"Along with 75 other activists with pitchforks, they shut down the HQ entrance to demand that the company – the world's largest investor in fossil fuels – end new investments in coal, oil and gas, in line with the basic scientific requirements of avoiding global climate catastrophe," the group stated.
"With around $9 trillion total in investments, BlackRock is so big it is altering geologic history by funneling hundreds of billions of dollars into fossil fuels," said Alice Hu, senior climate campaigner at New York Communities for Change. "We're infuriated, and for good reason: BlackRock is playing a leading role in destroying the planet when it could be helping save us instead by steering clients away from fossil fuel investments."
The protests, according to the group, are part of "a weeklong series of 'Earth Day to May Day' protests targeting the biggest Wall Street financiers of fossil fuels."
Another tweet from the group showed the entranceway to the company's building "BLOCKED."
"Entrance to @BlackRock global HQ BLOCKED. This $9 trillion Wall Street goliath is incinerating our [world]. Stop new financing of coal, gas and oil development, BlackRock! That's the basic physics of avoiding global climate catastrophe," the group stated.
Will Hild, executive director for Consumers' Research, shared the movement's clip in a tweet and referred to those who rushed the barricades as "far-left green activists" engaged in "political theatre."
BLACKROCK INTERNSHIP DISCRIMINATES UNDER 'GUISE' OF EQUITY: COMPLAINT
"Much like AOC's now infamous 'arrest' – this is all political theatre. @BlackRock CEO Larry Fink uses crazies like this to try to position himself as a 'reasonable centrist.' He wants you to think that by only giving into SOME of their insane demands that he's being measured," Hild wrote.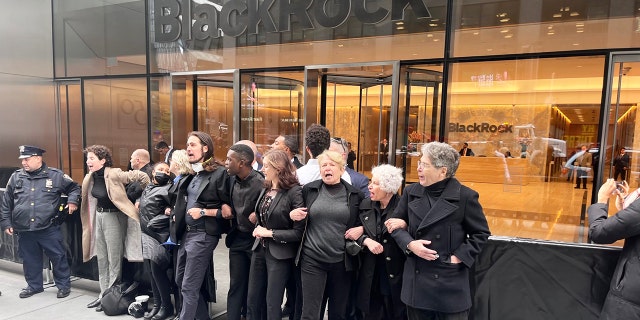 Climate protesters are shown locking arms with one another outside, of BlackRock's New York City headquarters building. (New York Communities for Change, via Twitter)
Hild told Fox News Digital "there is more to this than what meets the eye" in the motivation behind the protest.
"While we generally support any action that brings pain upon BlackRock, there is more to this than what meets the eye. On the surface it appears as if progressives hate BlackRock as much as the rest of America, but in reality these are the people Larry Fink uses to position himself as a centrist," Hild said. "This enables the playbook of ESG extremists, who create a problem and then solve it by pushing an agenda that government can't get passed through the democratic system. Fink and his woke Wall Street buddies are using hardworking American's money and far left activists to compel companies into submission and force behaviors on consumers."
Other social media users also shared photos showing climate protesters sitting in the entranceway to the building, holding signs that read "Climate emergency" and "No more business as usual".
"SIX climate activists are continuing to bravely blocks the doors to #Blackrock. The SRG has arrived to arrest our comrades for speaking truth to fossil capital," the user, identified as Reclaim our Tomorrow wrote.
Another photo shared by the same user showed demonstrators standing outside the building holding a banner in protest of the company.
CLICK HERE TO GET THE FOX NEWS APP
"Larry Fink of #Blackrock is a CLIMATE CRIMINAL. He has repeatedly stopped action on getting out of fossil fuels. He likes to paint himself as a progressive Democrat, but he's just a billionaire dressing his bad acts in the language of justice and equity," the user wrote.
BlackRock declined to comment about the protest outside its headquarters.
Fox News' Bradford Betz contributed to this article.