The Republican National Committee on Friday revealed the polling and fundraising criteria that GOP presidential candidates will need to reach in order to make the stage at the first primary debate, which Fox News will host in August.
And to take part in the debates, the Republican presidential candidates will also need to sign a pledge supporting the eventual GOP nominee.
The RNC announced that the first debate will be held on August 23. The national party committee added in their release that "should enough candidates qualify to make it necessary, there will be a second debate on August 24."
The debate, or debates, will be in Milwaukee, Wisconsin, which is the host city for the 2024 Republican National Convention.
To reach the debate state, candidates must also have 40,000 unique donors to their campaign committee (or exploratory committee), with "at least 200 unique donors per state or territory in 20+ states and/or territories."
The RNC says candidates must present their fundraising figures at least 48 hours prior to the first debate.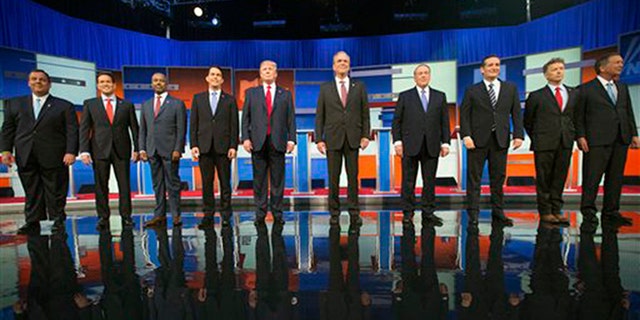 Republican presidential candidates from left, Chris Christie, Marco Rubio, Ben Carson, Scott Walker, Donald Trump, Jeb Bush, Mike Huckabee, Ted Cruz, Rand Paul, and John Kasich take the stage for the first Republican presidential debate in Cleveland, on August 6, 2015 (AP Photo/Andrew Harnik, File) (AP )
Besides signing a pledge agreeing to support the eventual Republican presidential nominee, the candidates must also must sign a pledge agreeing not to participate in any non-RNC sanctioned debates for the rest of the 2024 election cycle and to agree to data sharing with the national party committee.
WHO'S IN AND WHO'S ON THE SIDELINES — YOUR GUIDE TO THE 2024 GOP PRESIDENTIAL NOMINATION RACE
Former Vice President Mike Pence, former New Jersey Gov. Chris Christie, and North Dakota Gov. Doug Burgum are expected to launch campaigns next week. And Republican Gov. Chris Sununu of New Hampshire and former Reps. Will Hurd of Texas and Mike Rogers of Michigan are also seriously mulling 2024 bids.
The new thresholds, which some of the candidates may find difficult to meet, apparently aim to prevent the crowded and combustible atmosphere of the 2016 Republican presidential nomination race.
And he added that "the other challenge is for some of the candidates 40,000 donors. That's going to penalize those who are just building their campaign or national efforts. 40,000 donors reflects a concentrated effort to build on-line donations and some candidates prefer to invest in other ways to get their message out to the voters."
The first debate will be televised exclusively on Fox News, and Rumble is the online live-streaming partner. Young America's Foundation is also co-hosting the first debate.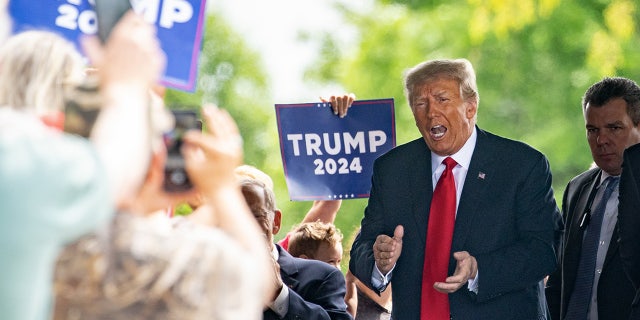 Former US President Donald Trump arrives to meet with local Republican leaders at the Machine Shed restaurant in Urbandale, Iowa, US, on Thursday, June 1, 2023. Trump returned to the state on Wednesday to begin a series of appearances and interviews, including a Fox News town hall with Sean Hannity that will be broadcast today. Photographer: Al Drago/Bloomberg via Getty Images (Al Drago/Bloomberg via Getty Images)
Trump has repeatedly warned that he may not take part in the first debate.