Pro-Trump GOP attorney Eric Early announced Tuesday he's running for Senate in California, joining three high-profile Democratic candidates vying to replace Sen. Dianne Feinstein, D-Calif.
Early — who ran unsuccessfully for state attorney general in 2022 and 2018 and for Congress against Rep. Adam Schiff, D-Calif., in 2020 — launched his campaign with a video promising to secure the border and fight fentanyl, bring back manufacturing jobs and put parents, not"far-left extremists," in charge of their children's education.
On his campaign website, Early says he will "stand-up to the Socialist woke interests that control Washington, DC, fight to preserve and protect our Democracy, and fight for ordinary Californians who are being left behind."
CALIFORNIA DEMOCRATIC REP. ADAM SCHIFF TO RUN FOR US SENATE SEAT HELD BY FEINSTEIN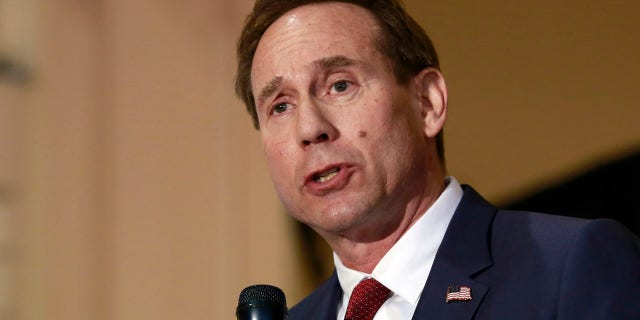 Republican Eric Early, a candidate for California attorney general, speaks at a candidates' forum, in Sacramento, Calif., on March 21, 2018. Early, a Republican attorney announced Tuesday, April 11, 2023, he's entering the California contest to replace outgoing Democratic U.S. Sen. Dianne Feinstein, joining a growing field in a state known for its prominent Democratic tilt. (AP Photo/Rich Pedroncelli, File)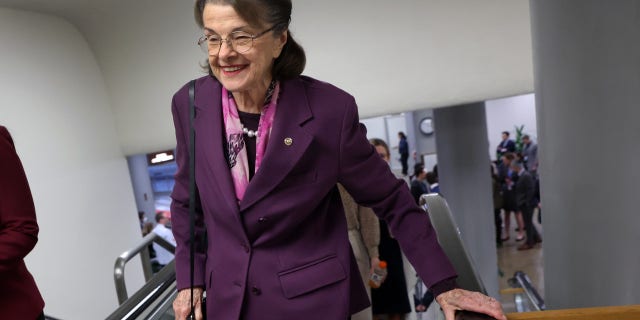 U.S. Sen. Dianne Feinstein (D-CA) makes her way to the Senate chambers at the U.S. Capitol on February 16, 2023 in Washington, DC. Feinstein, 89, will not seek reelection in 2024.  (Kevin Dietsch/Getty Images)
CALIFORNIA DEMOCRAT REP. KATIE PORTER ANNOUNCES 2024 SENATE RUN FOR SEN. FEINSTEIN'S SEAT
Feinstein, the oldest sitting senator at age 89, announced her retirement in February, stating that she will not seek reelection in 2024. Her term will expire in January 2025.
Though Early is the first major Republican candidate to replace her, he remains a long shot in the notoriously liberal Golden State.
DIANNE FEINSTEIN ANNOUNCES SHE WILL NOT SEEK RE-ELECTION IN 2024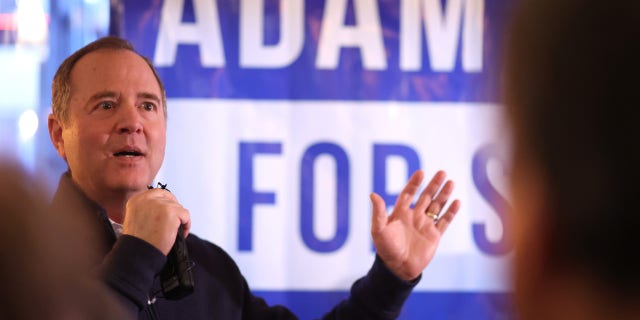 U.S. Rep. Adam Schiff (D-CA) speaks at a campaign event at Manny's on February 16, 2023 in San Francisco, California. Schiff won reelection in 2020, defeating Early in a 72%-23% landslide.  (Justin Sullivan/Getty Images)
The last Republican to win a statewide election in California was Gov. Arnold Schwarzenegger in 2006. Democrats currently hold veto-proof supermajorities in both houses of the state legislature, and of the 52 members of its congressional delegation, 40 are Democrats and 12 are Republicans, along with two Democratic senators.
Early is joining a field led by three prominent Democratic members of Congress: Rep. Katie Porter, known for her tough questioning of CEOs and other witnesses at hearings; Rep. Adam Schiff, who rose to national prominence as the lead prosecutor in then-President Donald Trump's first impeachment trial; and Rep. Barbara Lee, the only member of Congress to vote against the authorization for the use of military force after the Sept. 11, 2001, terrorist attacks.
CLICK HERE TO GET THE FOX NEWS APP
In the 2022 primary election for attorney general, Early received 16% of the vote and did not advance to the November runoff. In the 2018 contest, he received 14% of the vote and did not advance then either. In his 2020 congressional race, he lost in a landslide to Schiff, who announced his candidacy for Senate in January and is campaigning with the endorsement of former House Speaker Nancy Pelosi, D-Calif.,
"Adam Schiff, Katie Porter and Barbara Lee have been in Congress for a combined 51 years. Judge them by the results of their actions and their votes — they put us in this mess," Early said in a statement announcing his campaign.
The Associated Press contributed to this report.