Reporters cheered after President Joe Biden acknowledged his re-election announcement during his remarks at the White House Correspondents' Dinner on Saturday.
"Yeah, I know, I just announced my re-election campaign," Biden said as the audience loudly cheered.
"Some of you scooped that I'd announce in a video, but you really all thought in your heart that I'd just blurt it out, didn't you?" he added as reporters laughed.
HUGE MAJORITY OF AMERICANS OPPOSE BIDEN RUNNING AGAIN, CITING ONE 'MAJOR' FACTOR: POLL
"Bias? A non-adversarial relationship, not what you would hope in objective coverage?" questioned "Fox & Friends Weekend" co-host Will Cain.
"This is one of those moments where you just play the what-if-Donald-Trump game and the room would be silent or full of boos," said co-host Pete Hegseth, who remarked that the White House Correspondents' Dinner has turned into a "giant lovefest" for the Democrat Party and the establishment inside D.C.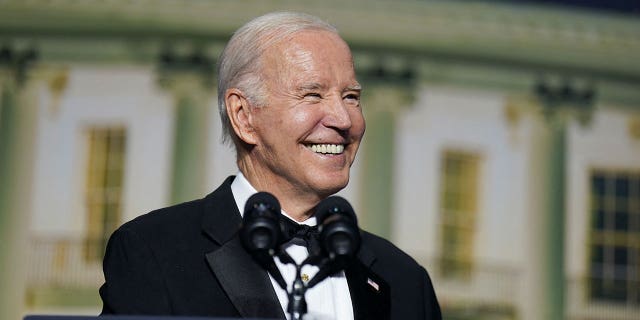 President Joe Biden addresses the annual White House Correspondents' Dinner in Washington on April 29, 2023. (Reuters/Al Drago)
During his speech at the dinner, the president also addressed and joked about concerns over his age.
"I get that age is a completely reasonable issue, it's on everybody's mind, by everyone I mean the New York Times," Biden said. "Headline: Biden's advanced age is a big issue, Trump's, however, is not."
"Call me old; I call it being seasoned. You say I am ancient, I say I'm wise," the president continued.
He also seemed to joke about often avoiding questions from the press.
"In a lot of ways, this dinner sums up my first two years in office: I'll talk for 10 minutes, take zero questions and cheerfully walk away," the president said as reporters clapped and cheered.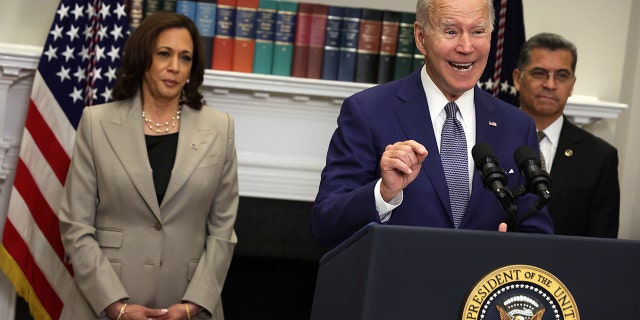 Washington Post columnist George Will said neither Joe Biden nor Kamala Harris should seek the White House in 2024. (Alex Wong/Getty Images / File)
CNN political commentator Scott Jennings suggested that Biden was "mocking" the press by joking about not taking questions.
"He's not laughing with you, he's laughing at you," he said.
BIDEN PRESSED ABOUT AGE IN 2024 RACE, ADMITS HE 'CAN'T EVEN SAY THE NUMBER'
Reporters have pressed White House press secretary Karine Jean-Pierre on whether the administration was "trying to protect" Biden from the media.
The White House briefing room groaned after Jean-Pierre said it was "unprecedented" that Biden "takes as many shouted questions as this president has, and he has."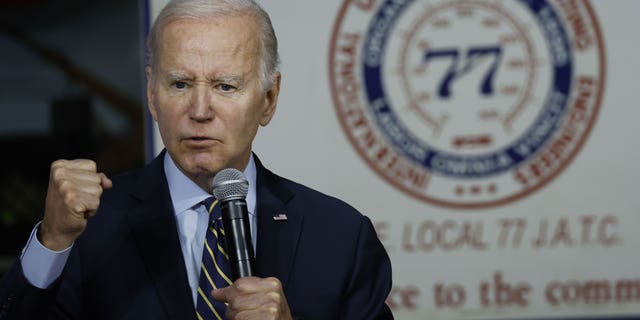 President Joe Biden speaks during an event at the International Union of Operating Engineers Local 77 training center in Accokeek, Maryland, on April 19, 2023. (Ting Shen/Bloomberg via Getty Images)
Biden and Vice President Kamala Harris announced their re-election campaign in late April via video posted to social media.
"When I ran for president four years ago, I said we are in a battle for the soul of America – and we still are. The question we are facing is whether in the years ahead we have more freedom or less freedom, more rights or fewer," he said in the video.
"Every generation of Americans has faced a moment when they've had to defend democracy, stand up for our personal freedoms and stand up for our right to vote and our civil rights. This is ours. Let's finish the job," Biden continued.