Two people were reportedly attacked by sharks off the coast of New York on the Fourth of July, police say.
Both of the victims were adult men in their 40s, according to WABC.
Quogue Village Police Department officials reportedly responded to a bite incident at around 1:20 p.m. The 47-year-old victim was in chest-deep water at the time of the injury.
According to WABC, the victim suffered severe lacerations on his right knee. While the victim did not see the shark, police are certain the attacker was a "larger marine animal", according to the Daily Voice.
"This is our new normal," George Gorman, regional director with New York State Parks, told FOX 5 New York. "We're going to be monitoring, we're going to be watching over."
DOCUSERIES FILM CREW ATTACKED BY TIGER SHARKS: 'LIKE SOMETHING OUT OF JAWS'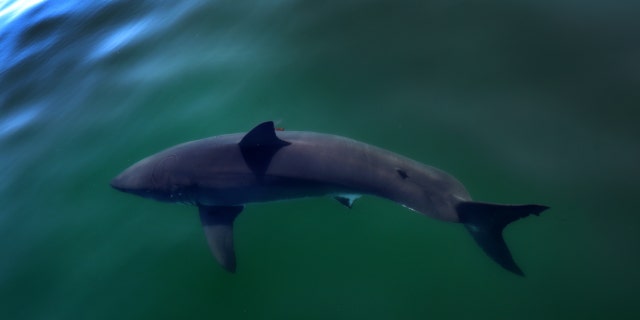 A view of a Great White Shark on a white shark research trip with the Atlantic White Shark Conservancy.  (Photo by David L. Ryan/The Boston Globe via Getty Images)
The Tuesday attacks were not the only shark-related incidents over the holiday weekend. On Monday, a teenager was attacked by a shark while surfing off of Fire Island.
Fox News Digital's Greg Wehner contributed to this report.