This year's New Orleans Jazz and Heritage Festival begins its two-weekend run on Friday, filling the air with the sounds of R&B, rock 'n roll, Zydeco, pop, blues, country, rap, gospel — and of course jazz.
Music fans will converge on the Fair Grounds Race Course when gates open at 11 a.m. and dash to find a spot in front of one of the 14 stages or tents featuring some of the best musicians in the world.
Friday's lineup includes performances by Lizzo; Robert Plant & Alison Krauss; Big Freedia; Tank and The Bangas; Wu-Tang Clan + The Soul Rebels; Nicholas Payton; Mavis Staples; Kermit Ruffins & the Barbecue Swingers; Charlie Musselwhite; and Terrance Simien and the Zydeco Experience.
SMOKEY ROBINSON SHARES THE SECRET TO HIS DECADES OF SUCCESS AS HE'S HONORED WITH BERRY GORDY AT MUSICARES GALA
"I'm super excited for the elevation this year," said Freedia, whose bounce/rap show is scheduled for the festival's main stage before Lizzo and Tank and The Bangas. "I love that I get the opportunity to showcase my artistry before a bigger audience and there's a lot more room to do my thing. We're here to entertain and we're gonna bust it open."
Freedia known for collaborations with Drake on "Nice for What" and Beyonce on "Break My Soul," said there are no plans to join Lizzo's closing performance even though the two paired up for Freedia's 2018 hit "Karaoke."
"I support her either way," she said.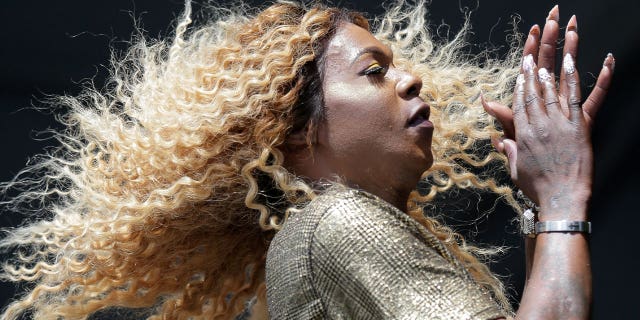 Big Freedia performs on the Congo Square Stage during the Jazz Fest in New Orleans, on April 28, 2018. Big Feedia, among other headliners, will perform at the 2023 New Orleans Jazz & Heritage Festival on Friday, April 28, 2023. (Brett Duke/The Times-Picayune/The New Orleans Advocate via AP, File)
Fans, however, will hear new music that Freedia plans to drop on Friday — "$100 Bill," a collaboration with R&B songstress Ciara.
This year's festival is also casting a spotlight on Puerto Rico with appearances Friday by two artists from the U.S. territory: Tambuye of Puerto Rico and Plena Libre of Puerto Rico, a Grammy-nominated Latin dance band.
"There's a whole vibe out there and people should come out and feel it. I'm thrilled with what's about to happen," festival producer Quint Davis said.
PAT BOONE REVEALS LIFE-CHANGING ENCOUNTER WITH HARRY BELAFONTE, THE INSPIRATION BEHIND 'CAN'T WE GET ALONG'
"We've got a lot of people coming in," he said. "Lizzo, a phenomenal talent on Friday, and Ed Sheeran and Jazmine Sullivan on Saturday and Jill Scott on Sunday. And that's just the first weekend. We've also got H.E.R. coming next week along with Dead & Company, Kane Brown and Jon Batiste. Everybody wants to play the festival and everything just fell together to allow that to happen."
The weather was expected to cooperate too, which Davis said has helped drive ticket sales. Forecasters expect low 80s with lots of sun for Friday's start. Spotty showers, however, may dampen Saturday and Sunday shows.
Kelly Schulz, a spokeswoman for New Orleans and Company, said hotel occupancy for the city's downtown corridor was above the 2022 numbers but not quite as good as those for 2019.
CLICK HERE TO GET THE FOX NEWS APP
"We're at 83% occupancy for Saturday. In 2022, that was 78% and in 2019, pre COVID, it was 92%," she said.
Schulz said this was just a snapshot of how well the city's tourism industry is rebounding after COVID-19 forced a shutdown: "I think the numbers we're seeing for Jazz Fest is just another example of people ready to travel again and experience face-to-face connections again."
This year's festival is also going cashless for the first time in its 52-year run. For those who come just with cash, the festival will offer cash exchange booths where they can obtain a prepaid card. All major credit cards, debit cards, prepaid cards as well as Apple Pay, Google Pay and Samsung Pay will be accepted for tickets, food, merchandise and more.