Michigan Gov. Gretchen Whitmer will give final approval Monday afternoon to a red flag law that aims to keep firearms away from those at risk of harming themselves or others as the state grapples with ways to slow gun violence in the wake of its second mass school shootings.
Whitmer plans to sign the legislation just outside of Detroit, with Lt. Gov. Garlin Gilchrist II, Attorney General Dana Nessel and former Congresswoman Gabby Giffords all expected to be in attendance. Giffords began campaigning for gun safety after she was shot in the head in 2011 in Tucson, Arizona.
Michigan will join Minnesota as the second state in under a week to implement a red flag law after Democrats in both states won control of both chambers and the governor's office in November. New Mexico previously was the last state to pass a red flag law in 2020.
The judge would have 24 hours to decide on a protection order after a request is filed. If granted, the judge would then have 14 days to set a hearing during which the flagged person would have to prove they do not pose a significant risk. A standard order would last one year.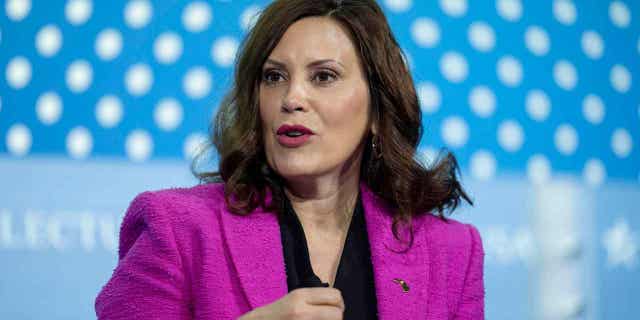 Michigan Gov. Gretchen Whitmer speaks at a summit on May 4, 2023, in Oxon Hill, Maryland. Whitmer is expected to give final approval on May 22, 2023, to a red flag law that aims to keep firearms away from those at risk of harming themselves or others. (AP Photo/Alex Brandon, File)
Michigan will become the 21st state to implement a red flag law. Questions remain of whether the state will have better success in enforcing it than others have. An Associated Press analysis in September found that in the 19 states then with red flag laws, firearms were removed from people 15,049 times since 2020, fewer than 10 per 100,000 adult residents.
MICHIGAN COPS FACE WILD CLAIMS THEY BET ON SEX FROM COP DUBBED 'LAWSUIT WAITING TO HAPPEN': REPORT
Some local sheriffs in Michigan have told The Associated Press that they won't enforce the law if they don't believe it's constitutional. Over half of the state's counties have passed resolutions declaring themselves Second Amendment sanctuaries, opposing laws they believe infringe on gun rights.
Gun violence within schools has rocked Michigan in recent years. A total of seven students have been killed, and 12 others injured, in school shootings at Oxford High School in 2021 and Michigan State University in 2023.
Earlier this month, two school districts in Michigan banned backpacks as a results of fears of firearms being brought into schools. The ban at Grand Rapids Public Schools came after a third-grader brought a loaded gun into the school.
The red flag law is the final piece of legislation to be signed in a sweeping 11-bill gun safety package advanced by Michigan Democrats following the Feb. 13 shooting at MSU. Safe storage and universal background checks were signed into law last month by Whitmer.