House Speaker Kevin McCarthy, R-Calif., on Monday was not optimistic about the state of debt ceiling negotiations with the White House, saying, "there is no movement."
"I appreciate the president finally willing to talk after 97 days," the speaker told reporters in the Capitol. "But, there is no movement."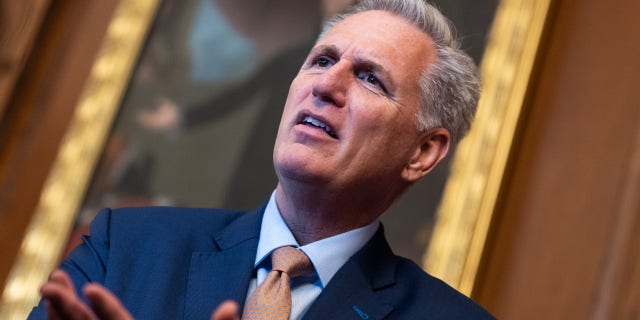 UNITED STATES – APRIL 20: Speaker of the House Kevin McCarthy, R-Calif., is seen in the U.S. Capitol before a news conference on the House passed the "Protection of Women and Girls in Sports Act," on Thursday, April 20, 2023. (Tom Williams/CQ-Roll Call, Inc via Getty Images) (Tom Williams/CQ-Roll Call, Inc via Getty Images)
"If you look at the timeline to pass something in the House and pass something in the Senate, you've got to have something done by this week, and we are nowhere near any of that," McCarthy added.
MCCARTHY SAYS BIDEN DRAGGING HIS FEET ON DEBT CEILING: 'THEY WANT A DEFAULT MORE THAN THEY WANT A DEAL'
The speaker said he first approached President Biden about the debt in February, and at this point, it's just staff passing ideas back and forth.
When asked by a reporter if he was confident that a solution would happen by the end of the week, McCarthy said he did not, based on what the White House is offering at the moment.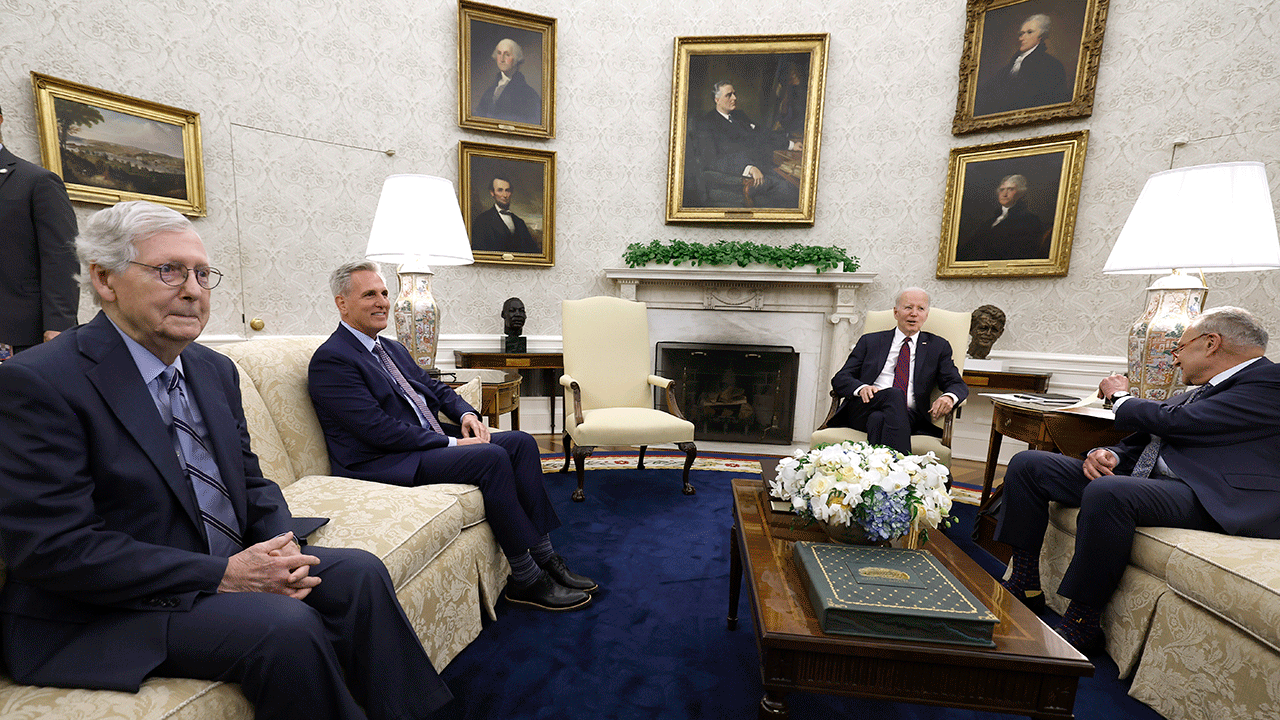 WASHINGTON, DC – MAY 09: U.S. Senate Minority Leader Mitch McConnell (R-KY), Speaker of the House Kevin McCarthy (R-CA), President Joe Biden, and Senate Majority Leader Chuck Schumer (D-NY) meet in the Oval Office of the White House on May 09, 2023, in Washington, DC. The Congressional lawmakers met with the President to negotiate how to address the debt ceiling before June 1, when U.S. Treasury Secretary Janet Yellen warned Congress that the United States would default on their debts. (Photo by Anna Moneymaker/Getty Images)
The speaker has been critical of discussions with the president over the nation's debt.
BIDEN GETS HEATED WITH REPORTER AFTER ASKED ABOUT DEBT CEILING: 'YOU DIDN'T LISTEN'
Last week, Biden, McCarthy and other leaders agreed to hold staff level talks on how to raise the debt ceiling before the government is unable to pay its current obligations by early June. The White House made it clear it wanted to keep talks about the debt ceiling separate from talks about spending cuts.
Last Thursday, McCarthy blamed Biden for the lack of progress in a deal that would allow the government to borrow more money once it hits the debt ceiling in June.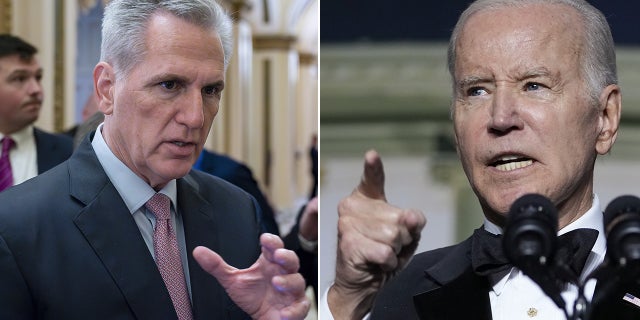 President Biden has said he won't negotiate with McCarthy and Republicans over the debt limit. (AP Photo/J. Scott Applewhite / Carolyn Kaster, File)
Then on Friday, McCarthy and other congressional leaders were scheduled to meet with Biden on a deal to increase the borrowing limit and meet the GOP demand of reducing federal spending, but the meeting was delayed until next week. McCarthy said the delay was because the White House was not budging.
MCCARTHY AGREES TO MAY 9 MEETING WITH BIDEN TO RESOLVE DEBT CEILING STANDOFF
But right now, McCarthy is focused on preventing a default.
He explained that there is a bill that lifts the debt limit and works to make the economy stronger and limits spending.
"We collectively should be able to get together," McCarthy said. "Unfortunately, we had to wait 97 days to get in a room and come to an agreement."
He went on to say there is COVID money that has not been spent in two years, adding that should not be a negotiating point when looking at the work requirements attached to that money.
CLICK HERE TO GET THE FOX NEWS APP
"You've got Democrats who have offered the idea of capping future money. It doesn't mean that you're going to cut. It simply means that it's only going to grow at 1%," McCarthy said. "These are not tough decisions. That's why I'm so fearful. We've been sitting, talking, and you can't decide on common sense."