Vice President Kamala Harris gave one of her strongest condemnations of Florida Gov. Ron DeSantis yet, calling him and other Republicans "extremist."
Harris spoke at the National Action Network 2023 Convention on Friday in New York, where she claimed extremists across the U.S. are working to undermine the country.
"Extremists across our country attack the freedom to vote. They banned books to attempt to erase America's full history. They attack the ability of people to love openly with pride," Harris lamented.
BIDEN INVITES TENNESSEE DEMOCRATS TO WHITE HOUSE AFTER EXPULSION VOTES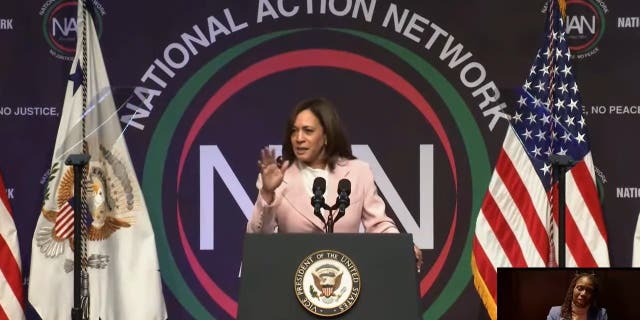 Vice President Kamala Harris speaking at the 2023 National Action Network Conference. (White House)
"They attack the freedom of a woman to make decisions about her own body instead of the government. They attack medication that for 20 years the FDA ruled as being safe," the vice president continued.
Harris referenced Martin Luther King Jr. in her speech — saying that his gift of presenting the problems of the world in the context of a vision for a better future was necessary for the current moment.
VP KAMALA HARRIS MAKES SURPRISE TENNESSEE VISIT AFTER 2 DEMOCRATS EXPELLED FROM HOUSE
Harris turned her criticism to Florida leaders directly, furiously opposing the state's recent decision to ban abortion after six weeks.
"Just yesterday in Florida, extremists there signed a six-week ban — before most women even know they're pregnant," Harris said. "And then isn't it interesting that in the midst of all these attacks on fundamental freedoms, these so-called 'leaders' dare to tell us they are fighting for our freedoms? Don't you find it interesting?
CLICK HERE TO GET THE FOX NEWS APP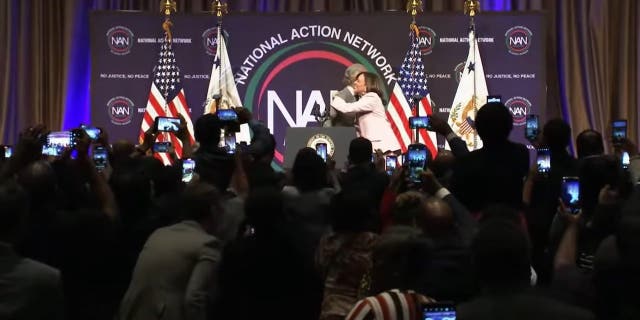 Vice President Kamala Harris embraces Rev. Al Sharpton on the stage of the National Action Network conference. (White House)
Harris was preceded on-stage by Rev. Al Sharpton, who said there is "no greater honor" than introducing her to speak at the event.
"And I say to you today that you on right wing can take whatever shots you want. You can come with whatever fabricated rationale you want against this vice president," Sharpton said.
He continued, "She was built for this. She was born for this. She was raised for this. She can take every shot you shoot because she been through shots worse than this."