May Pang was just 22 years old when she reluctantly became John Lennon's girlfriend — at the request of his wife Yoko Ono.
The couple's former assistant, who found herself in the middle of an 18-month romance with the "Imagine" singer, is telling her story in a new documentary, "The Lost Weekend: A Love Story." The film, which made its debut at the Tribeca Film Festival in 2022, features rarely heard home recordings and a candid interview with Lennon's eldest son, Julian.
In it, Pang aims to set the record straight on her story, one that has become part of rock mythology since Lennon died in 1980. A spokesperson for Ono, 90, indicated to Fox News Digital that there would be no response at this time regarding Pang's documentary.
"It's hard to believe, but it is 50 years now since my relationship with John began," the 72-year-old told Fox News Digital. "There was so much of my own story being told by other people that had no idea. It got the best of me after a while. It was my life, and everybody else is telling it. Many people still think I only spent a weekend with him. They didn't know the truth."
Pang, the American-born daughter of Chinese immigrants, grew up in New York City's Spanish Harlem during the '60s, when she discovered her first love – rock 'n' roll. In the film, Pang admitted her favorite Beatle as a teen was Ringo Starr, noting she "was partial to blue eyes."
In 1969, the 19-year-old scored a gig as an office assistant for Apple Records, the Fab Four's label. In 1970, Lennon and Ono relocated from London to New York. Pang, eager to escape the mundane office life, began working as the couple's personal assistant.
BEATLE RINGO STARR REFLECTS ON SPREADING 'PEACE AND LOVE' FOLLOWING THE '60S: 'IT WAS PART OF HOW WE FELT'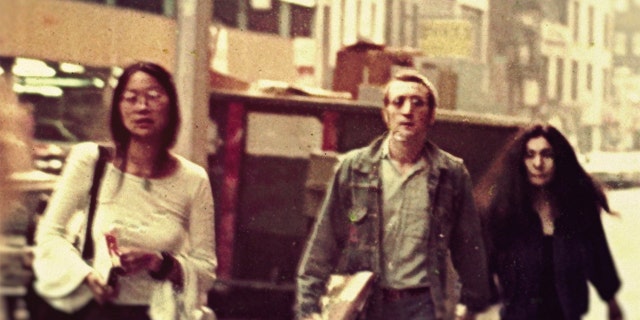 May Pang was an office assistant for Apple Records before she began working for John Lennon and his wife Yoko Ono. (Courtesy of May Pang)
"They were doing two movies, 'Up Your Legs Forever' and 'Fly,'" Pang recalled. "It was a bit kooky, but I rolled with it because it was fun. … And they were larger than life. You read about them all the time in the papers, how they were spreading their message of peace around the world. And when I started to work for them, everything became fast paced. I didn't get much sleep."
Lennon, 10 years older than Pang, had been married to Ono since 1969. However, the pair, depicted as soulmates, had hit a rough patch. Ono, who wanted some time apart, was eager to save her marriage. It was in 1973 when Ono asked the young assistant to date her husband in hopes of keeping him company.
Pang said that day seemed like any other at the couple's office — at first.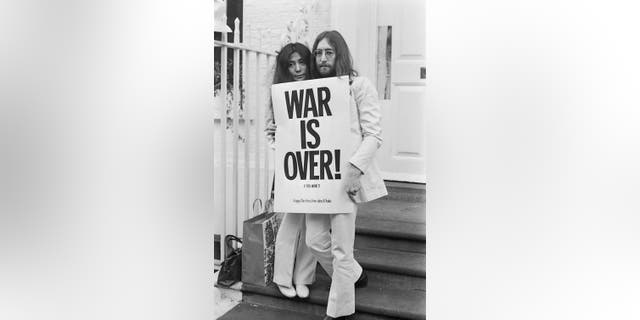 John Lennon and Yoko Ono married in 1969. Their marriage had hit a rough patch when May Pang began working for the couple. (Frank Barrett/Keystone/Hulton Archive/Getty Images)
"She came in and sat across from me and said, 'I've gotta talk to you,'" Pang recalled. "In my head, I'm thinking, 'Oh my God, I haven't even had my first cup of coffee yet. … I grab my pad, my pen, and I'm ready to write. And she said, 'John and I are not getting along.' I said, 'I'm so sorry to hear [that].' And then she says, 'You know, John's gonna go out with other people.' And I thought, 'OK, now we're into another territory. Who can this be? We are adding another person to this mix?' And then she says, 'But you know what? You don't have a boyfriend.'"
Pang initially thought she misheard Ono.
CLICK HERE TO SIGN UP FOR THE ENTERTAINMENT NEWSLETTER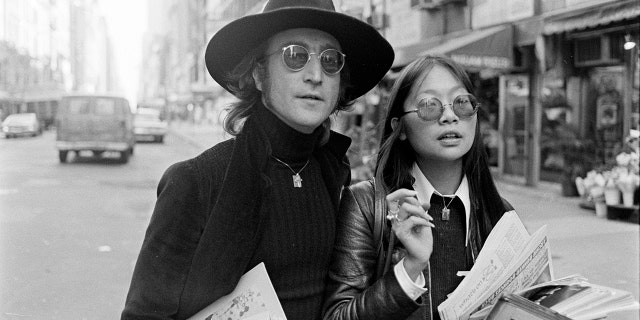 May Pang said she wasn't interested in dating John Lennon at first. (Peter Simins/WWD/Penske Media via Getty Images)
"I'm going, 'I'm not interested, I'm not interested,'" said Pang. "She goes, 'Oh, I know, but I think you'll be good for him.' I said, 'I don't want to go out with him.' Now, people don't realize I've worked there for three years. I was very happy with the job. … That's all I wanted to do. All of a sudden, she says, 'Go out with John Lennon.' He was not John Lennon as everybody out there saw him. He was John Lennon, this man I worked for. … So I wasn't interested."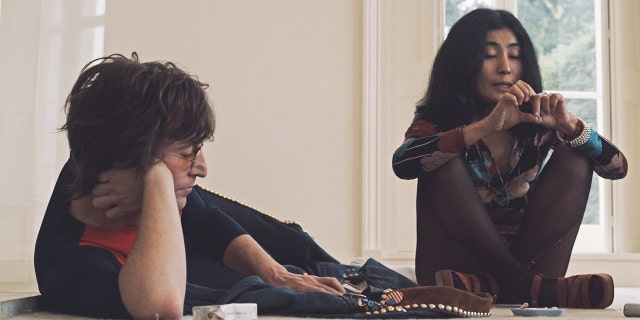 May Pang claimed it was Yoko Ono (pictured here) who pushed her into dating John Lennon. (Michael Putland/Getty Images)
"It was hard to process," she added. "I said no. And she kept saying, 'You'd be good for him.' She walks out of the room, and I just sat there. For a split second, I'm going, 'What just happened?' And tears started to just form in my eyes. I didn't know where I was going. I didn't know what to do."
'50S STAR ANGIE DICKINSON ON FRANK SINATRA AND WHY SHE NEVER MARRIED 'LOVE OF MY LIFE'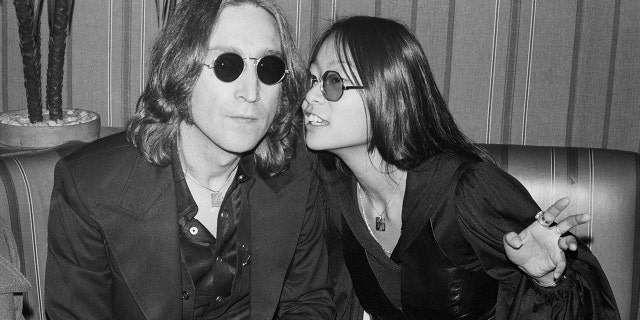 A relationship quickly blossomed between John Lennon and May Pang, which was later dubbed the "Lost Weekend" after the 1945 Billy Wilder film. (Art Zelin/Getty Images)
At first, neither Pang nor Lennon seemed interested. But their attraction for each other became undeniable. He first stole a kiss from her at the elevator of the Dakota, where he lived with Ono. Soon, Lennon "charmed the pants off of me." In the film, Pang admitted she cried the first time they had sex, not knowing where the relationship would lead.
The pair bonded over their mutual love of music. Pang attempted to go with the flow as Lennon let his hair down. The two became inseparable, she said.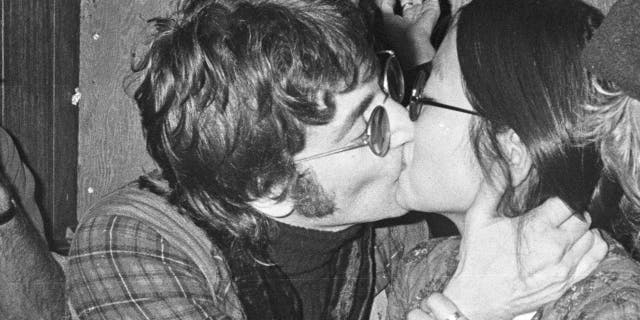 May Pang said she and John Lennon fell for each other quickly. "I knew he loved me," Pang told Fox News Digital. (Michael Ochs Archives/Getty Images)
"I didn't think he was attracted to me," Pang admitted. "It was a big surprise. Despite everything that was said, it was he who pursued it more than anything else. I was just trying to hold back. … And you don't want to be hurt either."
At first glance, the couple seemed like any other. They shared deep conversations over songs, enjoyed dinners together at a local diner, jetted off to Los Angeles, where they spent time with other musicians and made each other laugh behind closed doors. Lennon drew comedic sketches for Pang. For her 23rd birthday, Lennon bought her an orange Plymouth Barracuda.
Pang claimed that Ono, suspecting possibly more was unfolding, would call up to 15 times a day to check in.
MOTHER OF STEVEN TYLER'S DAUGHTER LIV HITS BACK AT 'GROUPIE' MONIKER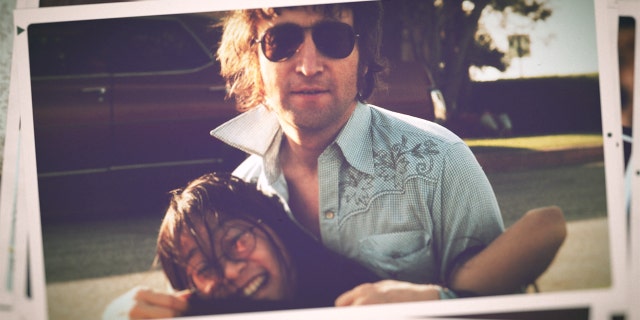 May Pang said she and John Lennon became inseparable to Yoko Ono's surprise. (Courtesy of May Pang)
The whirlwind romance was not all sweetness. In the film, Pang described how Lennon, in a drunken rage, smashed up their LA pad. She also detailed how Lennon recorded his "Rock 'n' Roll" album with notorious music producer Phil Spector, who, according to Pang, liked poppers and guns.
The relationship carried on and, in 1974, the pair moved in together. Pang even encouraged Lennon to heal his relationship with Julian. At the time, he hadn't seen his firstborn in several years.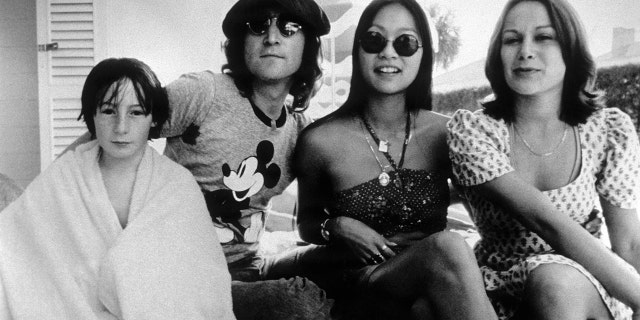 The couple brought Julian Lennon, left, to Disney World, where he and his father John Lennon got closer. (John Rodgers/Redferns)
"He hadn't seen [his ex-wife Cynthia] since he walked out the door," Pang explained. "It was time for Julian to come to visit him, and [Lennon] was really nervous. I remember he kept pacing like a tiger, smoking up a storm. I told him, 'You're not alone. I know this is hard, but I'll be there.' I just thought it was so important for Julian's sake. I just remember Julian running into his arms. It was beautiful. I just wanted to be there as a buffer. And they all finally got a chance to sit down and talk about how they felt. Once that was cleared up, he didn't have this angst anymore. … That's exactly what I wanted for Julian."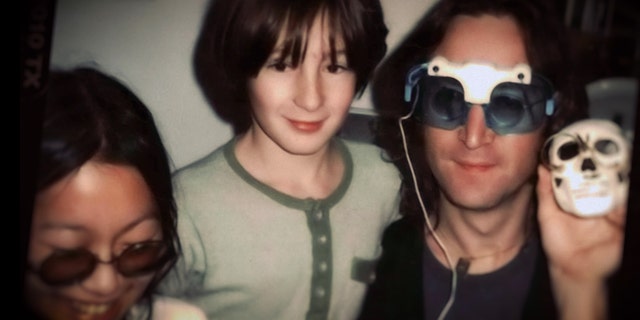 May Pang said it was important for her to see John and Julian Lennon's relationship heal. (Courtesy of May Pang)
As the relationship between father and son healed, Pang developed a lifelong friendship with Cynthia. It was one that lasted until Cynthia died in 2015.
'ST. ELSEWHERE' STAR BONNIE BARTLETT DANIELS REFLECTS ON PAST OPEN MARRIAGE: 'THAT WAS VERY PAINFUL'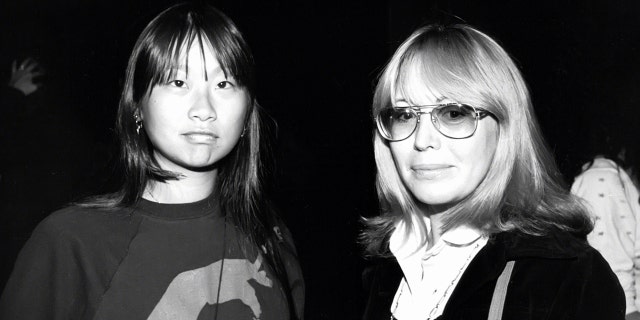 May Pang, left, developed a lifelong friendship with John Lennon's ex-wife Cynthia Lennon, right. It lasted until Cynthia's death in 2015 at age 75. (Robin Platzer/Images/Getty Images)
According to the film, Lennon initially agreed to Ono's request for a divorce in 1974. He even told Pang, "I'll be a free man in six months." But it never happened. Lennon claimed he was receiving pushback from Ono. Pang said she believed the relationship surprised Ono, who then wanted her husband back. Knowing that Lennon was trying to quit smoking to conserve his famous voice, Ono allegedly told him she knew a hypnotist who could help him. All he had to do was come back home.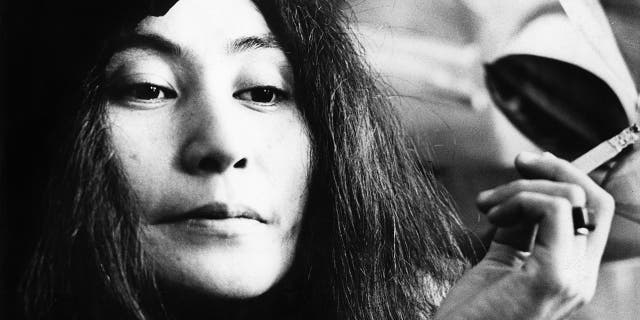 According to May Pang, John Lennon went back to Yoko Ono after the artist told him she could help him with his smoking. (Gijsbert Hanekroot/Redferns)
Once Lennon went back to Ono to take her up on her offer, Pang knew her relationship was over. The couple called it quits in early 1975. Over the years, she said, they would see each other.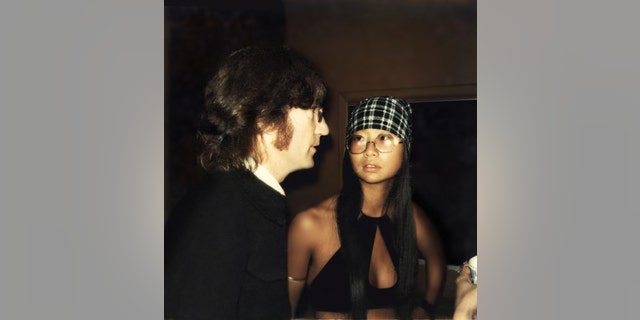 May Pang said she last spoke to John Lennon during Memorial Day weekend in 1980. Lennon was killed in December 1980. (Courtesy of May Pang)
Pang said she last spoke to Lennon during Memorial Day weekend 1980. It was a nearly two-hour conversation over the phone that concluded with Lennon saying, "I'm going to see you soon."
They never saw each other again.
"Our time together never really ended as it were," she said. "We didn't get closure."
May Pang admitted she never got closure with John Lennon and is still coping with his death. (Ron Galella/Ron Galella Collection via Getty Images)
In December 1980, Lennon was gunned down by a crazed fan outside his New York City apartment. He was 40.
Over the years, a devastated Pang reinvented herself, pursuing careers in writing and jewelry design. Today, she looks back at her time with Lennon fondly, only choosing to remember the good times they shared, not what might have been.
BEATLE PAUL MCCARTNEY'S DAUGHTER TALKS JOHN LENNON, CREATING HEARTFELT DOC WITH HER DAD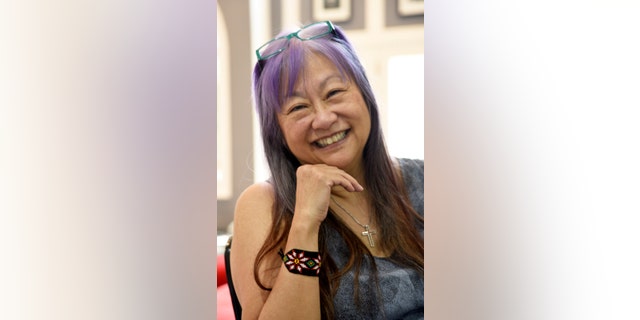 May Pang has since reinvented herself as a jewelry designer. (Ron Galella/Ron Galella Collection via Getty Images)
"I don't know if I have actually coped with [his loss] completely," Pang admitted. "I just think of the happy moments, the things that we've done together. I feel like he's still surrounding me. So, no matter what, he's there."
"The Lost Weekend: A Love Story" premieres April 13.