Iran allegedly smuggled weapons to Syria through deliveries of relief supplies shipped following a devastating earthquake in February, according to a new report.
"Under the guise of shipments of earthquake aid to Syria, Israel has seen significant movements of military equipment from Iran, mainly transported in parts," an unnamed Israeli defense official told Reuters.
The Feb. 6 earthquake in Turkey and Syria, which measured at magnitude 7.8, required substantial relief from neighboring countries, with hundreds of flights from Iran alone. The planes delivered supplies over the following seven weeks to the Syrian cities of Aleppo, Damascus and Latakia.
Among the supplies, Iran allegedly included advanced communications equipment, radar batteries and spare parts required for a planned upgrade of Syria's air defense system.
IRAN MAY USE SYRIA EARTHQUAKE TO SMUGGLE ARMS UNDER THE GUISE OF AID: REPORT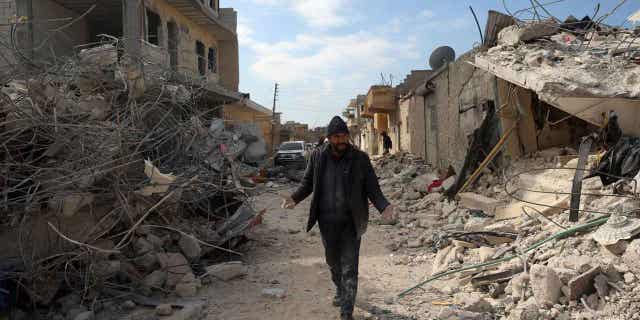 A man walks past collapsed buildings following a devastating earthquake in the town of Jinderis, Aleppo province, Syria, Feb. 14, 2023. (AP Photo/Ghaith Alsayed)
Iran's mission to the United Nations in New York told Reuters the allegations are "not true."
The story came from a Syrian military defector and a serving Syrian officer, as well as Western intelligence officials and sources close to the Iranian and Israeli leadership.
Iran intended to strengthen defenses against Israel in Syria and improve Syrian President Bashar al-Assad's forces in the ongoing civil war, the sources claimed.
US REPORTS NO CASUALTIES AFTER ROCKET HITS BASE IN SYRIA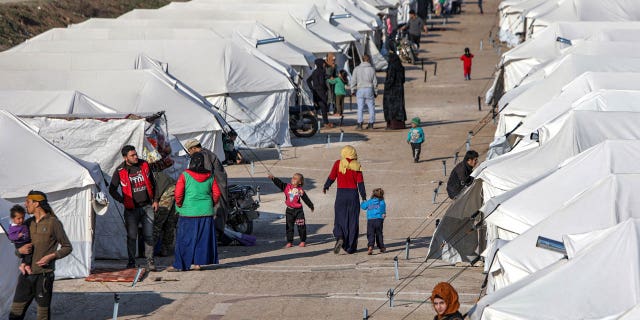 People walk along an alley between tents at a camp for the displaced erected in the aftermath of the deadly Feb. 6 earthquake that hit Syria and Turkey in Jinderis in northwestern Syria Feb. 19, 2023. (Bakr Alkasem/AFP via Getty Images)
The unnamed Israeli defense official said that most of the shipments were organized by the Quds Force — the Islamic Revolutionary Guard Corps' espionage and paramilitary division — and Syria's Unit 18000.
Israel warned about Iran's covert deliveries shortly after they started, claiming on Feb. 10 that Iran would take advantage of international aid shipments.
"There is information indicating that Iran will take advantage of the tragic situation in Syria and, under the cover of humanitarian aid, will send weapons and equipment to Hezbollah," one anonymous Israeli military official told the Saudi newspaper Elaph at the time.
SHADOW WAR HEATS UP AS SENIOR IRANIAN MILITARY ADVISER KILLED IN ALLEGED ISRAELI AIRSTRIKE IN SYRIA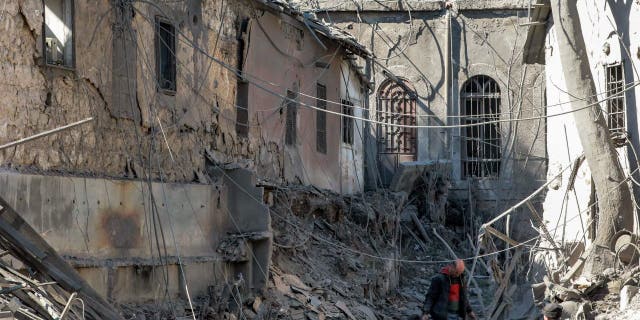 People inspect damage in the aftermath of an Israeli air strike that hit the medieval Citadel of Damascus Feb. 19, 2023.  (Louai Beshara/AFP via Getty Images)
The unnamed official reportedly told the publication Israel stands "ready to strike any equipment or weapons anywhere inside Syrian territory."
Israel proceeded to hit a number of targets, including weapons warehouses in the Jabal Manea Kiswa mountain range near Damascus and a radio station used for drones.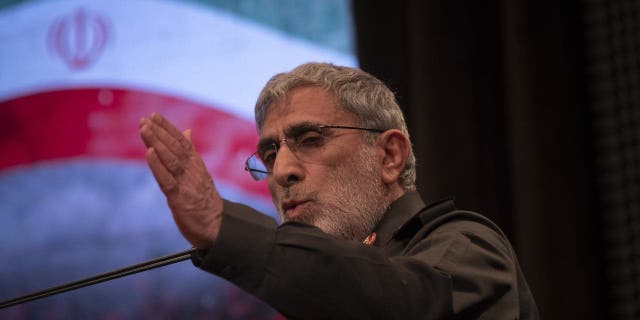 IRGC chief Esmail Qaani was seen on social media channels in Syria allegedly helping with earthquake aid. (Photo by Morteza Nikoubazl/NurPhoto via Getty Images) (Photo by Morteza Nikoubazl/NurPhoto via Getty Images)
CLICK HERE TO GET THE FOX NEWS APP
"We believe that Iranian militias have transferred huge quantities of ammunition. They have restocked quantities lost in previous Israeli drone strikes," a Western intelligence source said, referring to Iranian flights since the Feb. 6 earthquake.
Reuters contributed to this report.