Rep. Maria Elvira Salazar slammed the Biden administration for lacking a clear vision for Latin America and creating an opportunity for rival nations, like Iran, to establish closer ties and a foothold in the U.S.'s backyard.
"Weak leadership from the Biden Administration has allowed the world's worst actors to penetrate our hemisphere with impunity," Salazar, R-Fla., and chair of the House Subcommittee on the Western Hemisphere, told Fox News Digital in a statement. "[Iranian] President [Ebrahim] Raisi's visit to Cuba, Venezuela and Nicaragua in plain defiance of the United States demonstrates the failure of the Administration's Latin America policy."
"We must repair our relationships with our friends in the region so that we can form a united front against the countries that invite the Islamic Republic's terrorist regime into our hemisphere," she added.
Raisi began his visit to Latin American this week with plans to stop in Venezuela, Nicaragua and Cuba, according to Iran's state news agency IRNA. The visit will provide Raisi face-to-face time with the leaders of the three countries, each of whom will sign documents to expand bilateral cooperation with Iran.
"They do not want the two countries, Iran and Venezuela, to be independent," Raisi said, referring to the U.S. government. He said the links between the two countries "is not normal but rather a strategic relationship" and that they share "common interests" and "common enemies."
CRUZ DEFENDS COMMENTS ABOUT OBAMA, IRAN AND NUCLEAR WEAPONS, SCOLDS 'RIDICULOUS' FACT-CHECKER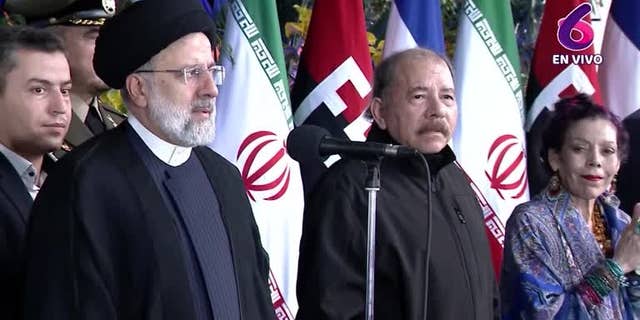 Iranian President Ebrahim Raisi, left, stands next to Nicaraguan President Daniel Ortega at a ceremony in Managua, Nicaragua, on June 14, 2023. (Reuters)
Countries in Latin America have previously expressed frustration with the Biden administration over a lack of clear policy for the region. El Salvadoran Vice President Félix Ulloa Jr. previously told Fox News Digital the U.S. must develop a comprehensive, bipartisan plan to manage immigration and that a letter to Vice President Kamala Harris calling for dialogue on the topic had gone unanswered.
IRAN URGED TO RELEASE POLITICAL CARTOONIST AFTER DETAINING HER AGAIN
"[Raisi] subscribes to the emerging notion of a multipolar world, a world that challenges once again the U.S. dominance and rules-based order that the U.S. supports and has largely created," said Ottolenghi, the former head of the AJC Transatlantic Institute in Brussels and Israel studies at St. Antony's College at Oxford University. "That involves, of course, reducing U.S. influence for the benefit of rival powers such as Russia and China."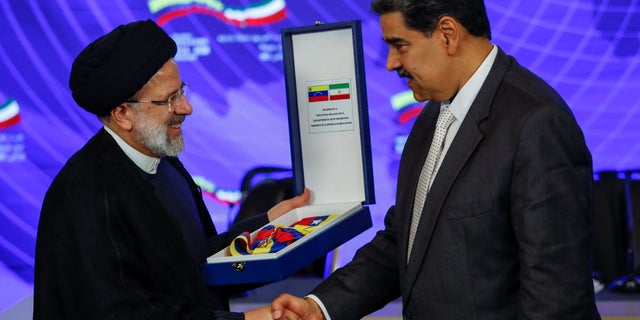 Venezuelan President Nicolas Maduro, right, meets Iranian President Ebrahim Raisi in Caracas, Venezuela, on June 12, 2023. (Reuters/Leonardo Fernandez Viloria)
"So, while Iran, of course, is not Russia and definitely not China, it sees itself as an emerging power that can play the same type of game and benefit from the overall erosion of U.S. influence and the ability of the U.S. to set the rules and the tools, whether it's in financial markets or trade or in new global standards and so on," he added.
Reuters and The Associated Press contributed to this report.