FIRST ON FOX: Sen. Josh Hawley, R-Mo., is calling on FBI Director Christopher Wray to make ending and investigating the mass trafficking of unaccompanied minors into the U.S. "a leading FBI priority" — after reports of an "explosive growth" of child exploitation in recent years.
"The FBI must mount a full-scale effort to locate these missing children and to bring to justice the criminals who are holding them in modern-day slavery," Hawley said in a letter to Wray.
Hawley was responding to reports by the New York Times that Biden administration officials ignored signs of an "explosive" rise in forced child labor amid an increase in unaccompanied minors coming across the U.S. border.
WHISTLEBLOWER TELLS CONGRESS THAT GOVT IS DELIVERING MIGRANT CHILDREN TO HUMAN TRAFFICKERS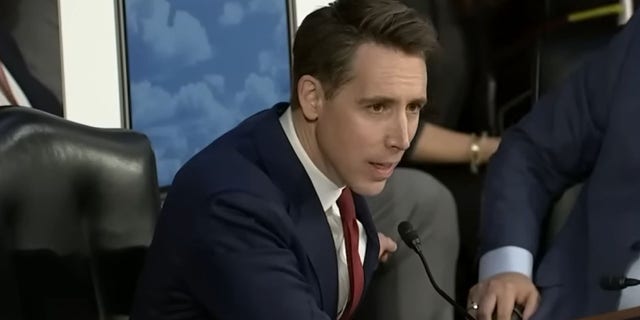 March 28, 2023: Sen. Josh Hawley grills Secretary Mayorkas on the CBP One app at a Senate Judiciary Committee hearing. (Screenshot)
According to Customs and Border Protection (CBP) statistics, the number of unaccompanied alien children (UACs) who arrive at the border has swelled from 33,239 in fiscal year 2020 to more than 146,000 in fiscal year 2021 and 152,000 in fiscal year 2022. So far in fiscal year 2023, there have been more than 70,000 encounters of UACs.
When child migrants are encountered at the border, they are transferred into the custody of HHS and then united with a sponsor — typically a parent or family member already in the U.S.
But whistleblowers and media outlets have detailed how sponsors are gaming the system to move children into the workforce and have them pay back their debts to the smugglers. The Times reported how HHS was unable to contact approximately 85,000 minors who had been reunited with their sponsors.
27.4 Hawley Letter to Wray by Fox News on Scribd
"Whether intentional or not, it could be argued that the U.S. government has become the middleman in a large scale, multibillion-dollar child trafficking operation that is run by bad actors seeking to profit off of the lives of children," HHS whistleblower Tara Lee Rodas said this week at a House hearing.
While Rodas and some Democrats have noted that the situation precedes the Biden administration, Republicans have linked the rise in exploitation to the policies of the Biden administration which they say fueled the crisis and incentivized smuggling.
HHS CHIEF 'UNFAMILIAR' WITH REPORTS THAT AGENCY CAN'T CONTACT 85,000 UNACCOMPANIED MIGRANT KIDS
"The Biden Administration is morally responsible for their fate. The President lifted Title 42 restrictions on unaccompanied children in early 2021," Hawley wrote. "Reporting reveals that HHS loosened vetting processes for sponsors and retaliated against whistleblowers who raised these concerns. As a result, thousands of children have been handed over to modern-day slave traders."
In addition to calling for the effort to locate the missing minors, Hawley said the FBI "must also investigate HHS and the Department of Homeland Security for their role in facilitating the exploitation of these children, in violation of the law."
"This issue must be a leading FBI priority," he said.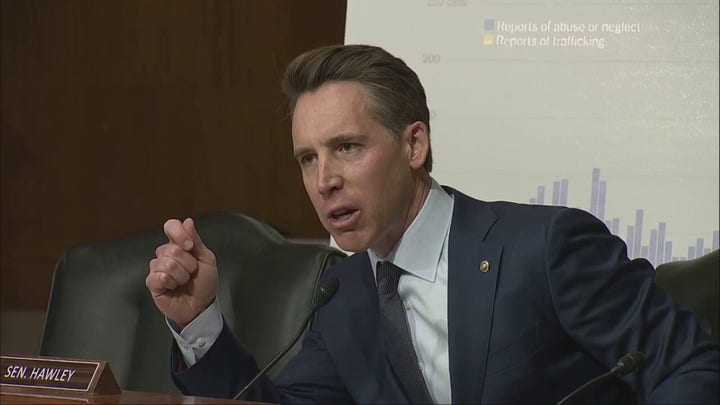 Video
HAWLEY GRILLS MAYORKAS ON REPORTS OF FORCED CHILD MIGRANT LABOR
The lawmaker requests a full report on the location of missing minors and related prosecutions by May 25. The FBI confirmed to Fox News Digital that it has received the letter.
Last month, HHS Secretary Xavier Becerra pushed back on the reports that the agency has been unable to contact 85,000 minors, noting that HHS' authorities are limited by Congress.
"Congress has given us certain authorities. Our authorities end when we have found a suitable sponsor to place that child with. We try and do some follow-up, but neither the child or the sponsor is actually obligated to follow up with us," he said.
Hawley had a contentious exchange with DHS Secretary Alejandro Mayorkas on the issue at a Senate hearing earlier this month. Hawley asked Mayorkas why he should not be impeached over the matter, while Mayorkas accused the Missouri lawmaker of making "false statements" and highlighted DHS' efforts to focus on worksite enforcement and investigating "unscrupulous employers" who employ children.
CLICK HERE TO GET THE FOX NEWS APP
Meanwhile, domestic policy adviser Susan Rice — who left her role this week — responded to the Times report that her team was shown evidence of a growing migrant child labor crisis.
"We were never informed of any kind of systematic problem with child labor or migrant child labor," she said in an interview.